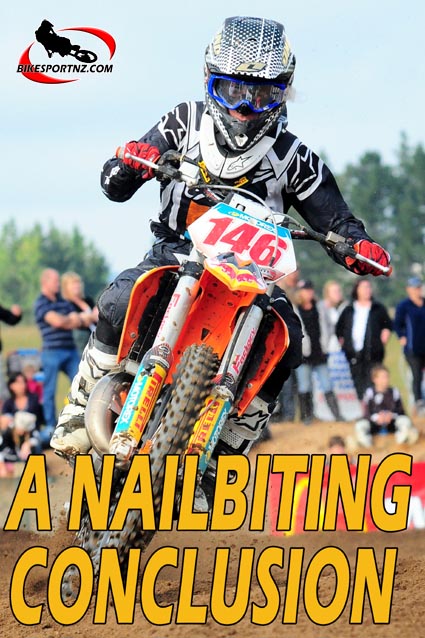 It was edge-of-the-seat riding at this season's New Zealand Junior Motocross Championships in Tokoroa over the Easter weekend.
And perhaps none more so than for Rangiora's Micah McGoldrick, the CMR KTM Red Bull Race Team rider making things difficult for himself on the third and final day of racing at the Leatt and Fox Brigade-sponsored event on Sunday.
The 15-year-old McGoldrick had built a solid nine-point lead for himself over the first two days of racing in the 15-16 years' 125cc class, but a crash in his first outing on Sunday suddenly saw his main rival, fellow KTM rider Hamish Harwood, of Takaka, eliminate the gap and then nothing separated the two young men as they lined up for the fifth and final 15-16 years' 125cc race of the weekend.
"I had crashed into another rider and that left me with no brakes," said McGoldrick, who nonetheless managed to salvage a fifth placing and set himself up for the gripping final encounter.
The battle between the two KTM men was on, and who ever finished in front in the last race would take the crown, a determined McGoldrick digging deep to win it from Harwood.
Third overall in this class was Rotorua's Cameron Vaughan (Craig Stevens Motorcycles Yamaha), just six points further back.
"I can't believe I've won. It's the best feeling ever," said McGoldrick afterwards.
He rated this victory even greater than his winning the national 85cc supercross title last year.
It was a far from disappointing weekend for Harwood, though, who comfortably won the 14-16 years' 250cc class title, finishing the weekend 23 points ahead of fellow KTM rider Haki Waller, of Rotorua, and Auckland's Brandon Tipene (MR Motorcycles Kawasaki), the joint runners-up.
"I came here hoping to win one title and winning two would have been a bonus but it was just too hard to race two classes. I'm thrilled to win the 250cc title though," said Harwood.
KTM riders also dominated the younger 125cc age grouping, for riders aged 12-14 years, with visiting Australian Jesse Dobson taking his black and orange CMR KTM Red Bull Race Team machine to the No.1 spot, ahead of Silverdale's Henry Griffith (Sorenson Earthmoving KTM)
Kumeu's Chase Smith, riding a CMR KTM Red Bull Race Team bike, chased Otago's Courtney Duncan (CDM, Backflips, Sportspro Yamaha) all weekend in the battle for 13-16 years 85cc class honours but he was eventually forced to settle for runner-up spot.
Duncan dominated — in all, Duncan won all but one of her five races and she finished runner-up in that one.
Hamilton's Josiah Natzke (Waikato Yamaha) was virtually unstoppable in the 11-12 years' 85cc class, winning four of his five races and leaving Australian Hunter Lawrence (MR Motorcycles Kawasaki) and Taupo's Wyatt Chase (Yamaha) eating his dust.
Top rider in the 9-16 years' 150cc class was James Ree (Honda), while Mangakino's Maximus Purvis (Honda) dominated the 8-10 years' 85cc class.
© Words and photo by Andy McGechan, www.BikesportNZ.com
Full story and more photos in your next issue of KIWI RIDER magazine.
RESULTS (thanks to Nicol and Tarsh at MXTiming Ltd):
8-10 years' 85cc – OVERALL TOTAL POINTS
11-12 years 85cc – OVERALL TOTAL POINTS
13-16 years 85cc – OVERALL TOTAL POINTS
9-16 years 150cc – OVERALL TOTAL POINTS
12-14 years 125cc – OVERALL TOTAL POINTS
15-16 years 125cc – OVERALL TOTAL POINTS
14-16 years 250cc – OVERALL TOTAL POINTS