SIBLING RIVALS GET JOB DONE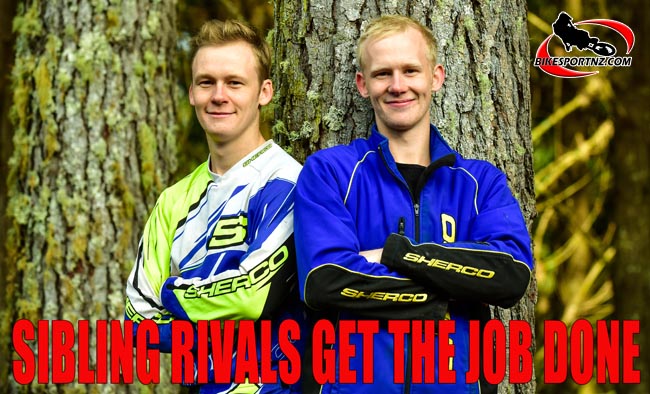 Brotherly love was put on hold over the weekend as the New Zealand Enduro Championships went down to the wire in a battle between sibling rivals from Canterbury, Angus and Hamish Macdonald.
Although the racing was close, the two Christchurch teenagers knew it would take either a disaster or a miracle, depending upon the point of view, for 19-year-old Angus not to win the 2017 crown.
Angus Macdonald (Sherco 300 SEF-R four-stroke) had led the six-round series from the start, winning round one near Nelson in February, while 18-year-old Hamish Macdonald (Sherco 300 SE-R two-stroke) finished a disappointing and uncharacteristic 17th at that series opener.
Hamish Macdonald refused to quit and had soon risen back up the rankings to threaten his brother's dominance, the two Sherco men first and second in the championship standings at the start of the double-header Queen's Birthday Weekend.
Rounds five and six at the weekend were separated by just two days – racing on muddy farmland at Waitiwhiti, east of Pahiatua, on Saturday and in forestry south of Tokoroa on Monday.
In the end, Hamish finished third at Waitiwhiti and Angus was fourth, closing the gap, but the mathematics was quite simple – if Hamish won the day at Tokoroa, Angus still needed only to finish eighth or better to claim the title.
And this is how it panned out: Taupo's defending national enduro champion Brad Groombridge celebrated his first win of the series with a victory at Tokoroa, while Mokau's Adrian Smith was runner-up and Coatesville's Sam Greenslade was third.
But all eyes were still focussed on the Macdonald brothers.
Angus eventually finished the day fourth overall, but, significantly, ahead of his main rival Hamish, who crossed the finish line fifth, 28 seconds further back, and that settled the issue.
Unfortunately for the brothers, it was not a Macdonald and Sherco 1-2 finish to the series, with Groombridge's final round win enough for him to snatch the No.2 spot overall.
But the Macdonald boys did both win their separate bike classes, Angus claiming over-300cc four-stroke bike class honours and Hamish winning the over-200cc two-stroke class. Groombridge won the under-300cc four-stroke class and Kaikohe's Mitchell Nield won the under-200cc two-stroke class trophy, with the veterans' trophy going to New Plymouth's Dougy Herbert.
"The secret was to be consistent and I was on the podium at nearly every round," said an elated Angus Macdonald afterwards.
"The weight was off my shoulders before the start of the final round because I knew I could afford to finish as far back as eighth and I'd still win it.
"So I wasn't taking any risks at Tokoroa. I have learned a lot over the past few years and I know you don't have to be the fastest rider all the time to win. Plus the bike has been brilliant for me and that's been a big factor in my win too."
Likewise for Hamish Macdonald, the series was all about plugging away and riding sensibly.
Hamish Macdonald actually scored the most wins this season, dominating at round three, near Pahiatua in March, and at round four, near Greta Valley in May, and his 17th placing at round one in February was obviously extremely costly.
"Considering how far back I was at round one, to come back and claim third overall is pretty good actually," said Hamish.
"All of the top riders had a bad round somewhere, except for Angus I guess," he smiled.
"To win my class was a nice consolation."
Meanwhile, both brothers have indicated they'll return to challenge for the enduro crown again next season.
© Words and photos by Andy McGechan, www.BikesportNZ.com
Find BikesportNZ.com on FACEBOOK here