A WIN TO FINISH THE SERIES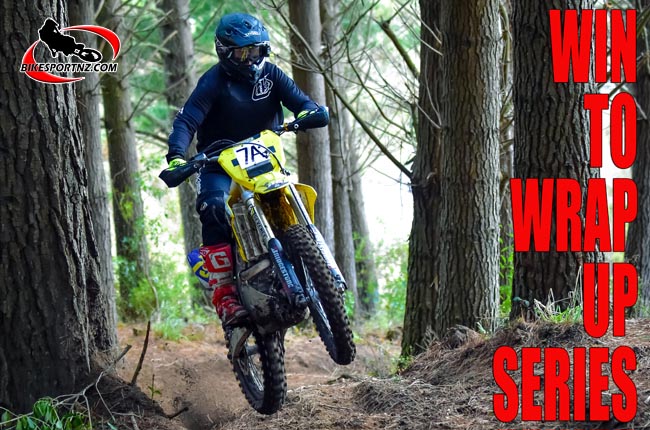 It may have been only scant consolation, but a win is a win and that's how Taupo's Brad Groombridge feels about his success at the final round of this season's New Zealand Enduro Championships near Tokoroa on Queen's Birthday Monday.
Groombridge would probably describe his 2017 national enduro championships title defence as "the one that got away".
The Suzuki hero won the New Zealand Cross-country Championships crown last season and the New Zealand Enduro Championships as well, not to mention taking the same RM-Z450 bike to finish fifth overall in the MX1 class at the motocross nationals that year.
He settled for seventh overall in the MX1 title chase this season, as a greater number of professional racers from Australia arrived this year to contest the series, but he was successful in defending his Kiwi cross-country title when that series wrapped up near Cambridge last month.
All that remained was for Groombridge to also win back-to-back national enduro crowns and he'd consider it another fantastic year.
Groombridge started his six-round enduro campaign with a solid runner-up finish near Nelson in February and he remained on target with a third placing at Whangamata a week later.
But soon afterwards his campaign fell to pieces when he crashed spectacularly and at high speed at round three of the series near Porirua in March.
He failed to finish the day and those lost points cost him dearly, allowing Christchurch's Angus Macdonald to open up a huge points lead.
However, his recovery from that disaster was nothing short of sensational – Groombridge finished runner-up at round four near Greta Valley in May and he was runner-up again at round five at Waitiwhiti, east of Pahiatua, on Saturday.
And Groombridge saved his best for last, winning the sixth and final round near Tokoroa on Monday.
That result was enough to boost him to second in the final series standings, a remarkable comeback for a rider who had been in such dire straits.
"To finish second overall after all that I've been through is pretty good really," said Groombridge.
"I guess this is the national title that got away from me.
"I wasn't outside the top three all season, apart from that one DNF at Porirua, so I've got to be happy with that.
"I rode the 250cc Suzuki on Saturday and then switched to the 450 bike today, just because I thought a bit of extra horsepower would help here. Plus, the RM-Z250 had taken a bit of a hammering in the mud at Waitiwhiti and I didn't want to risk having any bike issues at the final round.
"I'll race all three bike disciplines again next year (motocross, cross-country and enduro) and work now on getting everything right for that.
"I can't complain about this season. It has still finished up pretty well for me and for Suzuki too."
In the battle for individual class honours, Groombridge did claim the No.1 spot, winning the under-300cc four-stroke class title. Angus Macdonald won the over-300cc four-stroke bike class, while his brother Hamish Macdonald won the over-200cc two-stroke class; Kaikohe's Mitchell Nield won the under-200cc two-stroke class and New Plymouth's Dougy Herbert was crowned veterans' (over-40 years) class champion.
Meanwhile, it was a battle between two young up-and-comers for intermediate grade honours at Tokoroa.
In only her first appearance in the enduro nationals this season, 15-year-old Te Awamutu girl Rachael Archer (Husqvarna TX125) was in scintillating form to win the intermediate grade on Monday by nearly a minute from the series leader and eventual champion, 16-year-old Whitianga rider Blake Wilkins (Husqvarna TX125).
© Words and photos by Andy McGechan, www.BikesportNZ.com
Find BikesportNZ.com on FACEBOOK here