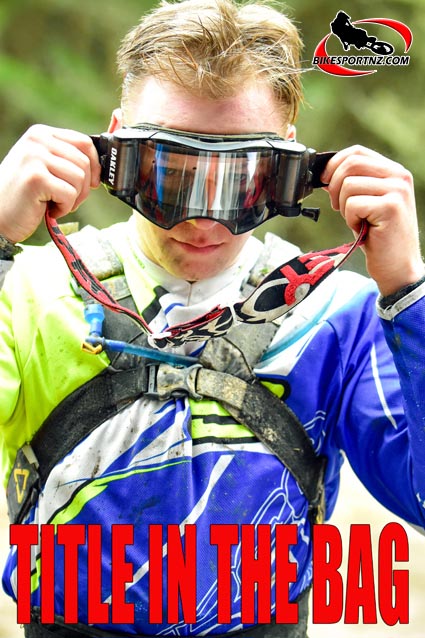 New Zealand has a new national enduro champion, with Canterbury's Angus Macdonald surviving a flurry of attacks and taking the title following an intense Queen's Birthday Weekend of racing.
The double-header final weekend saw positional changes for all but one of the top 10 expert grade riders as the 2017 New Zealand Enduro Championships wrapped up with back-to-back events, rounds five and six, held just two days apart and at two vastly different North Island venues.
Fortunes changed dramatically over the two events – on muddy farmland at Waitiwhiti, east of Pahiatua, on Saturday and in forestry south of Tokoroa on Monday – with the eventual rankings changing for nine of the top 10 riders.
Christchurch's Macdonald was the only top-10 rider unaffected by this last-ditch, mad scramble for points, his position seemingly secure from the start of the weekend thanks to his consistent results at the earlier rounds.
The Sherco rider started the weekend on top of the standings and that's where he finished. Macdonald would have had to finish eighth or worse at Monday's final round if he was to have the title slip from his grasp.
In the end, he finished fourth at Waitiwhiti and fourth again at Tokoroa, easily enough for him to take the top trophy for 2017.  Macdonald also won the over-300cc four-stroke bike class.
Taupo's defending national champion Brad Groombridge (Suzuki RM-Z250), finished runner-up at Waitiwhiti and then took his bigger RM-Z450 bike to win the day at Tokoroa, but it was too little and too late for him to salvage his season after he'd crashed out of the day spectacularly at round three near Wellington in March.
It was perhaps some consolation for Groombridge that he did finish runner-up, and he also won the under-300cc four-stroke class title, especially considering he'd been so far back in the points after his Wellington mishap.
Fortunes fluctuated also for all the other riders, with rankings changing at Tokoroa for nine of the top 10 men.
Macdonald's younger brother, Hamish Macdonald (Sherco 300 SE-R), slipped from second at the start of the day at Tokoroa to settle for third overall in the championship; Helensville's Tom Buxton (KTM 350 EXC-F) dropped from fourth to fifth overall at the final round;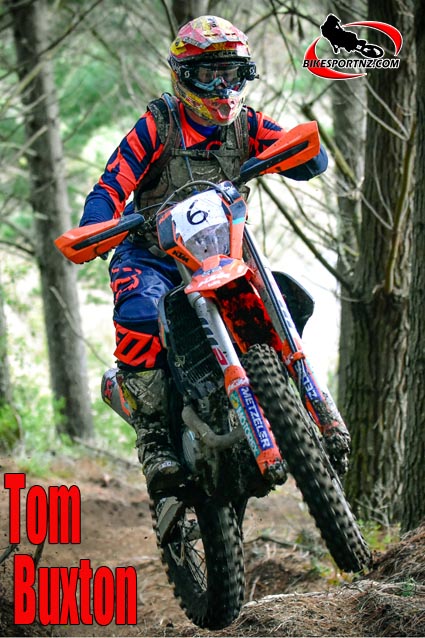 Mokau's Adrian Smith (Yamaha YZ250X) finished runner-up at Tokoroa and rose from fifth to fourth overall for the series; Cambridge's Simon Lansdaal (Husqvarna FX350) did not finish the day at Tokoroa and he therefore slipped from sixth to seventh overall; fellow Cambridge man Dylan Yearbury (Husqvarna TE250) took advantage to move up from seventh to sixth; Coatesville's Sam Greenslade (KTM 250 EXC-F) was the biggest mover at Tokoroa, finishing third on the day and elevating himself from 12th to eighth in the final standings; Aucklander Carl Steadman (Yamaha YZ250X) went from eighth to ninth, while Titirangi's Callan May (Yamaha WRF450) was a no-show at Tokoroa and he slipped from ninth to tenth.
Hamish Macdonald won the over-200cc two-stroke class; Kaikohe's Mitchell Nield (Yamaha YZ125) won the under-200cc two-stroke class and New Plymouth's Dougy Herbert (Husaberg TE300) was crowned veterans' (over-40 years) class champion.
Meanwhile, it was a battle between two young up-and-comers for intermediate grade honours at Tokoroa.
In only her first appearance in the enduro nationals this season, 15-year-old Te Awamutu girl Rachael Archer (Husqvarna TX125) was in scintillating form to win the intermediate grade on Monday by nearly a minute from the series leader and eventual champion, 16-year-old Whitianga rider Blake Wilkins (Husqvarna TX125).
Ellerslie rider Jeff Van Hout (KTM 350 XC-F) was sixth in the grade at Tokoroa and this was enough for the 54-year-old to claim intermediate grade overall runner-up honours for the series. Fellow Aucklander Cameron Manley (KTM 250 EXC) finished the series third overall in the intermediate grade.
© Words and photos by Andy McGechan, www.BikesportNZ.com
Find BikesportNZ.com on FACEBOOK here