WHIBLEY MAINTAINS STRANGLEHOLD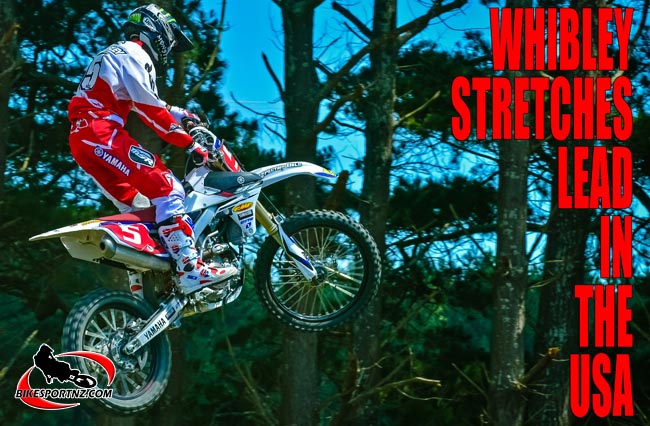 Pahiatua's Paul Whibley maintained his stranglehold on the Off-Road Motorcycle and ATV series in the United States with another solid ride at the weekend.
The 35-year-old former Manawatu forestry worker, affectionately dubbed "The Axeman" on the off-road motorcycling scene, won the first four rounds of this series and, although he was beaten into second place at round five in South Dakota at the weekend, the Yamaha ace still holds a commanding series lead.
Whibley has actually increased his series lead to a massive 45 points over American rider Jason Thomas, who was sixth in South Dakota, with fellow American Nick Fahringer third in the series standings, now 16 points back from Thomas after five of eight rounds.
Now with a healthy championship points lead, Whibley is well on target to win the coveted American title that he has already claimed several times before in recent years.
The Yamaha ace simply ran away with the OMA title in 2012, making it five OMA title wins in consecutive years, although he missed out on making it six in a row last season because of injuries.
But now, it seems, the Kiwi ace is truly back to his best.
The weekend's fifth round of the OMA series was held in Sturgis, South Dakota, home of the legendary Sturgis Bike Week, where the town is annually overrun with bikers from all over the US.
"It was not the normal OMA, either, with a shorter and a lot faster trail laid out for the riders," said Whibley.
"Another change was the race format – two one-hour 15-minute races would be the go for this event. I think it was something the organisers were trialling to attract some of our chrome riding brothers to come out and see how we get down and dirty.
"Unfortunately, I crashed in Saturday's practice session and picked up a concussion. I was feeling pretty rough on Saturday night and not really sure how it was going to go come race day.
"The first race on Sunday went surprisingly well, considering the brain fog that still lingered. I grabbed the holeshot and led the first lap, but I was riding pretty conservatively. Taylor Robert passed me out in the fast grass track with Jimmy Jarrett not far behind him getting a sniff too. I was able to hold Jimmy off and settled into second for the race.
"In the second moto, I grabbed the holeshot again. I was feeling a little better and felt ready to challenge for the win. A rock or something caught my front end and I had a weird moment were I pulled some kind of 'superman' hand-stand in the tight trees. As I was recovering Taylor snuck by and into the lead.
"I pushed harder this moto and followed as close as I could in the dust. I got close to making something happen a couple of laps into the trees, but had nothing for him in the fast open sections.
"Overall, I was happy to come away with some solid points."
Whibley is supported by Yamaha Motor New Zealand, AmPro Yamaha, Monster Energy, Shoei, Sidi, Smith, MSR G2, Asterisk, Moto SR, Vortex Ignitions, EC3D, Bush Riders MCC, Spectro, Acerbis, DID, JT sprockets, Leatt, Kenda, Sargent Motorcycles, Yamaha NZ, Bikesportnz.com, Unibiker and Tire balls.
© Words and photo by Andy McGechan, www.BikesportNZ.com
Find BikesportNZ.com on Facebook HERE
South Dakota result:
1. Taylor Robert
2. Paul Whibley
3. Jimmy Jarrett
4. Steve Leivan
5. Adam Bonneur
Series standings after five of eight rounds:
1. Paul Whibley 145 points
2. Jason Thomas 100
3. Nick Fahringer 84
4. Jimmy Jarrett 67
5. Adam Bonneur 65