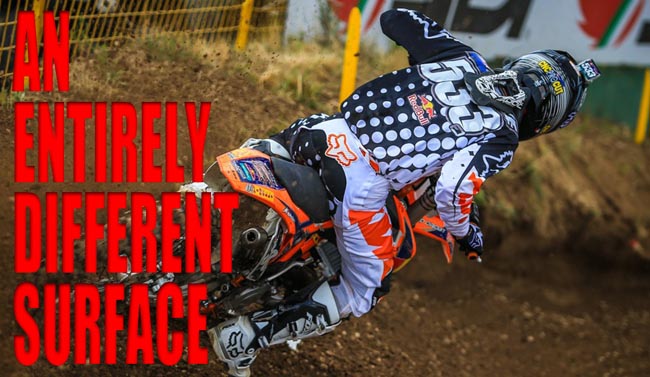 From one extreme, the heavily elevated hard pack clay of the Czech Republic, to the other, the bottomless whooped out sand of Belgium, the 15th round of 17 in the FIM Motocross World Championship calendar will be a tough one this weekend, August 3, in Lommel.
While the circuit itself hardly needs introducing, as it is definitely one of the most widely recognised tracks in the world, known to be the ultimate test of both physical and mental strength, riders can expect to dig deep on a track layout similar to that of 2012's edition of the Monster Energy FIM Motocross of Nations.
Also donning a set of scoop tyres this weekend, the boys of the European Championships – EMX300, EMX250 and EMX125 – will be set to go bar to bar for their overall ranking as it is the seventh and final round of their championships, while the Honda European Championship EMX150 will be contesting their fifth and final round.
New Zealand eyes will no doubt focus on the fortunes of Waikato teenager Josiah Natzke, the CMR Red Bull KTM rider who stunned the world with his podium finish on debut GP in Europe last weekend at Loket, in the Czech Republic.
Can this young man from Hamilton achieve even greater results than the 4-3 score-card he posted in the Czech Republic?
Natzke is using last weekend's GP and this weekend's one as well as part of his build-up for the annual World Junior Motocross Championships, this season set for Bastogne, in Belgium, in just over a weeks' time, on August 10.
While it would be foolish to compare the Grand Prix classes with the European Championship classes – it's a huge step up from EMX125 to MX2 – there is probably little doubt that Natzke could be the next GP star to emerge from New Zealand in the next few years.
Below is a video clip from the 2012 Motocross of Nations at Lommel, scene for this weekend's action. It is regarded as one of the toughest circuits in the world … have a look and you'll see why.
2012 MOTO Motocross of Nations Highlights a Motocross video by MOTO
MXGP CLASS
It's home away from home for Red Bull KTM Factory Racing's Antonio Cairoli, who will head into this weekend as the hot favourite. While it's hard to call TC222 a 'sand specialist' since he basically specialises at every surface, the Italian seven-time world champion openly admits sand is more his forte than clay, a statement like "I always look forward to going to Lommel, I like to race in the sand" coming from the champ means it's not going to be a easy weekend for the rest of the competitors in MXGP.
But, if anyone is going to rise to the occasion this weekend it will probably be one of the local heroes Yamaha Factory Racing's Jeremy Van Horebeek or Rockstar Energy Suzuki World's Kevin Strijbos. Van Horebeek experienced his first taste of victory last weekend in Czech and while he is said to favor hard and slick surfaces, he doesn't mind the sand either and is sure to have put in his fair share of laps around Lommel over the years.
Meanwhile, Strijbos has been banking results that haven't necessarily reflected his speed. The 28-year-old is looking hungry for a win, could this weekend be a breakthrough for 'The Kid'?
It may be a bit farfetched to predict Monster Energy Kawasaki Racing Team's Gautier Paulin for a win given he's a little rusty on the racing front and a track of Lommel's calibre is no walk in the park. At the end of the day, a racer is a racer and there is no doubt GP21, if he's 'feelin' it' could be a contender for the overall.
While the list goes on for riders that base themselves around Lommel during the season, another 'local' is Team HRC's Max Nagl. Like Cairoli and Strijbos, Nagl lives no more than 20 minutes' drive from the track and can never be counted out for a podium performance. If the German can get off the line and around turn one at the sharp end of the field, he's sure to be a threat for that top step.
It's hard to say if we'd be surprised to see Hitachi Construction Machinery UK KTM's Shaun Simpson on the podium this weekend. While he remains the underdog, more for statistical reasons, it's a knowledgeable fact the Scot digs the sand and if anyone's going to mix things up in the results sheets, it's probably going to be him.
MXGP World Championship Classification Top Ten:
1. Antonio Cairoli (ITA, KTM), 619 points; 2. Jeremy Van Horebeek (BEL, YAM), 562 p.; 3. Clement Desalle (BEL, SUZ), 484 p.; 4. Kevin Strijbos (BEL, SUZ), 469 p.; 5. Steven Frossard (FRA, KAW), 333 p.; 6. Shaun Simpson (GBR, KTM), 325 p.; 7. Maximilian Nagl (GER, HON), 291 p.; 8. Gautier Paulin (FRA, KAW), 235 p.; 9. David Philippaerts (ITA, YAM), 234 p.; 10. Davide Guarneri (ITA, TM), 232 p.
MX2 CLASS
Adrenalin levels have just spiked thinking about the racing that's going to occur in MX2. Who's going to win remains anybody's guess and what makes it even harder to predict is the fact that the last Grand Prix to be run in the treacherous sand of Lommel was back in 2011 when most of these guys were still racing the European Championships.
Starting with last weekend's winner, Red Bull KTM Factory Racing's Jordi Tixier. Tixier fired back at all his critics last weekend with his impressive performance in race one for his first ever MX2 race victory which eventually left him topping the box for the first time in his career as the overall Grand Prix winner.
With Lommel being at the opposite end of the spectrum to Loket, and the sand being so shifty and unpredictable, 'the Tix' is going to have to bring his 'A' game this weekend if he wants to relish that view from the top once again.
Standing Construct KTM's Valentin Guillod can't be overlooked. It's his first full season in MX2 and the kid has shown he's got some serious skill on a motorcycle. As one of the five caught up in the epic duel for third at the last round he proved he's a genuine force to be reckoned with claiming second overall for his first Grand Prix podium of his career in Loket.
Funnily enough, the most neglected of the Frenchmen pegged to rise above in MX2 at the moment was the one of the ones who pulled through last weekend.
Yamaha Factory Racing's Christophe Charlier flew in under the radar to claim a convincing race win in the second moto which was enough to land him on the third step of the podium for his best result of the season. With three rounds left to make the most of his MX2 career before being forced up to MXGP, it will be interesting to see just how deep the Frenchman can dig.
Meanwhile, the other two French toppers, Wilvo Nestaan Husqvarna Factory Racing's Romain Febvre and CLS Kawasaki Monster Energy's Dylan Ferrandis will be out for redemption this weekend after last weekend not exactly panning out the way they had hoped.
Both were looking solid for a podium in Czech, but cracked under the pressure. With Ferrandis claiming to be the strongest Frenchman in the sand, and Febvre's team being based in Lommel, this weekend there is high chance that one of these two super fast Frenchmen could lob their name into that exclusive circle of MX2 Grand Prix winners.
KTM Silver Action's Jose Butrón still remains a candidate for the podium, as does Honda Gariboldi's Tim Gajser. While Butrón has relocated to Belgium to train under the watchful eye of the great Harry Everts, which means he'll be spending a lot of time in the sand, Gajser has podiums to his name and talent to burn and also can rest easy knowing there are no rocks on the circuit to smash him on the knee cap, which according to Team HRC team manager Roger Harvey was the cause of his slow-up and look of discomfort halfway through race two in Czech.
MX2 World Championship Classification Top Ten:
1. Jeffrey Herlings (NED, KTM), 594 points; 2. Jordi Tixier (FRA, KTM), 492 p.; 3. Romain Febvre (FRA, HUS), 453 p.; 4. Dylan Ferrandis (FRA, KAW), 425 p.; 5. Tim Gajser (SLO, HON), 420 p.; 6. Arnaud Tonus (SUI, KAW), 389 p.; 7. Valentin Guillod (SUI, KTM), 354 p.; 8. Aleksandr Tonkov (RUS, HUS), 335 p.; 9. Jose Butron (ESP, KTM), 321 p.; 10. Jeremy Seewer (SUI, SUZ), 282 p.
EMX125 CLASS
Heading into Lommel, Rockstar Energy Suzuki Europe's Brian Hsu has a 12-point advantage over the early season dominator Red Bull KTM Racing's Davy Pootjes. Pootjes, who at one point in the season had more than a fifty-point lead on the current championship leader Hsu, was forced to sit out the round of Germany due to an on-going shoulder problem he has been carrying since a crash at round two in Bulgaria.
While there has been no official announcement, word is a shoulder operation is on the cards for Pootjes who is still struggling with the injury; the 16-year-old said: "My shoulder dislocated again. I didn't crash. I will go back to the hospital on Thursday and will keep you guys updated."
EMX250 CLASS
It is likely to be hard-fought in the EMX250 class as Team CNC Doors KTM's Steven Clarke leads Team HSF Logistics Motorsports Brian Bogers by eleven. While Bogers is Dutch, meaning he's naturally fast in the sand, the kid hanging out in third place trailing Bogers by 19, Hitachi Construction Machinery UK KTM's Ben Watson is also known for his sand skills after winning the junior division of the toughest beach race in Europe, the 'Le Touquet'.
EMX300 CLASS
Pressure shouldn't really be an issue for TM Racing Team's Samuele Bernardini as the Italian leads with a healthy 34-point buffer over Team Maddii Racing's Marco Maddii.
Meanwhile, it's very close between the little guys on board the Hondas in the EMX150. Great Britain's Albie Wilkie currently leads Finland's Jere Haavisto by 10 points.
© Edited by Andy McGechan, www.BikesportNZ.com
Find BikesportNZ.com on Facebook HERE