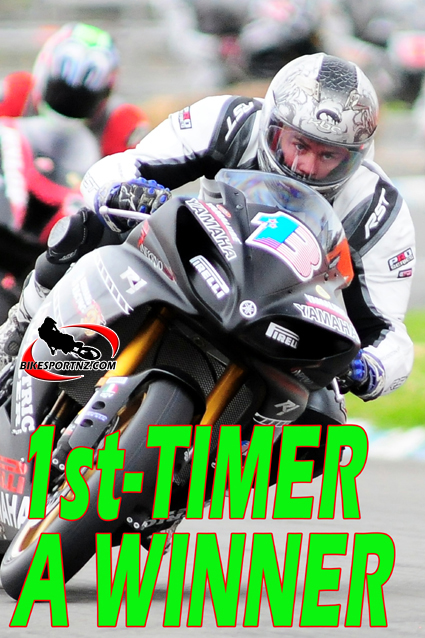 Australian Daniel Stauffer made his first visit to the streets of Wanganui on Boxing Day and he left with the main trophy packed in his luggage.
It shouldn't have happened, of course … what was a foreigner, a first-timer no less, doing winning at one of the world's toughest stand-alone race meetings, on the public streets of a New Zealand city he had never before visited?
The 33-year-old Queensland rider has always been a top three contender across the Tasman but he had no previous experience of the New Zealand tracks, least of all the public street circuit that is converted into a battleground for just one day of the year, Boxing Day.
He arrived in New Zealand to race for the Wanganui-based Bernard Yamaha Racing Team at just two events of the International Tri Series, the series opener at Hampton Downs and then at the finale, on Wanganui's famous Cemetery Circuit the day after Christmas.
Still feeling his way, Stauffer finished fourth in his first F1 race at Wanganui and that ultimately proved costly in his ambitions for class honours at Wanganui. He had skipped the second round of the series at Manfeild a week earlier, so he also had no chance of taking the series honours.
But Stauffer did have the last laugh, stunning everyone when he won the second F1 race of the day and then also winning the one-off Robert Holden Memorial feature race that wound up the day, beating Kiwi legend Andrew Stroud to the chequered flag by two one-hundredths of a second.
"I'm pretty happy with Dan winning," said Bernard Yamaha Racing Team manager Brian Bernard, of Wanganui.
"I talked with him about the track … told him everything I knew," said Bernard, who was himself a winner at the famous circuit in 2003.
"We did a couple of laps of the track in a car and I told him what things to watch out for. But for him to win the main race … that's pretty amazing.
"I can tell you we had a couple of cold ones on Sunday night to celebrate."
© Words and photo by Andy McGechan, www.BikesportNZ.com