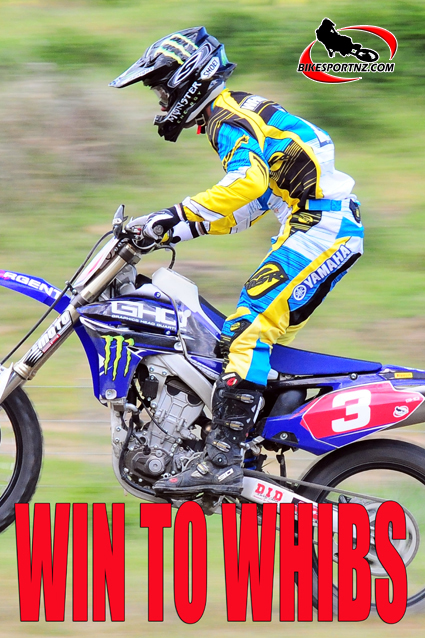 Pahiatua's Paul Whibley is probably too fast for his own good.
The Yamaha ace was so far ahead of the competition at the first round of the Bush Riders Cross Country Series near Pahiatua at the weekend that he had to complete an additional lap of the race.
But, according  to the 2009 United States Grand National Cross Country Champion, that's not a bad thing at all … in fact it just gives him extra time on his Yamaha YZ450F and assists in the build-up process ahead of his 2011 season back in America.
"I finished about 12 minutes ahead of the next rider, Wellington's Hugh Lintott (Yamaha YZ450F), so I wasn't really pushed at all.
"I was trying to push myself along, trying to keep focussed and go fast because that's important for my build-up. Let's just say I kept myself honest.
"I sneaked through scoring area just before the two-hour cut-off and got an extra lap up on the competition," he smiled. "It was another fun day at the track and good preparation ahead of the 2011 season."
Rain had arrived a few days before the event and provided relief from the dusty conditions. Light drizzle was still falling early on race day but had cleared by the time the junior race was underway.
The senior racers lined up at midday and Whibley was first to react, taking an early lead.
"I got a good start and was first through the gateway and onto the main track.
"Conditions were slippery early on but my Pirelli' tyres found traction on even the slickest clay. I felt good and pushed hard enjoying the track as it cut up and lines formed. One gully was pretty soft and turned into a massive bog but, with plenty of options, it never bottle-necked or got any bottomless ruts.
"There was also a log crossing just out of the scoring area and that kept the pit crews and spectators entertained. There was an alternative line if anyone felt uncomfortable with traversing the log but they had to suffer the ribbing from any of their mates watching.
"At the gas stop (my wife) Katherine handled the fuelling with her brother Nathan handing over a fresh set of Smith roll-off goggles.
"I had a comfortable lead and could play it safe but continued to put in strong laps and consistent times."
© Words and photo by Andy McGechan, www.BikesportNZ.com