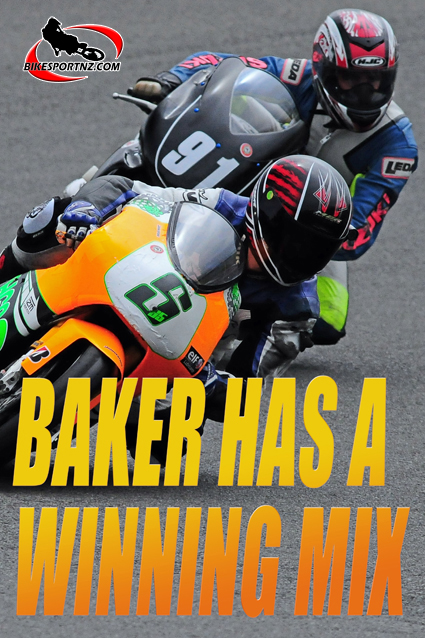 Young Australian Sam Baker reckons he's onto a winning recipe … gain experience in New Zealand during his off-season.
The 21-year-old from Albury, New South Wales, arrived in New Zealand to race the International Tri Series and, with two of the three rounds now complete, he confirms he's "thoroughly enjoying it".
"It's my first time in New Zealand and I've only been here about three weeks now, so I haven't seen or done much … but this series has been a lot of fun.
"I tested the Yamaha TZ125 for the first time on the Friday before (the series opener at) Hampton Downs a fortnight ago. But I crashed it, so that didn't help things.
"This is only my first season racing road bikes, actually. I used to race dirt track. But the offer made to me by Hawke's Bay's Maarty van Booma to be a part of his Yamaha VB Racing Team was too good to turn down and, to be honest, although he's not putting any pressure on me to perform, my own expectations are quite high.
"The TZ Yamaha is the best bike out there, no doubt about that. It's a 2004-model bike but still extremely quick … a very good machine."
Baker is currently running 16th overall, thanks largely to the crashing antics at round one of the series, but he did pull off a couple of solid results at round two at Manfeild last weekend, finishing 13th and 6th in the two races that day.
His 125cc machine is the smallest capacity bike in the F3 Sportsbikes class, where he has to line up against experienced campaigners who are on 690cc, 650cc, 540cc, 450cc, 400cc and 250cc machines.
"It's all part of the fun," he responded.
"I think New Zealand is a pretty special place … I've been staying in Hawke's bay since I arrived. We've had one rainy day and all the rest of the time it's been shining. It's awesome."
The third and final round of the International Tri Series is on the public streets of Wanganui on Sunday, the world famous Cemetery Circuit race meeting held about every Boxing Day since 1951, although Baker won't be here for that event. He's already returned home to be with his family over Christmas.
Instead it will be Kiwi team-mate Ken Jones who waves the flag for Yamaha VB Racing Team at Wanganui.
Hamilton's Jones will race a modified Yamaha R6, "stroked down" to 450cc capacity, in the same F3 Sportsbikes class.
© Words and photo by Andy McGechan, www.BikesportNZ.com