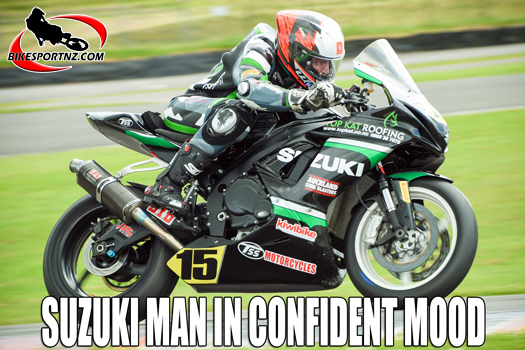 Upper Hutt's Rogan Chandler is in a confident mood after his season-opening performance at the recent Motul 6-Hour Endurance race at the Taupo International Motorsport Park.
The annual endurance race, competed for by teams of three riders, the motorcycles running in relay fashion, dictated that each rider was to complete a specified amount of track time within the six-hour duration.
Suzuki star Chandler, along with his two team-mates, Bulls rider Ashton Hughes and Whatawhata's Marcus Read-Bloomfield, were competing on only 600cc bikes against the mighty 1000cc superbikes of so many of their rivals at the popular motorcycling marathon.
So, it may therefore have come as a shock to some competitors that the trio riding 600cc bikes were leading the way after 90 minutes, each of the riders having completed their first 30-minute stints on the race track.
"It may actually have been a slight advantage to us that we were on 600cc bikes, because we could stay on the track longer between refuelling and the smaller engine wasn't so hard on the tyres," explained Chandler.
But then disaster truck, with Read-Bloomfield (MV Augusta) suffering a mechanical issue and then Hughes (Triumph) involved in a collision with another bike that damaged his machine.
"It all turned to custard for us after that," said Chandler. "I kept on riding solo and, as a team, we had realised we couldn't win overall. Marcus and I shared my bike until the end, but we had to take a two-lap penalty for making a tyre change. Of the six-hour race duration, we had used my stock standard 2016-model Suzuki GSX-R600 for four hours in total, probably more than any other bike at the event.
"But the Suzuki survived it all and didn't miss a beat."
The trio earned race-within-a-race honours for winning the 600cc class bragging rights, while all the time showing they were competitive against the 1000 bikes.
"It was great for me to blow out the cobwebs before the season proper begins," said Chandler.
"It also meant I got to race a lot of laps around Taupo and that's where the season kicks off next month, so it sets me up for a good season ahead.
"I have been racing my Suzuki also in the Auckland Motorcycle Club's series and won every race so far, so you could say I'm feeling pretty confident right now.
"I will again have (Auckland's) Ray Clee as my bike tuner this season. He's a genius on the tools and my Suzuki is obviously going to be highly competitive again too."
Sadly, because of their succession of misfortunes, the Chandler/Hughes/ Read-Bloomfield trio had to settle for sixth overall at the Motul 6-Hour.
Paraparaumu's Richard Markham-Barrett teamed with his son, Isaac Markham-Barrett, and Upper Hutt's Glen Skachill won the big race overall, each of them campaigning 1000cc bikes.
The runner-up team at Taupo comprised Wellington pair Rhys Lindsay and Malcolm Bielski, teamed with Hamilton's Jordan Burley.
The next major event for these riders is the three-round Suzuki International Series, set to kick off at the same Taupo circuit on the weekend of December 2-3.
The Suzuki International Series has already become such an iconic competition that the governing body for the sport in this part of the world, Motorcycling New Zealand, last year decided for the first time that it made perfect sense to include the first two rounds of the Suzuki International Series – excluding the unique stand-alone Cemetery Circuit street racing component on Boxing Day – as an integral part of its national superbike championship series.
The 2023 Suzuki International Series begins at Taupo on December 2-3, then heads to Manfeild a week later, on December 9-10, and finally it wraps up on the public streets of Whanganui's renowned Cemetery Circuit on Boxing Day.
This annual three-round Suzuki International Series kicks off the busiest time of the year for New Zealand's elite motorcycle road-racers, with the New Zealand Superbike Nationals flowing on nicely after that in January, three events in the South Island and then the MotoFest festival weekend at Hampton Downs, north of Hamilton, in March to wrap it all up.
© Words and photo by Andy McGechan, BikesportNZ.com
Find BikesportNZ.com on FACEBOOK here