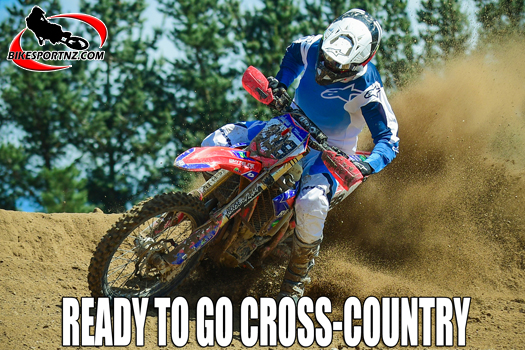 The Kiwi dirt bike racing community is primed and ready for the delayed start to the 2023 edition of the NZ Cross-country Championships, with opening round set for the Bay of Plenty region this weekend.
This year's Whyteline Beta Motorcycles-sponsored three-round series could be a classic battle of the titans between two champions, with defending national champion James Scott, from Oparau, and Taupo's three-time former champion Brad Groombridge (pictured here) expected to lock horns on the Rotoma farmland property this Saturday.
However, it could equally mark a changing of the guard this season as several fresh contenders have also emerged in recent months, while a late change in venue for this series opener will also keep everyone guessing about what might be in store.
Other senior riders who might be expected to shine on Saturday include Eketahuna's Luke Brown, Papakura's Ryan Hayward, Taupo's Wil Yeoman, Rotorua's Callum Dudson, Whangaparoa's Jacob Refoy, Wairoa's Luke Taylor, New Plymouth's Sam Parker and leading female rider Charlotte Russ, among others.
In the junior ranks, it is likely that Eketahuna's Sheldon Brown, Rotorua's James Bates, Feilding's Logan Clare, Havelock North's Luke McBeth, Feilding's Hunter Thurston, Ohope's Ari Devaney, Ashhurst's Fletcher Amey and Whakatane's Aydan Hall, among others, should be challenging for the front positions.
Several riders are expected from the South Island too, including talented Owaka rider Blake Affleck.
This year's upcoming series may be considered something of a "rescue package", the competition resurrected at short notice and forced to run later in the year than would usually have been the case when a void was created by the unexpected retirement earlier this year of Motorcycling New Zealand's long-time cross-country commissioner Chris Smyth.
But the dirt bike discipline is in great hands again with new organisers Paul Whibley and Claire Clare stepping into the breach and forming a three-round series for 2023 that will now run through November and December.
The 2023 season blasts off at 950 Braemar Road, Rotoma, south of Matata and not far from Whakatane, this coming Saturday, and Whibley believes it will provide a stern test for both man and machine.
"It was a last-minute scramble to get this weekend's venue, after we lost the original site at Pongokawa due to unforeseen circumstances," said Whibley.
"But, on the plus side, this new venue has never been used before, so it will be fun, fresh and offer no local-knowledge advantage to anyone."
Whibley, the former United States cross-country champion from the Manawatu who is now retired as a regular racer, added: "I'm quite excited see the competition finally kick off this season.
"Claire and I have a plan to grow the New Zealand Cross-Country Championships," said Whibley. "We want to streamline the classes a little, slow down the average speeds to make it safer, mix in some variety of terrain and work alongside the clubs to improve marking systems. We hope these improvements will boost entries and create some intense racing.
"This will also align the nationals closer to what is going on internationally, providing a platform where aspiring racers can launch from to take the next steps in their racing careers."
2023 New Zealand Cross-country Championships calendar:
Round one, Saturday, November 11, at Rotoma, near Matata;
Round two, Saturday, November 25, at Maddix Park, Tauranga;
Round three, Sunday, December 10, at Tinui, near Masterton.
© Words and photo by Andy McGechan, BikesportNZ
Find BikesportNZ.com on FACEBOOK here