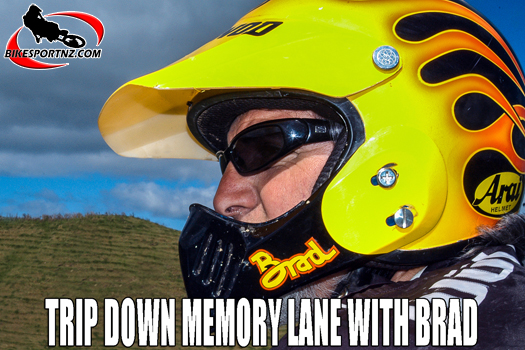 While the Grand Prix scene has had many top American riders coming to race the FIM Motocross World Championships, like Ryan Villopoto, Broc Glover, Danny Laporte, Bobby Moore, and so forth, but was Brad Lackey who made the biggest jump.
As a former AMA 500cc champion, Lackey made the move when it was much more difficult than now and he was able to become the first American to win a world crown.
It was after long and lonely nights sleeping in the CZ factory in the Czech Republic, back in a time when not many Eastern Europeans spoke English and, for a young teenager from California, times were tough.
"Lackey was struggling to fit into the European culture and the white sandy beaches of Los Angeles were now a distant memory, he spent many nights unhappy, but with a strong mind he manage to reach his goals.
"You have to understand," Lackey said. "When I came out, I lived in Czech Republic, in the CZ Factory housing, and with 50-year-old guys when I was just 17 years old.
"They didn't speak one word of English and there was no McDonalds, gas stations, etc. Trust me, times were really different. Every day I would just ride my bike and try and forget about it, I worked at the factory in the morning and then would ride in the afternoons.
"I got to leave to go to those 250cc Grand Prix's, so I went to Poland, East Germany, Czechoslovakia, beautiful countries. I was just concentrating on learning my trade."
Life on the road meant many nights sleeping alongside the freeway, driving from one country to another in his small car and pulling a trailer. Getting used to this new culture also meant learning the road rules of each country. American music was something that got him through the cold winters and language difficulties.
"I had a small cassette player and I had one tape and it was California Dreaming by the Mamas and the Papas, and I can tell you I wore out some batteries listening to that song.
"I was a typical Californian kid; that never heard about autobahn and didn't even know what that was. So, I would be driving along in the middle of the night with my car and trailer and bikes in the back. I would pass a big truck and then look in the mirrors and see some guy flashing his lights like miles behind. I would think what is wrong with that guy, then I would pull over to the side and a Porsche would go by at 200 miles an hour."
Of course, the reason Lackey wanted to head to Europe in the first place was back in the late 1960s when Grand Prix riders travelled to America to race against the local riders. It was at this moment that Lackey knew where he wanted to spend his career it was at the Motocross GP.
"The first time De Coster, Hallman and Robert came to America, like in 1967, we thought we were fast guys, but they showed us that we weren't really that fast.
"I mean back then those guys had factory bikes and we just had scrambler bikes, like BSA's and stuff like that. Watching those guys ride and seeing how fast they were I figured I was only going to learn if I went to Europe.
"I came to Europe to get to a different level in riding skills; I  got a little lucky and went to the CZ factory and did some testing and racing and after that they offered me a Grand Prix bike, and I could ride half the 250cc series in 1971, so I came over for that."
Now long retired, Lackey can look back at a time when Europe was very different and his achievement to become a world champion was a lot tougher than it is now.
Winning the 1982 World 500cc championship placed him in Grand Prix folklore and he will forever be loved by thousands and thousands of motocross fans around the world.
Words by Geoff Meyer
© Photo by Andy McGechan, BikesportNZ
Find BikesportNZ.com on FACEBOOK here