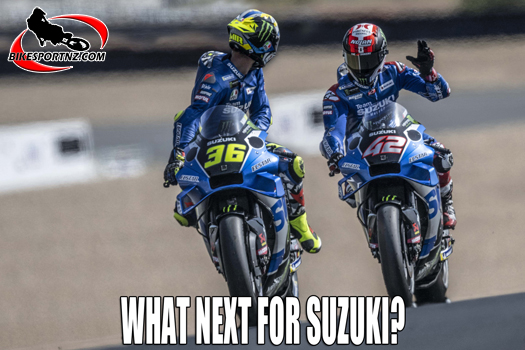 The Suzuki Motor Corporation has been in discussions with Dorna regarding its withdrawing from MotoGP at the end of 2022, but where would that leave the popular brand and the sport in general?
The championship-winning company issued a statement that said "unfortunately, the current economical situation and the need to concentrate its effort on the big changes that the automotive world is facing in these years, are forcing Suzuki to shift costs and human resources to develop new technologies.
"We would like to express our deepest gratitude to our Suzuki Ecstar Team, to all those who have supported Suzuki's motorcycle racing activities for many years and to all Suzuki fans who have given us their enthusiastic support. "
This poses more questions than answers, like where does it leave talented racers such as Joan Mir – the MotoGP world champion in 2020 – and his Suzuki team-mate Alex Rins?
Why would Suzuki, which has arguably one of the best bikes on the MotoGP grid, along with one of the best team managers in the sport in Livio Suppo, and a rider line-up which is arguably the strongest in the championship suddenly shut down its racing efforts?
Will is turn its focus more towards motocross perhaps, another bike code in which it has enjoyed many world championship-winning seasons in the past with riders such as Steve Ramon, Greg Albertyn, Donny Schmit, Alex Puzar, Roger De Coster, Eric Geboers, Stefan Everts, Harry Everts, Joel Robert, Gaston Rahier, Akira Watanabe, George Jobe, Brad Lackey, Michele Rinaldi and Mickaël Pichon.
Do we all remember those Suzuki "glory years"? They have certainly been a dominant force and, as peaks and troughs continue in this sport, it's impossible to say that the yellow bike brand might not once again be a leading contender.
Meanwhile, here are some of the Suzuki road-racing world champions over the years, including a notable Kiwi rider.
Ernst Degner – 1962:
Degner designed Suzuki's new 50cc and 125cc racing machines in 1961, and remarkably the following year, in 1962, he became Suzuki's first World Champion taking the crown in the 50cc class.
Hugh Anderson – 1963, 1964, 1965:
After winning a host of titles in his native New Zealand, and three British titles, Hugh went on to claim four World Championships with Suzuki. He won the 125cc World Championship in 1963 and 1965 and the 50cc in 1963 and 1964.
Hans-Georg Anscheidt – 1966, 1967,1968:
Hans-Georg Anscheidt was a German Grand Prix motorcycle racer who won three consecutive FIM 50cc World Championships from 1966 to 1968 as a member of the Suzuki Racing Team.
Dieter Braun – 1970:
The 1970 World GP 125cc Championship was won by Dieter Braun on a bike on loan from Suzuki.
Barry Sheene – 1976, 1977:
The British legend took the Championship for Suzuki in 1976 with five superb victories, and again in the 1977 season with six. He remains the last British rider to become World Champion in the reigning class.
Marco Lucchinelli – 1981:
Fighting with Kenny Roberts and Randy Mamola, the Italian was crowned the 1981 World Champion to take his place in MotoGP history.
Franco Uncini – 1982:
In a year that saw the grid full of further legendary names including Freddie Spencer, Kenny Roberts and Barry Sheene, Uncini took the title on his Suzuki with 5 victories and 7 podiums.
Kevin Schwantz – 1993:
The Texan was crowned World Champion after epic battles with Wayne Rainey, in a year full of well-known names, including Mick Doohan, Luca Caladora, Alex Barros and Alex Crivillé.
Kenny Roberts Jr. – 2000:
After winning the title in 2000, Kenny Roberts Jr. made history when the Roberts family became the first Father/Son World Champions.
Joan Mir – 2020:
In an extraordinary year, with a shortened and condensed calendar, the Mallorcan's incredible consistency and impressive focus paid off at the end of the 14 races and he took the Riders' World Championship in style for Suzuki after a 20 year wait for the factory. This achievement was made even more special as 2020 marks the 100th anniversary since the Suzuki company was founded, and the 60th anniversary of their start in racing.
We acknowledge that it can be horribly expensive to go racing at the highest level in any motorsports code and the old adage that "what wins on Sunday sells on Monday" may no longer be entirely true, so it's quite understandable that Suzuki may just wish to concentrate on building and selling great bikes to the general public.
We wait with much anticipation to see what the future holds. They don't have anything left to prove, but it seems unimaginable that Suzuki will just walk away from the race scene entirely.
Photo courtesy Suzuki
Find BikesportNZ.com on FACEBOOK here