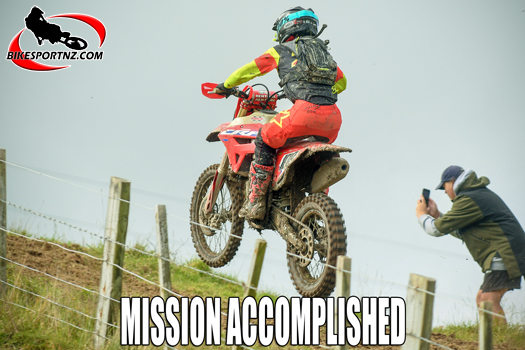 Oparau's James Scott can now scratch another item off his "To Do" list and this time it involves winning a New Zealand motorcycling title in a slightly different environment to what he's typically used to.
The young Honda star, the current New Zealand motocross No.2 in the MX2 (250cc) class, has raced motocross internationally and raced enduro world championship events too, but it was alien territory to him when he lined up to tackle the New Zealand Cross-country Championships for the first time this season.
Oh sure, the 20-year-old South Waikato sheep and beef farm worker (pictured here) has dabbled at cross-country racing before, a branch of dirt bike racing not too dissimilar from the parallel motocross or enduro codes, and he won the only round of the popular Dirt Guide Cross-country Series that he tackled near Tokoroa in June 2021.
But this still makes him a "virtual rookie" at national cross-country championships level.
So much for his newbie status … he put aside his trusted Honda CRF250 motocross bike to instead climb aboard the bigger Honda CRF450RX enduro bike and make his cross-country nationals debut at round one of the Yamaha-sponsored 2022 series near Marton in late February.
He stunned everyone – except perhaps those who know him well – when he beat defending New Zealand champion Tommy Watts (Yamaha) to the chequered flag that day.
Then it was all quiet on the racing front, with a seven-week break before rounds two and three scheduled for the long Easter Weekend, but Scott simply picked up where he had left off in February.
Scott won both the back-to-back rounds two and three, near Pahiatua on Saturday and near Dannevirke on Easter Monday, proving comprehensively that his first-round win was certainly no fluke.
It was the same podium that formed up at the end of racing on both days over the Easter break, Scott winning both three-hour senior races ahead of Watts, with Taupo's Wil Yeoman (Yamaha) crossing the line in third place both times.
With only three of the four rounds to be counted, it means that Scott's win at round one, followed by his pair of wins over the weekend, put him in an unbeatable position and the national cross-country champs first-timer therefore wrapped up the New Zealand title with a round to spare.
"There was a little bit of pressure about a quarter of the way through the race today (Monday) and I could see that Tommy (Watts) was reeling me in," said Scott afterwards.
"I had a small crash, but then after that I just picked up my pace. I had an extra fuel stop, one more than Tommy, and that probably helped him a bit too."
The fourth and final round, to be held in Central Hawke's Bay on May 15, will focus on the battles that still remain for the various separate class honours.
Ironically, next up for Scott is for him to team up with his main cross-country champs rivals, Watts and Yeoman, to form the three-man New Zealand Junior Team at this year's International Six Days Enduro, to be held near the town of Le Puy en Velay, in southern France, in late August and early September.
"We have quite a strong team. We're fierce rivals on the track, but good mates off it and I'm looking forward to going to France. I raced two rounds of the Enduro World Championships in 2021 and that gave me a good taste of what I can expect.
"I'll race the New Zealand Enduro Championships this year too, before I head overseas."
Watts was clearly disappointed not to be able to defend his national crown, but he is also now focussing forward to the ISDE in France.
"I definitely wanted to win this weekend, but it is what it is," Watts shrugged.
"I'm really excited for France and we're all good mates off the track anyway. I will be going from there to the United States to do the last few rounds of the GNCC (Grand National Cross-country Champs) in the 250cc class and that will be exciting too."
Scott is supported by Honda New Zealand, Motul, Best Build Construction, Parkes Contracting, Alpinestars, 100% goggles, Bell helmets, Crown Kiwi, Pirelli tyres, MotoSR, Renthal handlebars, Twin Air, Dr Trim and Un4seen Decals.
© Words and photos by Andy McGechan, BikesportNZ.com
Find BikesportNZ.com on FACEBOOK here