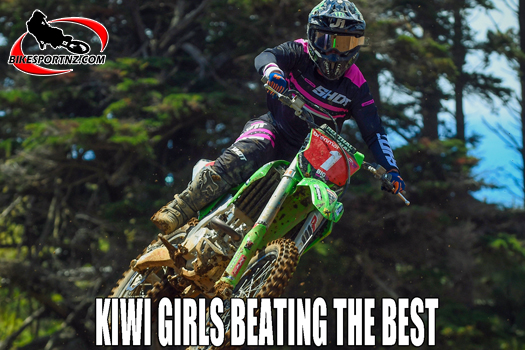 The success that Pukekohe's Katherine Prumm achieved on the motocross world stage was no doubt one of the sparks that inspired the imagination in so many Kiwi women and yesterday we plotted her career path to the top of the world.
There were others too, of course, individuals such as Lisa Heath, Jamie-Lee Caldwell, Josephine Adlam, Tania Satchwell, Emma Davis, Shelley Hickman, Mary Perkins, Melissa Mudgway, Nikki Scott, Alanna Columb, Elyse Wadsworth, Julie Managh, Letitia Alabaster, Taylar Rampton, Mel Patterson, Kimberley Murphy, Roma Edwards and Courtney Duncan, among others, who have also contributed in no small way to putting New Zealand on the motocross map over the years.
Napier-born Taupo resident Satchwell, who won the AMA Women's (125cc two-stroke) Motocross Championships title (in the United States) in 2001, was a stand-out in her day.
In addition to her US title, she also finished third overall in the United States on three separate occasions, in 2004, 2005 and 2007.
In 2004 she finished behind Florida's Jessica Patterson and Puerto Rico's Tarah Gieger; in 2005 she finished behind Patterson and Michigan's Sarah Whitmore and in 2007 she was again shaded by Patterson and Geiger.
For a country with a population only the size of a moderate-scale European or American city, New Zealand certainly boxes well above its weight in the motocross world and it is humble individuals like these ones we've mentioned that we can credit for this.
But none really have achieved as much as Otago's Courtney Duncan (main photo above) .

The girl from Palmerston, near Dunedin, first turned heads internationally when, racing against the boys, Duncan finished sixth overall in the 85cc class at the FIM Junior Motocross World Championships in Taupo in 2009.
That result from the then 13-year-old Duncan helped boost New Zealand to third overall in the 'Nations Trophy' classification.
The result by Duncan was the best ever by a female in (not gender-specific) Junior Motocross World Championship racing history and she demonstrated her outstanding riding ability by finishing fourth in the second of her two championship races that weekend.
It wasn't long before she was a regular on the international stage, variously experiencing some great successes, but also some bitter disappointments.
Just before she embarked on her 2016 campaign in Europe, she signed off at home by "whipping the cream" at the big annual Woodville motocross in late January.
She won the coveted MX2 class crown that day, beating a couple of male motocross heroes in the shape of Josiah Natzke and Hamish Harwood (young men who, incidentally, would later that season be chosen to represent New Zealand at the Motocross of Nations in Maggiora, Italy).
Between 2016 and 2018, Duncan impressed greatly on the GP scene in Europe, but she never quite managed to put her Yamaha on the top.
She finished fifth overall in an injury-blighted 2016 campaign in Europe.
Duncan crashed on a jump while leading at the German GP in May that year, the third round of the series, after clipping an errant photographer who was, shockingly, actually standing out in the middle of the track.
The wrist injury she suffered that day forced her out of the following five races as she underwent surgery and then took more time off to recover.
The WMX title that year was won by French Kawasaki rider Livia Lancelot, a fierce competitor who had, interestingly, been one of Prumm's main rivals eight or nine years earlier.
Duncan finished third overall in the WMX series the following season, in 2017, closer to the coveted No.1 spot but still not quite reaching the heights she was clearly capable of.
Duncan arrived at the sixth and final round of the 2017 series at Villars-sous-Ecot, in France, trailing Dutch rider Nancy Van de Ven by just two points and, with just five points to separate the top four riders, anything was still possible.
Duncan was again on target to win the world crown, but that's when everything went horribly wrong for her in the first of her two races that weekend as a steep and muddy section of the track became impossible for the riders and the race had to be abandoned.
Duncan had been out in front, with a massive 20-second lead over her main title rival at that stage, Italy's Kiara Fontanesi, when, on the final lap, she had to take evasive action to avoid a group of lapped riders who had become stuck on the steep hillside and Duncan became wedged under a trackside hoarding.
Duncan had quickly managed to recover her way back to finish sixth before the race was finally stopped.
However, instead of the race being wound back a lap prior to the stoppage (when, remember, Duncan had been leading) and a result declared from that, as normally happens, it was controversially decided to give the race win to Fontanesi, who happened to be leading at the moment the race was finally halted, despite so many of the riders by that stage having illegally cut the course to avoid the hill.
That result had dropped her fourth in the world standings and nine points behind series leader Van de Ven, four points behind Lancelot and seven behind Fontanesi, with just one more race the following day to wrap up the series.
Duncan convincingly won the final race that Sunday, crossing the line a whopping 46 seconds ahead of race runner-up Lancelot, the defending world champion from 2016, but Duncan's 6-1 score-card from the weekend was not quite enough and she eventually had to settle for a world ranking of No.3 (actually third equal, a position shared with Van de Ven, but the Kiwi ahead on count-back) for 2017.
Fontanesi won the title that year, with Lancelot finishing runner-up and then Duncan and Van de Ven behind them – with just three points to separate the quartet.
Duncan finished fourth overall in the world rankings the following season (2018), after a foot injury – suffered during a non-WMX race between the GPs – forced her to withdraw while she was leading the championship and all with just four races (the final two rounds of six in that 2018 season) left to go.
The eventual top five (in order) for 2018 were Fontanesi, Ven de Ven, Larissa Papenmeier, Duncan and then Steffi Laier.
It's interesting to note that both Papenmeier and Laier had been title contenders in the Prumm era too, the German pair having raced at the top level for most of the previous decade.
But then the following season things brightened considerably for Duncan when she surprisingly switched bike brands. Her holding the main trophy aloft at the end of 2019 made up for all of those earlier disappointments. And her successful title defences in 2020 and 2021 were obviously very special too.
Duncan switched from blue to the green brand for 2019, joining the Steve Dixon-run DRT Kawasaki Racing Team operated out of England, and then she suddenly cracked it, becoming women's world champion for the first time that year.
And what a way to do it … with nine wins from 10 starts in 2019.
So comprehensive was Duncan's WMX campaign in 2019 that she wrapped up the five-round competition with a race to spare, completing a 1-1 sweep of the final round in Turkey that September.
It was a year of redemption and resurrection for the then 23-year-old Duncan, the Otago rider celebrating her Kawasaki debut that season by finally achieving her lifelong dream.
Duncan had headed to Turkey for the final round with a whopping 23-point advantage over her nearest rival, Papenmeier.
She qualified fastest and knew that a win in the first race in Turkey would give her the world title with a race to spare.
She took no risks on the opening lap but she had already taken over third place ahead of her title rival on the opening lap and, two laps later, she swept into second place.
On lap six she took over the lead, racing clear to secure the win by 12 seconds over Danish rider Sara Anderson, Duncan's eighth victory in nine races, extending her world championship lead to 31 points.
With a maximum of only 25 points available in the final race of the season the following day, she was already champion and greeted at the finish line after race one by a jubilant Bike It DRT Kawasaki crew and handed a golden helmet, the WMX champion for 2019.
She finished that glorious 2019 season ahead of Dutch rider Van de Ven, with Papenmeier finishing third overall.
"I'm just lost for words; it's indescribable!" she said at the time.
"I've expected big things of myself ever since I joined Kawasaki at the start of the year, but I just had to take my time, learn from my mistakes and not quit. I've gone through hell in the past years to get here; I've had so many tough times and injuries."
With a target now on her back, it certainly wasn't easy for Duncan in 2020 and the racing went right down to the wire in Italy that November.
It was an enthralling final round at Pietramurata, in northern Italy, as Duncan battled from behind in the points to successfully reclaim the crown.
After a bike-breaking crash at the third round of five in this series at Mantova, in Italy, in September, Duncan turned up at the final round at Pietramurata four points adrift of the championship-leader, Nancy Van de Ven.
Duncan immediately stamped her authority on the event by claiming pole position in qualifying, but a tangle in turn one sent the Kiwi crashing to the ground and she was forced to rejoin the race in last position.
Duncan began an inspiring charge through the entire field and, remarkably, just past the half-distance in the 20-minutes-plus-two-lap race, she had moved into second place.
Duncan was still 20 seconds behind the leader, Papenmeier, but she refused to give up and eventually jumped into the lead as Papenmeier crumbled under the pressure and Duncan took a thrilling win by just two seconds from the German.
The last-gasp win meant Duncan had overturned the points deficit and she was now five points ahead of Van de Ven in the championship chase with just one race to go.
A sensible, no-risk approach to the final race earned Duncan a third placing and, with that, she won the world title for 2020.
Duncan and Van de Ven were equal on points at the end of the 2020 series, but Duncan was awarded the title on the "count-back rule", Duncan recording five races win to the Dutch rider's three.
She made it three world champion wins in a row in 2021, wrapping it up at the final round in Italy.
Check back tomorrow as we bring you the full story of Duncan's glorious 2021 season.
© Words and photos by Andy McGechan, BikesportNZ
Find BikesportNZ.com on FACEBOOK here