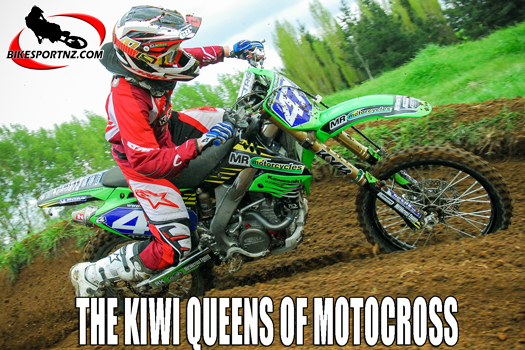 We recently looked back over the Kiwi men who were our motocross trailblazers on the world scene, but now we're looking over a handful of the women who also flew the silver fern flag high on international podiums.
We previously wrote about the men, riders such as Ivan Miller, Craig Coleman, Bryan Patterson, Shayne and Darryll King, Josh Coppins and Ben Townley, to name a few that were mentioned, and today we discuss some of the contributions made by our women, Katherine Prumm and Courtney Duncan in particular, although individuals such as Lisa Heath, Jamie-Lee Caldwell, Josephine Adlam, Tania Satchwell, Emma Davis, Shelley Hickman, Mary Perkins, Melissa Mudgway, Nikki Scott, Alanna Columb, Elyse Wadsworth, Julie Managh, Letitia Alabaster, Taylar Rampton, Mel Patterson, Kimberley Murphy and Roma Edwards, among others, have also contributed in no small way to putting New Zealand on the motocross map over the years.
The first Kiwi woman to really make it big was Katherine Prumm, actually born in South Africa in 1988, then moving to New Zealand with her family in 1995 (She is pictured above, racing against the men in New Zealand in 2007).
In 2004, Auckland resident Prumm first tested the waters internationally, the then 16-year-old showing up at the final round of the Australian women's motocross championships and seriously dominating the competition, humbling the best in the business in her trans-Tasman debut.
Her success in Australia was just a foretaste of what was to come for the South African-born Pukekohe schoolgirl and her followers, as she branched further afield and headed to Europe and into the cauldron of world championship level action.
She showed up at Uddevalla for the Swedish Grand Prix on July 3, 2005, the Kiwi ace jumping at the chance to compete in the one-event inaugural Women's World Cup.
She remarkably finished runner-up in Sweden, behind Germany's Steffi Laier and ahead of French woman Livia Lancelot, in that Women's World Cup season debut in 2005.
It wasn't labelled the women's world championships in those days, but, in everything but name, that's exactly what it was and, expanded to several rounds in the years that followed, she eventually went on to win Women's World Cup outright on two occasions, in 2006 and 2007.
She finished ahead of Laier and Lancelot in 2006 and ahead of Lancelot and Germany's Maria Franke in 2007.
In a career dotted with so many highlights, Prumm was also New Zealand Women's Motocross Champion in 2004 and 2005; Australian Women's Motocross Champion in 2005; Oceania Women's Motocross Champion in 2003 and 2006.
In October 2005, Prumm had also been named Counties-Manakau Junior Sportswoman of the Year and was inducted into the Motorcycling New Zealand Hall of Fame in 2019.
Then things started to go wrong for Prumm in 2008, the same year the series was re-named the FIM Women's Motocross World Championships (WMX).
She signed with Yamaha at the start of 2008, but a pre-season crash left her riding with a ruptured knee ligament.
Even so, Prumm still led the WMX series after three of the five rounds and looked to be on target to win her third consecutive world title.
But then disaster struck when a training crash in Belgium in June, only days before round four, put her out with a badly-broken collarbone and she had to settle for fifth overall that season.
She had plans to be back in Europe for the 2009 season, but those plans were scrapped even before she could board her international flight.
Prumm crashed heavily during a training session on a friend's property in Waitakere, landing head-first down a three-metre bank. Her bike crashed on top of her and her back was broken in three places.
It was at first feared she might never walk again. She eventually made a full recovery, but her motocross racing days were over.
Check back here tomorrow for part two of our look-back at the Kiwi queens of motocross.
© Words and photos by Andy McGechan, BikesportNZ
Find BikesportNZ.com on FACEBOOK here