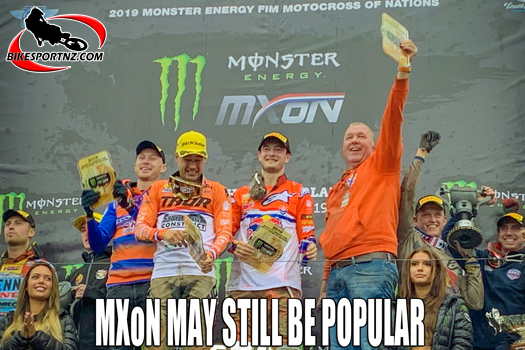 While this year's Monster Energy FIM Motocross of Nations will not be run at the end of the season, instead slotted in midway through the GP season, the interest from the major teams still seems quite strong.
The defending champions, the Netherlands (pictured here after winning the 2019 MXoN), have named their team for 2021, with Jeffrey Herlings, Glenn Coldenhoff and Roan van De Moosdijk.
While Van De Moosdijk is currently injured, he is expected to be back in action again before the MXoN on September 26.
Even if the Kawasaki rider can't be ready, the Dutch have 17-year-old Kay de Wolf also in hot form and excited to race for his country.
There is no doubt, Coldenhoff has some pressure as his 1-1-1-1 results from the last two Nations at Redbud and Assen make him the hot favourite to lead Holland to their second victory in the history of the event.
Even with a rider like Herlings in the team, that determination to continue to prove his worth at this event never waivers for the always friendly and positive Coldenhoff.
"After my results the last three years," Coldenhoff said. "In Redbud and Assen, it is very special.
"To represent your country, that is always special for me. It is a completely different race schedule what we are used to, and I am a very proud Dutchman, and I will always race for my country. I always want to do well for our country, and we are a very small country, so it is a big challenge.
"I felt it was such a shame we missed out on having that race last year, because we have never had such a strong team with Jeffrey, myself and Roan, or even Kay. We could have had a strong team last year and we will have this year.
"If I was first in the MXGP championship or 20th, I would go to the Nations. It is a special race format, and I really like that about it.
"I personally think they should keep it how it is and how it was, and I am really looking forward to this year's race.
"Jeffrey is riding and while Roan is injured, we hope he is fit, but we will see, we have a great reserve in Kay if we need him."
Herlings, like his good friend and countryman Coldenhoff never thought for a second about not competing for his country and trying to regain the Chamberlain Trophy.
The rider many say is the fastest in the planet is still looking for his first ever 1-1 at the event and the sand of Mantova seems like a good place to go for the perfect day.
"I mean, for some countries, like Slovenia, it is hard for that team to win, so it is difficult, but for Team Holland or Team America, or whatever, we have a chance of winning it.
"With my team, with Holland, I hope we can win it and I will go. The ultimate goal is the double. With Glenn, Roan and I, there is no weak link. So, it looks promising."
So now, with teams being selected, and the favourites being determined, you get a feeling the orange army will be out in force to witness what could be a double victory in this, what is typically the toughest and most exciting event in the motocross season.
 Words by Geoff Meyer
© Photos by Andy McGechan, BikesportNZ
Find BikesportNZ.com on FACEBOOK here