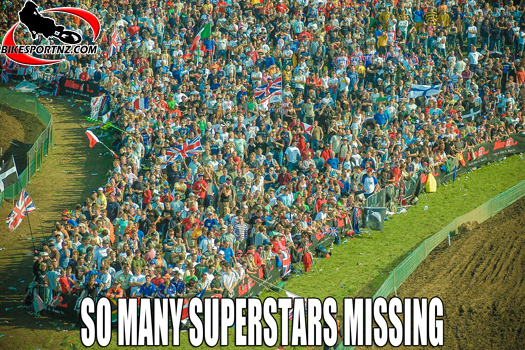 The Team Belgium line-up for the upcoming Monster Energy FIM Motocross of Nations has been announced, but will it be good enough?
Jeremy Van Horebeek, Brent Van Doninck and Liam Everts are set to represent the multi-time MXoN winning team at the 2021 edition of the event, set to take place in Mantova, in Italy, on September 26.
Team Belgium, a country that has always been one of the favourites and a force that has captured the MXoN trophy on a staggering 15 occasions over the years since the first running of the great event in 1947.
No disrespect to the individuals selected for Belgium this year – and we assume the selection of young Everts, although an extremely talented individual in his own right, is as much a mark of respect for what his father Stefan Everts (a record 10-time world champion) did for his country as anything else – but we do feel Team Belgium in 2021 does not have the same ring of solidarity of Belgian teams from the past.
Mind you, Liam Everts did smoke the current MX2 world champion, Frenchman Tom Vialle, last weekend in a Belgian international and he also beat factory riders Jed Beaton and Rene Hofer.
But it's probably fair to say that there's nobody here in the 2021 line-up for Belgium who is the calibre of Stefan Everts, Davey Strijbos, Joel Smets, Steve Ramon or Marnique Bervoets, for example, and it again looks as though this year's MXoN contest may be lacking the true world leaders in the sport.
Where's Belgium's current MX2 world championship No.2 Jago Geerts? He's clearly opted to stay away from the MXoN to concentrate instead on his world title aspirations.
Sure, the United States will send their best individuals, with their domestic season at an end, but most of the European countries, with so many riders still in the midst of their respective world championship title campaigns, are unlikely to be represented by their true elite.
Rather than a massive end-of-season blow-out, the date for the MXoN this year falls halfway through the pandemic-affected MXGP world championship season and that doesn't really suit most high-flying individuals.
There will still be seven GPs left to run after the MXoN date and this will obviously have a huge impact on the likely line-ups for the MXoN.
Will the factory teams allow their riders to represent their respective countries during what will now actually be the middle of the GP season?
Any team which has a rider close to securing a world title, or at least with a good chance of finishing among the top three, would be extremely reluctant to support an MXoN bid.
The 11th round of 18 in the Motocross World Championships, the MXGP of Germany, is set to run just seven days after the MXoN … so woe betide any factory-backed GP rider who injures himself at the MXoN.
Germany's Ken Roczen, winner last weekend of both races in the AMA Motocross Nationals in the United States (and currently second in the US standings behind Frenchman Dylan Ferrandis) will be a notable no-show at the MXoN this year.
It's the same with French former world champion Romain Febvre, another MXoN no-show this year, despite (or perhaps because of) his current MXGP world championship standing of No.2. So he's another rider still with "bigger fish to fry" than to switch midway through his GP campaign to dedicate to an MXoN bid.
The defending MXoN champion Dutch team will this year comprise Jeffrey Herlings, Glenn Coldenhoff and Roan van De Moosdijk (currently recovering from injury). And that's with the Dutch overlooking Calvin Vlaanderen, who was in the Dutch side's winning MXoN team (at Assen in 2019) and who is currently ranked 11th in the MXGP world championships, and Brian Bogers, who is currently ranked 14th in the MXGP world championships.
The French will be represented by Marvin Musquin (currently seventh in the US nationals, and not Ferrandis, who is No.1), Tom Vialle (the defending champion currently fourth in the 2021 MX2 world championships) and Mathys Boisramé (currently 15th in the 2021 MX2 world championships).
Where's French hero Maxime Renaux, currently leading the MX2 world championships? You know, of course also, that Frenchman Thibault Benistant is currently fifth in the MX2 world championships? Why aren't these guys in the French team?
Team Ireland has been named and it comprises Jason Meara, Jake Sheridan and Stuart Edmonds … a little bit controversial as MXoN regular stalwart Martin Barr has been ignored. Barr was the top finisher for Team Ireland at the previous two events and it is believed he is fit and healthy.
So how much gravitas and credibility will the 2021 MXoN really have?
Team Great Britain and Team USA have not yet been named (with the Americans due to make an announcement this weekend), but the age-old question arises too … why is there even a Team GB?
It's not an individual country, but actually a group of three separate countries (England, Scotland and Wales, with a combined population of roughly 66 million).
Is this fair on little places like, for example, New Zealand (population 5 million), Lithuania (2.7 million), Latvia (1.9 million), Cyprus (875,000) and Iceland (357,000)?
And, before you ask, yes all of these countries raced the last time the MXoN was held, in the Netherlands in 2019. The COVID-19 pandemic arrived to ruin any hope of running the MXoN last year.
Slovenia (population 2 million) is a small country too, although they will be bolstered by having arguably the fastest individual on the planet, 24-year-old four-time world champion Tim Gajser, to call upon for their team.
Unfortunately, we probably won't see any kind of representation from New Zealand this year (a country that has, remarkably, been three times on the podium at the MXoN), mostly due to the COVID-19 pandemic.
© Words and photos by Andy McGechan, BikesportNZ
Find BikesportNZ.com on FACEBOOK here