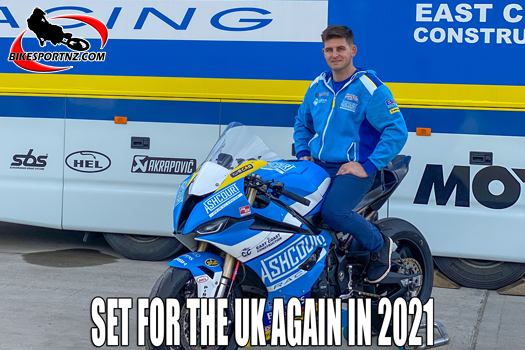 It was announced this week that New Zealand superbike star Damon Rees will join the Ashcourt Racing set-up in the United Kingdom in 2021.
Whakatane man Rees made his debut in the highly-competitive British  Superstock 1000 Championship this year, impressing with podium finishes in his first appearances at Donington Park, as well as regular top-10 finishes.
Rees eventually finished eighth overall in the championship during this rookie season, despite his missing the last round at Brands Hatch due to injury.
Rees made the decision to leave New Zealand at the start of this year –  despite holding the lead in the NZ Superbike Championships series, with five wins from six starts – to take up the challenge in the British championships, thanks to Carl Cox Motorsport, who will again be backing him in 2021.
"I'm extremely excited that I'll be racing for Ashcourt Racing in the 2021 season along with Carl Cox Motorsport's support," said Rees.
"The team's ambitions and goals perfectly align with what I'm looking for next year, which is race wins and podiums and hopefully a championship challenge. I just want to say a massive thank you to the team for this amazing opportunity."
His team-mate for 2021, Lee Johnston, said: "We were looking to expand the team and run someone in Superstock, and Damon fits our 'team personality' perfectly. He's talented and motivated but also a nice lad and will fit in well within the Ashcourt Racing set-up.
"He showed this season that he can run at the front of the National 1000 Superstock class, which is packed with talent, so he's a welcome addition to our team and I'm looking forward to working with him."
Team principal Phil Reed concluded: "Damon is a grounded lad and a quality rider who has already shown glimpses of what he is capable of in British Championship. He will fit in well here and we're looking forward to working with him."
Returning to New Zealand for the summer, and currently in quarantine managed isolation, Rees said: "I will be doing as much riding and training in New Zealand over the summer as I can to get a head start on the competition in the UK".
Rees will be competing in the popular Suzuki International Series in New Zealand in December, which is held over three rounds, round one will take place on December 6 at the Bruce McLaren Motorsport Park near Taupop, before round two at Manfeild, in Feilding, on December 13, with the series decider taking place on the streets of Whanganui on Boxing Day.
This will be Rees' first opportunity to showcase what he has learned while riding in the UK, though he will be up against some of New Zealand's top riders. This will also be his first opportunity to test his injured shoulder since his accident at Donington Park in October.
The start of the new 11-round UK season is set to start at Oulton Park in Cheshire on the May 2-3, 2021, before climaxing at the final round at Brands Hatch October 15-17, 2021.
Words and photo by Michael Wincott
Find BikesportNZ.com on FACEBOOK here