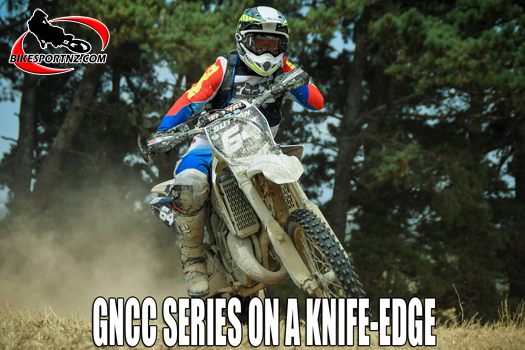 The New Zealand Grand National Cross-country Champs (GNCC) are on a knife-edge, particularly when, as the rules dictate, riders discard their worst result.
Heading into round three of the MotoSR-sponsored series, many would say Seth Reardon was the favourite to claim the championship. But with a DNF at Round three and a DNS at round four due to an injury, the number one plate is up for grabs.
Several riders have staked their claim and put in solid rides but with so many different winners – no one has won more than one round this year – consistency will be the key.
Here's how the racing and points shake down after round four of the series at Maddix Park at the weekend.
Richard Sutton (Yamaha, pictured above) grabbed the holeshot and didn't stick around to see who was giving chase. Ethan Harris (Yamaha), who is coming into some good form, pushed hard and took the lead, Ashton Grey (Yamaha) moved up and grabbed a hold of second.
Harris was getting some good traction around the often slick bush tracks and slowly built a lead that he would never relinquish. Grey and Sutton locked horns and battled it out, Sutton getting the upper hand late in the race and dropping Grey back to third.
Callum Dudson (Honda) leads the way in the series with his consistent top 10 finishes and his win at the previous Burt's Farm round, but not far behind is Sutton, who has also been really consistent.
Harris is coming on strong after missing round one while he recovered from an earlier injury and he has been on the podium ever since.
But where it gets tricky is when you drop your worst score. It adds another level of finger counting, head scratching that is often not fully revealed until the fat lady sings at the final.
The junior championship looks like its Daniel Bates (KTM) out front and in control after another win in the Maddix bush, but if you factor in the "drop a round" it's much, much tighter.
Ryan Hayward (KTM) scored a consistent third at Maddix, but no points at round one at Taikorea, and if he uses that round as his throw-away, things will get really tight after the final tally is calculated. Josh Houghton (Yamaha) scored a well-deserved second at Maddix and is coming on strong late in the season.
Charlotte Russ notched up another win on her YZ125 and is the clear favourite to take out the championship. Another win at round 5 would just about seal the deal.
Zara Grey (Husqvarna) made a return to the GNCC series at Maddix and came away with second followed by Tawny Floyd (KTM) in third.
Zack Davey is owning the Mini class on his Suzuki RM85, and just about has it on lockdown.
Bring on round five at Tokoroa. Things are heating up in the championship chase.
© Photo by Andy McGechan, BikesportNZ
Find BikesportNZ.com on FACEBOOK here