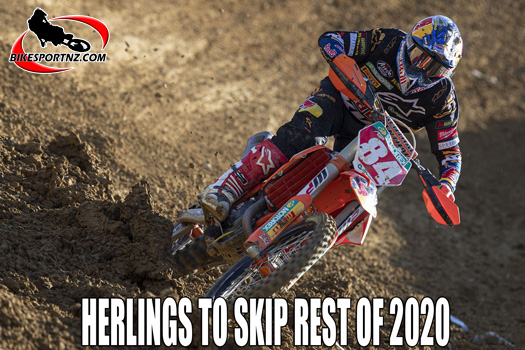 Red Bull KTM Factory Racing star Jeffrey Herlings will miss the remaining rounds of 2020 MXGP after choosing to focus on a full recovery from his injuries and face the off-season period closer to 100% fitness.
The 25-year old has healed from the neck and upper back problems suffered as a result of his crash during Free Practice for the Grand Prix Citta di Faenza at the Monte Coralli in Italy circuit last month.
The Dutchman is lacking bike time and conditioning to be able to return to competitive MXGP duty, especially with the calendar hurrying to a conclusion by November 8th.
A contributing factor to the accident was the lack of flexibility and comfort in Herlings' right foot. Therefore, the winner of four rounds this year (still more than any other rider) has decided to undergo a small procedure this week to remove excess bone growth and fix scar tissue.
If the operation and post-op period goes accordingly, then Herlings will have much better use of his right limb and can immediately concentrate on preparation with his KTM 450 SX-F for the 2021 campaign.
MX2 team-mate Rene Hofer is also making decent steps from his broken left shoulder and hopes to be back on the KTM 250 SX-F in the next two months.
Red Bull KTM Factory Racing still have Tony Cairoli and Jorge Prado in contention for the 2020 MXGP title and Tom Vialle has held the red plate for 10 of the 11 rounds in MX2 so far.
"It won't be a big operation but the foot is a complicated part of the body and there is some extra bone growing where I broke it," said Herlings.
"It needs to be partly removed. I also have tissue that is painful and irritating. I should know after a couple of weeks if I will be pain-free or we need to look at another option to be good again. I want to have this done so I won't be putting 2021 at risk.
"The 2020 season was going pretty well and it's disappointing to miss out again because of injury but we've been through this process and at least now I can work on getting myself into even better shape for another go next season. Thanks to Red Bull KTM for all their support and to the fans for the messages."
Photo courtesy KTM Europe
Find BikesportNZ.com on FACEBOOK here