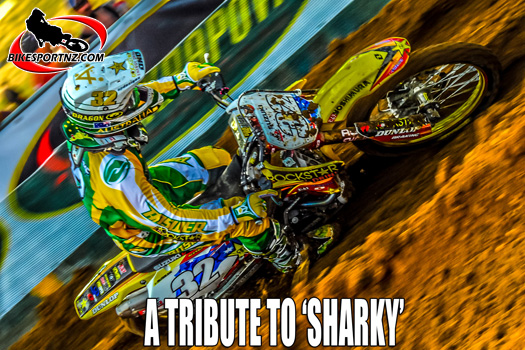 We are coming up to the 10th anniversary of the tragic passing of Australian motocross and supercross legend Andrew McFarlane.
So here we are sharing this wonderful video tribute to the memory of "Sharky", edited by William Toscano.
BikesportNZ.com was fortunate to be able to catch up with him a couple of times at major international events … when McFarlane won the MX2 class at the Belgian GP at Namur in 2005 and also when he raced for Australia at the Motocross of Nations at Budd's Creek, Maryland, in September 2007.
Sharky beat the absolute best in the sport, on the toughest track and in the toughest of conditions at Namur that weekend in 2005 – leading home such legends as Antonio Cairoli, Christophe Pourcel, Billy Mackenzie, Alessio Chiodi, Tom Church, David Phillipearts, Michael Maschio and many more besides.
Team Australia finished 20th and last of the nations who qualified at the 61st annual Motocross of Nations at Budd's Creek when McFarlane withdrew injured soon after the start of his first MX2 outing and the scores of team-mates Chad Reed (MX1, Yamaha YZF450, 2nd and 35th) and Michael Byrne (MX3, Suzuki RMZ450, 12th and 30th) gave the Australians a shocking score of 79 points, made worse by the fact they only had four scoring rides that day.
Motocross ups and downs aside, McFarlane was a great talent taken too soon.
McFarlane was born in Brisbane, Queensland on May 30, 1977, and died in Broadford, Victoria, on May 2, 2010.
Just for context, it's probably worth mentioning that it was over before it had even begun for Team New Zealand at that MXoN event in 2007.
When Daryl Hurley and Ben Townley nose-dived into the hard Maryland dirt during practice, so did the hopes and dreams of Team NZ.
Hurley (Suzuki RMZ450) and Townley (Kawasaki KX250F) both crashed during early practice on the Saturday, day one of the MXoN at Budd's Creek, the circuit just south of United States capital Washington DC.
Townley injured his shoulder and Hurley was concussed following their separate spills, they took no further part in the day's racing and New Zealand was ruled out of the event.
That meant the sole remaining team member, Papamoa's Cody Cooper (Honda CRF450), was the only Kiwi rider to line up in the actual qualifying outings. Cooper finished 11th in his MX1 class race, which was within the top-19 cut-off for qualifying for the Sunday race action.
However, with a minimum two scores needed to qualify and Townley and Hurley not even getting to the start line for their respective MX2 and MX3 races, New Zealand finished 31st and last placed of the nations entered.
© Photos by Andy McGechan, BikesportNZ
Find BikesportNZ.com on FACEBOOK here