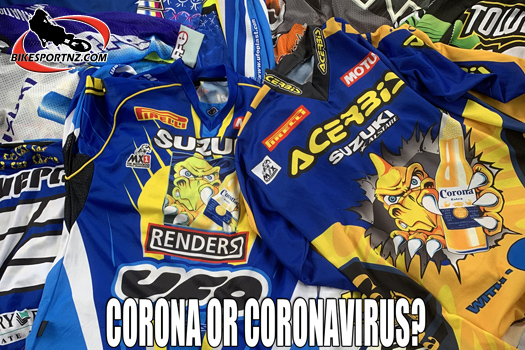 We had a bit of an explore around the BikesportNZ.com offices, rummaged through our MX shirt souvenirs and we happened across these beauties (pictured).
Among this race shirts collection are the outfits that belonged to Grand Prix legends Joel Smets, Michael Pichon, Josh Coppins, Steve Ramon and Kevin Strijbos, all from the motocross GP scene in the early 2000s.
Of course the Corona beer company sponsorship of the factory teams of Smets, Pichon, Coppins, Ramon and Strijbos – from 15 or 20 years ago – has absolutely nothing to do with the current pandemic which carries the Corona (Coronavirus) name, but we thought it strangely ironic all the same that we should by chance stumble across these items at this particular point in time.
Crazy thing is, though it's merely a weird juxtaposition, there are plenty of people bypassing the Mexican beer brand to instead snap up all the other beers offered in the supermarkets these days, carefully avoiding the Corona brand … why, for goodness sakes?
Just as well then, from my own point of view anyway, that the virus wasn't labelled "Redwinevirus", "JimBeamvirus" or "Margaritacocktailvirus".
© Words and MX photos by Andy McGechan, BikesportNZ.com
Find BikesportNZ.com on FACEBOOK here