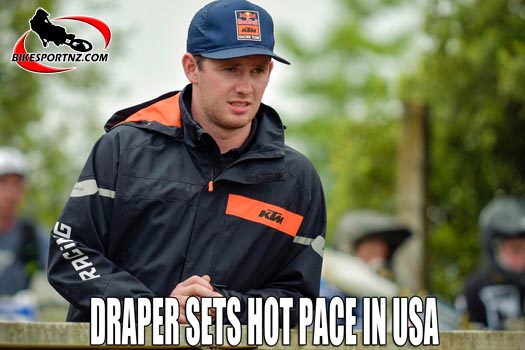 It has been an up and down season so far for New Zealand's Liam Draper, racing in what is widely regarded the toughest cross-country motorcycle competition in the world.
Thankfully for the 22-year-old from Howick, it has mainly been "ups" in his most recent of outings and a solid finish to the season seems highly likely.
He is racing a KTM 250SX-F in the Grand National Cross-country Championships (GNCC) in the United States and, after nine of 13 rounds, he is running an impressive fifth equal overall in the XC2 (250cc) class.
His score-card for the season thus far reads 14-7-5-4-13-6-9-3-3.
Now, as temperatures soar, the competition takes a (Northern Hemisphere) summer break – Draper will have to wait until September before picking up where he left off and he contests the final four races.
Fellow KTM rider Benjamin Kelley, from Harwinton in Connecticut, currently leads the XC2 class championship chase.
Another KTM rider, Kailub Russell, from Boonville in North Carolina, leads the XC1 (open) class and also the series overall. In terms of an "overall" championship position, Draper is in 16th place.
"I have mainly been running up front in that top three group in most races, but have just had some problems that have set me back from finishing up there.
"I have been training hard and it just makes you want it even more when you can't quite finish up in that podium position. I have been going well too in the national enduro series. I have finished runner-up in all four rounds to start the year, but I am really wanting a win."
Draper's main order of business this year remains the GNCC series, a competition that has sorely tested the character of the intrepid Kiwi.
Based in South Carolina, Draper made his USA GNCC debut last year, racing there for 11 months, and he finished ninth overall in the XC2 class despite suffering four non-finishes.
Draper then signed up to race for the Tely Energy KTM Racing Team in 2019, a factory-backed satellite team.
"This was in recognition of the fact that I'd done so well last year," he said.
"I learned a lot last year about how the sport in the US works. The GNCC is like all of America … it's like it's on steroids, it's so big. They have 2000 quads racing on the track the day before us and the track is so wide and so rough and there are so many lines to choose from."
Round one of the 2019 GNCC at Palatka, in sandy Florida, on March 10, was extremely challenging for the young Aucklander.
"This was one of the toughest GNCC events all year. Because it is in sand, it is very physically demanding," he said.
He was up to fourth position after the opening lap, with the leaders well ahead of him, and he knew he couldn't go any faster to move up.
"I just wanted to finish and the track was super rough, so I just carried on riding.
"Then I pushed harder and I had a little tip-over in a corner which led to me losing consciousness because of heat stroke and with me being so dehydrated.
"I tried to get up and continue, but I collapsed and passed out again. I was lucky that there were some people standing around who knew me and came over to help. I was not in a good way at all … I wasn't the only one who passed out in the race though, a lot of other pros did too.
"I was so drained and had never had this happen to me before, but these things just happen when you're trying to race in the roughest track and its 36 degrees."
That failure was a major disappointment for Draper, but he wasn't deterred, he soon recovered and his results gradually improved as the season progressed.
"The Snowshoe GNCC event (round eight on June 23) was very special for me, as this is where I got my first ever GNCC XC2 class podium.
"Snowshoe is at a ski resort in the mountains of West Virginia. It was a very rocky and technical track, but it also has a lot of fast sections. We started on the main road, on the tarseal in front of all the hotels. They start us in rows of five (determined by overall championship rankings), 30 seconds apart, and I was on row four.
"I managed to get into the front of my row after a few turns and I charged hard to catch the rows in front of me. If you can catch up to the guys from the row ahead, it means you're in front of them because you have made up the 30 seconds. So I managed to make it up to the row three bunch and was at the back end of row two, putting me second in the XC2 class after lap one.
"I just kept a good pace going and the track was getting very tough and technical and I was enjoying it. The third-placed rider was right behind me and we battled for a while. Then I had to do a wheel swap and he got away on me.
"The reason for the wheel swap is that we run special gummy tires for the rocks at this race, but they don't like the road sections and they get worn out very quick, so I changed wheels and got a new one on and the guy in second place didn't. He just ran with what he had until the end.
"But I was absolutely stoked to just keep a good pace going and finish in third and get my first podium.
"This must have given me some confidence going into the last GNCC race before summer break (at Dunkard, a township in Greene County, Pennsylvania, on July 7). Here I managed another third overall for the day. I was stoked to head into the summer break with two podiums to my credit and to still be without injury."
Draper was recently offered the chance to ride a factory KTM 300TPI in the American hard enduro series after another rider became injured.
"I jumped right at this opportunity. I picked up the 300 that they sent out from California, jumped on it and was blown away how awesome they are and how it climbs up hills and finds amazing traction.
"So I have three hard enduros to do. At the latest one I ended up second behind Wade Young, the rider who won Romaniacs last year. It was a long five hours, but was fun and I'm having a lot of fun riding this bike.
"All is going well and I'll be training my ass off in this summer break."
After the summer break, the GNCC series resumes with the 10th round of 13, the Black Sky GNCC at Hapursville, New York, on September 15.
Draper is supported by Kendatire, KTM USA, Ridemps, Seat Concepts, IMS Products, Twin Air, Spectro Oils, Cometic Gasket, G2 Ergonomics, VP Racing fuels, ODI Grips, Senge Graphics, XC Ggear17, Tely Energy Racing, Evans Powersport, Official Moose Racing, Motionpro, Bell Powersports, Oakley, Eline Accessories, Mojo Motosport, TM Designworks, Forma Boots USA, Live It Extreme, JPD Suspension, Wickflow, Kiwi Rider magazine, BikesportNZ.com, Pod Active and Axle Surgeons.
© Words and main photo by Andy McGechan, BikesportNZ.com
Action photos by Ken Hill
Find BikesportNZ.com on FACEBOOK here