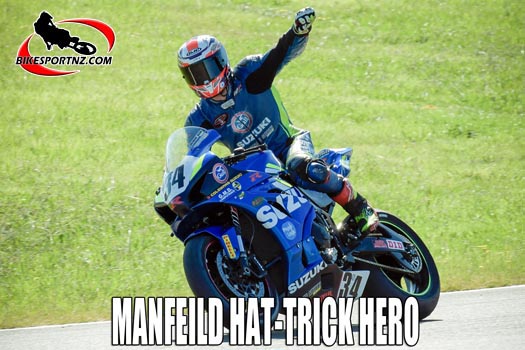 The fourth round of five in the 2019 New Zealand Superbike Championships at Circuit Chris Amon, Manfeild, signed off with a spectacular Suzuki 1-2-3 in the 1000cc Superbikes class.
It was one of many stand-out performances at the weekend by riders on the distinctive blue and white Suzuki bikes, but obviously, as the premier class, this was also perhaps the most significant.
Taupo's Scott Moir (Suzuki GSX-R1000) had enjoyed a solid 18-point lead at the top of the superbikes class at the start of the two-day event, on the outskirts of Feilding, but it was Glen Eden's Daniel Mettam (also riding a Suzuki GSX-R1000) who was ruling the roost when the engines were shut down on Sunday afternoon.
Mettam scored an impressive hat-trick of wins at Manfeild to edge past Moir and establish a five-point advantage now as the riders head to the deciding fifth and final round at Taupo's Bruce McLaren Motorsport Park next weekend (April 6-7).
Wellington's defending national superbike champion Sloan Frost (Suzuki GSX-R1000) had qualified fastest in the class on Saturday and he also featured at the front during the weekend's races, his 2-2-3 score-card over the two days seeing him rocket from fifth to third in the series standings.
The championship chase for the superbike class will certainly go down to the wire at the final round at Taupo next weekend.
"I told myself I needed to come here and not even think about the championships and just go as hard as I can get race wins," said Mettam afterwards.
"Three wins from three starts is a new thing for me. It is the first time I've had a hat-trick in the superbikes class or the 600cc class actually," said the 23-year-old, who was national Supersport 600 champion for Suzuki in 2016.
"I have always done well here at Manfeild, but never like this.
"It's a track I've done a lot of riding at as a young fellow, so it's always feels like home when I come back to Manfeild.
"I timed my passes today because I've been caught out before by going too hard to stay in front and then wrecking my tyres. So I just let the other riders do the work and planned a couple of passes, had a look then pulled back, then two laps from the end I put the hammer down."
Moir said he knew it was going to be tough for him at Manfeild.
"Dan (Mettam) is fast here, he brakes hard and exits the corners well. I just didn't want to do anything stupid. I got past the guys ahead of me a few times, but they got me back," he shrugged.
"I go as well as anyone at Taupo, so I just have to get the job done there next weekend."
A new hero emerged in the Supersport 600 class too as Te Awamutu's Dave Hall finished the event a career-high second overall in the class, his breakthrough win in the final 600cc race hinting that this might just be the beginning of a purple patch for the Suzuki GSX-R600 rider.
Hall is now third in the series standings, albeit a massive 65 points behind class leader Avalon Biddle (Kawasaki ZX6R), of Rangiora, and 36 points behind runner-up rider Toby Summers (Kawasaki ZX6R), of Manukau.
Meanwhile, in the Pro Twins class, Whangamata's Ben Rosendaal (Suzuki SV650) took over the series lead from fellow Suzuki rider Nick Cain, of Christchurch.
Cain had enjoyed a 10-point lead over Rosendaal at the start of the weekend, but Rosendaal's hat-trick of wins at Manfeild soon put paid to that and it is the Thames man who now enjoys a 10-point lead.
It is worth noting, however, that results and standings for the Superbikes and Supersport 600 class, as well at the Pro Twins class, are only provisional at this stage.
Other class leaders after round four of the series (all results and standings provisional at this stage) are Palmerston North's Jacob Stroud (Supersport 300 class); Papamoa's Leon Jacobs (250 Production class); Jacob Stroud (Superlites); Australia's Yanni Shaw (125 GP); Hamilton's Jesse Stroud (GIXXER Cup) and Christchurch's Dennis Charlett and Will Clim (sidecars).
© Words and photos by Andy McGechan, BikesportNZ
Find BikesportNZ.com on FACEBOOK here
Full story and more photos in your next issue of KIWI RIDER magazine.
Check back here on www.BikesportNZ.com during this week as we bring you more words and pictures from the weekend.