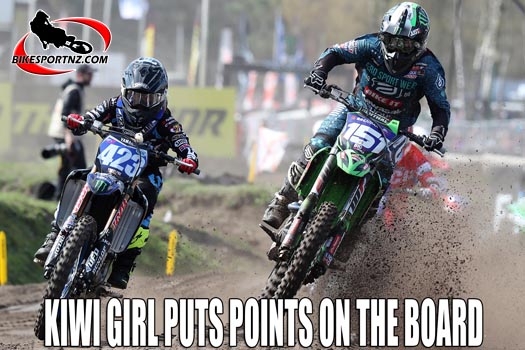 New Zealand's Courtney Duncan stormed to an impressive victory in the first race of her career in Kawasaki green in the first moto of the opening round of the FIM Women's World Motocross (WMX) Championship in the Netherlands at the weekend.
Riding for the Bike It DRT Kawasaki racing team, the 23-year-old from Otago, near Dunedin, had quickly settled into a fast rhythm on the sandy track at Valkenswaard, with third-fastest time during the morning qualification practice.
As the five-round series launched into afternoon race action, the Kiwi girl had already sprinted to the front before the second corner.
A slight error before the completion of the opening lap dropped her temporarily to third place but she had reassumed her position at the head of the pack within less than two laps.
She then moved relentlessly clear of her chasers to win the 20-minute-plus-two-lap race by more than six seconds. She also set the fastest lap of the race, more than one second faster than any other female.
"I am just so thankful to be here, but it was tough," said Duncan afterwards.
"I haven't raced for nine months and I've only been with my new team for four days and we had just one day to practice in sand before we came here.
"I got a good start and could quickly hit the front. It is so great to win here in my first race on the Kawasaki; I've got to give it to the guys at Bike It DRT Kawasaki, Kawasaki Motors Europe, Kawasaki New Zealand and Monster Energy for showing their faith and giving me this opportunity.
"I love the Kawasaki. I rode a stock bike first and I already had a really good feeling; I like the way the KX250 handles, the way it turns and obviously the team prepared me a very good bike."
In race two the following day, however, Duncan had more of a battle on her hands. She led for most of the race until having a massive crash (see video below) that she was lucky to walk away from and she eventually picked herself up to finish seventh.
Her 1-7 results for the weekend put her fourth overall for the GP, just one point shy of a podium position.
Dutch Yamaha rider Nancy Van De Ven won Sunday's second WMX race and Belgian Yamaha rider Amadine Verstappen won the weekend overall with two runner-up finishes.
Photo courtesy Ray Archer
Find BikesportNZ.com on FACEBOOK here