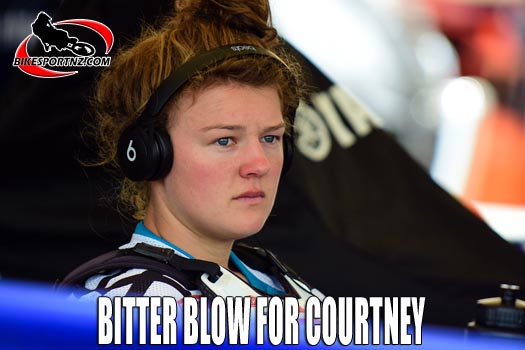 Perhaps the unluckiest of all Kiwi sporting heroes, Otago's Courtney Duncan has just been ruled out for the rest of the 2018 motocross world championship season.
The 22-year-old from Palmerston, near Dunedin, had been perhaps just four races away from winning the Women's Motocross World Championships (WMX) title this season – with just two races at each of the two remaining rounds, in The Netherlands this coming weekend and in Italy on September 30, left to wrap up her 2018 campaign – but injury has now dashed her hopes.
Duncan had taken her Altherm JCR Yamaha YZ250F bike to twice finish runner-up at the fourth round of six in the world series at Ottobiano, in the Lombardia region of Italy, in June, helping her to build a massive 21-point lead over her two main rivals, fellow Yamaha riders Kiara Fontanesi and Nancy van de Ven.
The tough-as-nails Kiwi, who will possibly never enjoy the advantage of racing a WMX event on her home turf, had defied the odds to be in that enviable position, but an injury to a bone in her right foot and then further damage to the ligaments that surround it, have this week forced her to withdraw from this year's title chase.
"I don't think there's a word to describe how I'm feeling right now," said Duncan.
"It breaks my heart to know I won't be able to line up and go for the world title. I have to think of the bigger picture. I am only young and I've got championships to deliver in the future. I want to thank my sponsors and supporters and those who have stuck by me for the past couple of years."
This will be the third consecutive season that Duncan had been cruelly denied.
Duncan finished third overall last year after a contentious jury decision denied her the title when the second race was stopped at the final round in France, while she was leading.
Duncan had also been leading the series during her WMX debut season in 2016, but was forced to the sideline with injury when she crashed into an errant photographer, who had been standing on the race track at the German GP.
Although at that stage the "new kid on the block", Duncan stamped her authority and won five of the 14 races in 2016, more than any other individual that year, and this was even after her "run-in" with the photographer.
Her Altherm JCR Yamaha Racing Team manager, Motueka's former Grand Prix motocross star Josh Coppins, speaking from Belgium, said he was "very disappointed … it is a very bitter pill for her to swallow" after being so close to winning for three years in a row.
"She had managed her championship campaign so well this year and had almost an entire race in hand over her rivals. This news will be seen as a gift by her competitors.
"This is the nature of our sport, but Courtney is naturally devastated," said Coppins.
"She had injured her right foot at an international event in France in July … not a GP race … and the initial diagnosis was that the injury wasn't too severe. She came home to New Zealand to rest and recover between GPs.
"She re-injured her foot 10 days ago and had another check-up and discovered it was worse. She needs to rest her foot now to allow it to heal properly. There is not even a remote chance that she can ride this weekend.
"While we may now be looking ahead to 2019, we first have to put this behind us and get over it. We need to make sure she does not risk any further damage to her foot, that she can heal and can ensure she is in the best position to be healthy and strong for the rest of her life and so that she can compete again next year and finally bring home this world title."
Duncan and her Altherm JCR Yamaha Racing team is supported by Altherm Window Systems, JCR, Yamaha Motor New Zealand, Yamaha Motor Europe, CRC Industries, ADOS, Monster Energy, Liv Cycling, Fox Racing, Mazda NZ, Veraa Metaal, Yamalube, GYTR, bLUcRU, Akrapovic, Ward Demolition, Star Moving, Holland Collision Centre, www.workshopgraphics.co.nz, YMF, YMI, Pirelli, Twin Air, DID, Samco Sport, Renthal, NGK, Motomuck, Vertex, X-trig, Motoseat and SKF.
© Words and photo by Andy McGechan, BikesportNZ
Find BikesportNZ.com on FACEBOOK here