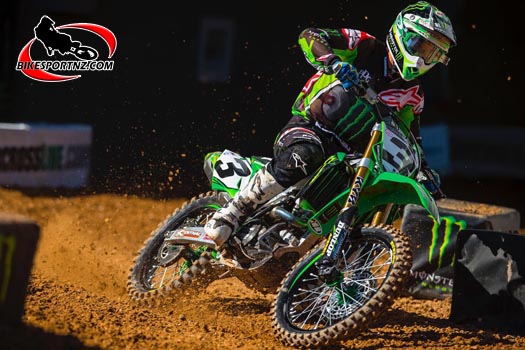 The 2018 United States Pro Motocross Championships got underway on Saturday for the landmark 50th running of the Hangtown Motocross Classic in California.
In the premier 450 class, reigning champion Eli Tomac (Kawasaki) captured back-to-back opening round wins.
New Zealand's Cody Cooper posted 12th and 15th place results on his Honda, claiming 13th overall for the weekend.
Interesting to note that multi-time New Zealand MX1 champion Cooper had finished the day 18th overall at Hangtown last year and was 19th overall at the same track in 2016. He was 10th overall there is 2009 (then on a Yamaha) and 13th overall there in 2008 (then on a Suzuki).
Meanwhile, in the 250 class, defending champion Zach Osborne duplicated his efforts from a year ago at Hangtown and picked up right where he left off last season with a dominant sweep of the motos aboard his Husqvarna.
The 450 class started its first moto of the season with Honda's Christian Craig capturing the holeshot over Husqvarna's Jason Anderson. KTM's Marvin Musquin slotted into third, while Tomac was forced to battle his way from a start deep inside the top 10. Thanks to a slew of aggressive passes, Tomac was able to complete the opening lap in fifth.
Craig's hold on the top spot lasted just a single lap as Anderson, the newly crowned AMA Supercross Champion, stormed into the lead. As this unfolded, Tomac was still gaining positions and got by Musquin to take over third. The Frenchman regained the position on the next lap as Tomac looked to get around Craig. Both riders successfully passed the Honda rider on the same lap and positioned themselves behind Anderson.
Anderson's pace wasn't quite at the level of his rivals, and it didn't take long for both Musquin and Tomac to go by and take over the top two spots. Musquin maintained a lead of about a second on Tomac for several laps until an off-track excursion allowed Tomac to move into the top spot with ease. Musquin returned to the track in second. The KTM rider tried to keep Tomac within reach for a couple laps, but the champ gradually extended his advantage as the moto wore on.
Tomac cruised to the moto one win 13.7 seconds ahead of Musquin, while Yamaha's Justin Barcia finished third. Anderson dropped from first to fourth, with Suzuki's Weston Peick in fifth.
As the field stormed out the gate to start moto two it was Suzuki's Phil Nicoletti who captured the holeshot over Anderson and moved into the early lead. Barcia took advantage of a strong start as well to get around Anderson and then Nicoletti, and completed the opening lap out front. Behind him, both Musquin and Tomac were mired in traffic with the Frenchman starting seventh and the champ coming around in 10th.
Tomac got sight of Musquin and latched on to his rear fender as they looked to charge through the field. Out front, Barcia looked to sprint to a lead over Anderson, who passed Nicoletti for second and brought Honda's Ken Roczen with him into third. Sensing his opportunity, Anderson surged past Barcia to lead for the second time in the afternoon.
Musquin was able to navigate his way forward quicker than Tomac and he surged into podium position past Roczen on lap four. Just a lap later he got around Barcia for second and set his sights on Anderson as Tomac battled with Roczen. The Kawasaki rider eventually moved into fourth and pushed to catch Barcia. Tomac stepped up his pace to work his way around the Yamaha rider on Lap 6, but he fell shortly thereafter in pursuit of Musquin and dropped back to fourth.
Out front Anderson continued to lose ground to Musquin and soon the KTM rider was mounting a challenge for the lead, successfully seizing control of the moto on lap seven. Tomac recovered from his mistake to get back around Barcia, and then made an easy pass on Anderson not long after that. Just about two seconds separated Musquin and Tomac when they finally moved into first and second, but Tomac was relentless and easily closed in on the KTM. After a few defensive manoeuvres by Musquin, Tomac used an outside line to get alongside the Frenchman and pushed him wide in the next corner to take the lead at the tail end of Lap 8. From there the Kawasaki rider checked out over the closing phase of the moto.
Tomac easily capped off a sweep of the motos by crossing the line 6.3 seconds ahead of Musquin. Barcia finished third after Anderson dropped several positions late.
Tomac is the first rider since Chad Reed in 2010 and 2011 to win back-to-back Hangtown Classics. His four consecutive moto wins at the famed facility are the most since Ricky Carmichael won five in a row from 2003-2005. Musquin landed second overall on the heels of back-to-back runner-up finishes, while Barcia's 3-3 scores gave him his first podium finish since the final round of the 2016 season.
It was the 10th win of Tomac's career.
"It's awesome (to start with a win), but it wasn't an easy day at all," said Tomac. "The second (moto) start was not good at all, but luckily I was able to get to the front quick. I had a little tip over too, but overall I felt really good on my motorcycle. It's easy to have days like today when you're that comfortable on the bike."
Tomac has established a six-point lead over Musquin in the initial 450 class standings by virtue of his sweep.
"The first round, to get a second-place is a good start," second-placed Marvin Musquin commented. "The second moto I got squeezed off the start, Eli and I were a little in the back, and I thought it was going to be a tough one but I was able to come back to the lead, which is awesome.
"I'm really happy about my riding today. It's the first race with a new bike setup and we're not too far off of being 100 percent, so I'm looking forward to next weekend and I'm glad I started the year off right, I would say. We'll try to get better next weekend."
250cc CLASS
The opening 250 Class moto of the season saw Kawasaki's Austin Forkner nab the holeshot, only to be passed by Yamaha's Justin Cooper. Behind them, Honda's Jeremy Martin and Osborne jockeyed for third.
In just his fourth start as a pro, Cooper stormed out to a healthy lead over Forkner, who soon came under pressure from Martin and Osborne. As the battle for second continued, it allowed Osborne to close in and make his way around both riders in one lap, jumping from fourth to second. In his effort to keep pace with Osborne, Martin tipped over but was able to remount quickly and lose just one spot to Forkner.
Out front, Osborne closed his deficit to Cooper and made the pass after a couple laps of heavy pressure. Once in front, he pulled away. While Osborne extended his gap, Cooper, Forkner, and Martin got closer and closer to one another.
Eventually, Forkner made the move to take over second and was followed by Martin into third that same lap. On the following lap, Martin got around Forkner to take over second. The lead duo established themselves up front while Forkner fell into the clutches of a hard charging Aaron Plessinger late in the moto. Plessinger was able to take advantage of a mistake by Forkner on the final lap to steal third aboard his Yamaha.
Osborne took the moto win 5.3 seconds ahead of Martin, with Plessinger third, Forkner fourth, and Cooper fifth.
When the gate dropped on moto two it was Martin who put himself in a position to challenge for the overall by securing the holeshot over Plessinger. However, the Yamaha rider got a run through the first turn and moved into the lead briefly until Martin reclaimed the position with an aggressive pass at the tail end of the opening lap.
Osborne got a strong start of his own and took advantage of Plessinger as well to take over second the following lap. KTM's Alex Martin followed suit and moved into third.
Jeremy Martin's comfortable lead was short lived, as Osborne closed in and the pair of titleholders waged a captivating battle. Osborne got the upper hand briefly, but Martin countered, only to have Osborne get it back again, this time for good. With a clear track ahead of him, Osborne set sail and forced Martin to settle into the runner-up spot.
Both Osborne and Martin went unchallenged for the remainder of the moto, with Osborne taking the chequered flag, 4.5 seconds ahead of the Honda rider. Alex Martin finished in a distant third, just ahead of Plessinger.
Osborne became the third rider in the past eight seasons to win back-to-back Hangtown Classics, and it's his second straight 1-1 sweep at the season-opening round. Jeremy Martin's pair of runner-up scores gave him second overall, while Plessinger finished third at this event for the second consecutive season (3-4).
The win was the seventh of Osborne's career.
"It ended up being a good day. I was super nervous this morning for some reason, but I got more comfortable in practice and then in the motos I was able to make some good passes," said Osborne. "I actually had two solid starts so it was good to capitalise on those and come away with two moto wins and the overall. My confidence is definitely much higher heading into next weekend."
With his perfect score of 50 points, Osborne has established a six-point lead over Martin in the 250 Class standings.
The 2018 Lucas Oil Pro Motocross Championship continues next Saturday, May 26, with its second round from Glen Helen Raceway in San Bernardino, California.
450 OVERALL RESULTS
Eli Tomac (1-1)
Marvin Musquin (2-2)
Justin Barcia (3-3)
Jason Anderson (4-6)
Blake Baggett (7-4)
Weston Peick (5-7)
Benny Bloss (10-5)
Christian Craig (8-8)
Phil Nicoletti (9-9)
Bradley Taft (11-10)
450 CLASS POINT STANDINGS
Eli Tomac, 50
Marvin Musquin, 44
Justin Barcia, 40
Jason Anderson, 33
Blake Baggett, 32
Weston Peick, 30
Benny Bloss, 27
Christian Craig, 26
Phil Nicoletti, 24
Bradley Taft, 21
250 OVERALL RESULTS
Zach Osborne (1-1)
Jeremy Martin (2-2)
Aaron Plessinger (3-4)
Alex Martin (7-3)
Justin Cooper (5-9)
Chase Sexton (11-5)
Jordon Smith (8-8)
Joey Savatgy (6-10)
RJ Hampshire (10-7)
Garrett Marchbanks (12-6)
250 CLASS POINT STANDINGS
Zach Osborne, 50
Jeremy Martin, 44
Aaron Plessinger, 38
Alex Martin, 34
Justin Cooper, 28
Chase Sexton, 26
Joey Savatgy, 26
Jordon Smith, 26
RJ Hampshire, 25
Garrett Marchbanks, 24