FERRIS BUILDS ON HIS LEAD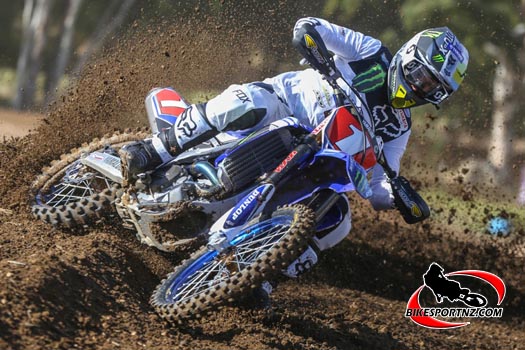 Defending champion Dean Ferris continued to blitz the MX1 field and build upon his already sizeable lead in the Australian Motocross Nationals during a damp day of racing at round four of 10 in the series on Wonthaggi's dark sand on Sunday.
During the second day of back-to-back rounds at the venue in Victoria, CDR Yamaha's Ferris maintained his perfect win streak with a pair of first places, while Raceline Pirelli KTM rookie Mitch Evans continued to impress with another strong second overall, and hometown hero Kade Mosig (DPH Motorsports Husqvarna) claimed his first round podium of 2018.
New Zealand's Rhys Carter (Kawasaki) finished the day 10th overall and he is now eighth in the series standings.
The two-time defending champion Ferris claimed the Super Pole qualifying points, then quickly took command of the opening MX1 race, lapping all the way up to 10th place before taking the victory with a 16-second lead. Behind him, Evans moved past KTM Motocross Racing Team's Kirk Gibbs mid-way through the race as the pair of KTMs placed second and third. Mosig rode solidly to fourth place, while fellow Victorian Dylan Long (CDR Yamaha Monster Energy Team) rounded out the top five.
Evans scored the holeshot of the second MX1 moto, with Ferris giving chase, waiting patiently before pulling the trigger and finishing 13 seconds ahead of the rookie. Mosig enjoyed a consistent race on his way to third, while Long and Gibbs placed fourth and fifth respectively.
Round four results:
1 Dean Ferris (Yamaha) 70
2 Mitch Evans (KTM) 64
3 Kade Mosig (Husqvarna) 58
4 Kirk Gibbs ((KTM) 56
5 Dylan Long (Yamaha) 54
6 Luke Clout (KTM) 49
7 Bret Metcalfe (Honda) 47
8 Caleb Ward (Husqvarna) 44
9 Connor Tierney (Yamaha) 44
10 Rhys Carter (Kawasaki) 43
MX1 Championship Standings After Round 4 of 10
Dean Ferris 285
Mitch Evans 227
Kirk Gibbs 223
Luke Clout 216
Dylan Long 207
Kade Mosig 206
Caleb Ward 197
Rhys Carter (NZ) 191
Brett Metcalfe 182
Connor Tierney 170
MX2 CLASS
Wilson Todd made the most of a heavy track that threw up multiple surprises throughout the day, while defending MX2 champion Egan Mastin (KTM Motocross Racing Team) and New Zealand two-stroke racer Hamish Harwood (Davey Motorsports KTM) enjoyed their best days of the year as they completed the podium. Former red plate holder Nathan Crawford had a disastrous outing on his way to 16th overall, after failing to finish the second moto.
When the gate dropped on the Pirelli MX2's first outing, Todd quickly set himself at the front of the pack and was never headed on his way to a five-second win, while MX Nationals round one winner Aaron Tanti (Complete Parts Kawasaki) experienced a return to form with a well-earned second place. Harwood fought through the pack on his way to third, with Mastin fourth and Jay Wilson (Yamalube Yamaha Racing) fifth.
When the MX2 pack hit the track again, Todd again snatched the holeshot and tore out to a commanding 18-second lead over his 2017 rival Mastin, who scored his posted result so far this year. Filling the top three was privateer Jy Roberts (Husqvarna), with a break-out performance. Harwood rode a solid race on his way to fourth, with Tanti fifth.
Bike issues and a suspected shoulder injury forced former points' leader Crawford out of the moto early, effectively gifting a 16-point championship lead to his team-mate Todd.
Round four results:
1 Wilson Todd (Yamaha) 70
2 Egan Mastin (KTM) 60
3 Hamish Harwood (KTM) 58
4 Aaron Tanti (Kawasaki) 58
5 Jy Roberts (Husqvarna) 53
6 Dylan Wills (Husqvarna) 49
7 Kale Makeham (Yamaha) 45
8 Jay Wilson (Yamaha) 43
9 Cooper Pozniak (Yamaha), 40
10 Joel Evans (Husqvarna) 33
MX2 Championship Standings After Round 4 of 10
Wilson Todd 238
Nathan Crawford 222
Aaron Tanti 210
Jay Wilson 209
Hamish Harwood (NZ) 209
Egan Mastin 206
Kyle Webster 188
Dylan Wills 188
Kale Makeham 168
Jy Roberts 166
The 2018 Pirelli MX Nationals will continue at Murray Bridge, South Australia on Sunday, May 27, before the series heads into its mid-season break.