The MXGP battle resumes with the 11th round of 18 in the FIM Motocross World Championship taking place this weekend at one of the most popular venues in the world, Matterley Basin, near Winchester, in England.
It will also mark the return to race action of New Zealand's Ben Townley, a rider who has fond memories of the flowing British track.
He was one of the Kiwi trio who reached the podium at the Motocross of Nations (MXoN) there 10 years ago, in 2006 (the NZ team of 2006 pictured above).
Townley raced alongside Josh Coppins and Cody Cooper and it was indeed a proud moment when Team New Zealand took third overall, behind the always powerful United States team and Team Belgium, that year led by Stefan Everts, the man who is now, incidentally, Townley's current boss in the Suzuki factory team.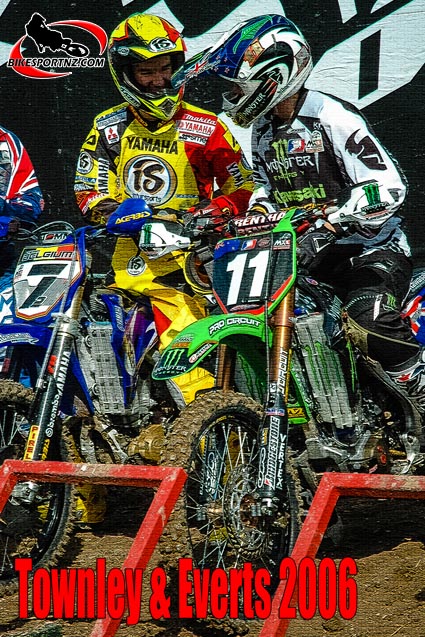 Townley raced the MX2 bike for Team New Zealand in the MXoN in 2006, finishing fifth in the combined MX1/MX2 race and then third in the combined MX Open/MX2 race.
"I'm 100% in for Matterley and it's a really enjoyable track; one of those very modern type of motocross circuits," said Townley this week.
"I've been on the bike since the Sunday of St Jean (d'Angeley) and the French GP and my condition is not perfect but I am slowly getting there.
"It is a slow process unfortunately and I'll just have to strap the wrist and do my best," he added. "My injury was actually the same thing that happened to Kevin. It has improved and it doesn't affect my riding too much. It is just a matter of getting up to speed."
Race fans love the Matterley Basin circuit too.
It is built inside what is best described as a basin, in other words it's built in between the rolling hills of Winchester, which means the views of the entire circuit are second to none.
Matterley Basin hosted its first round of the FIM Motocross World Championship in 2006, in that same year it also hosted the MXoN.
It then laid low for a few years before returning in 2011.
This year's MXGP of Great Britain will be the sixth time in succession that the British GP will take place at this awesome venue where we will be also hosting the seventh round of the European Championship EMX250 (featuring New Zealander Josiah Natzke), as well as the fourth and fifth rounds of the EMX300 class and EMX125 class too (featuring Kiwi Wyatt Chase).
It will also host the second round of the Honda European Championship EMX150 (featuring New Zealand's James Scott).
Honda Gariboldi's Tim Gajser set the championship on fire during his MXGP class debut at round one in Qatar with his mind blowing double moto victory for the overall and the early championship lead.
He did lose the red plate at round two, to Romain Febvre, but kept on charging and reclaimed it at round seven in Germany. Since then, he has been piece by piece dismantling the competition.
Gajser is the only rider in the premier class to have finished on the podium at every single round. He has gone pole five times, led 157 laps, won nine races and five GPs.
Defending champ Febvre is currently 24 points down on the rookie, Gajser, which means Gajser still can't afford to lose a moto, especially if Febvre was to win. That would instantly put the red plate back in the hands of the champ, and that also indicates how tight it is at the top at the moment.
Despite not being a hard charging youngster anymore, Red Bull KTM Factory Racing's Antonio Cairoli is more often than not, the man to beat. Cairoli has won four grand prix' at Matterley Basin, which is a lot more than anyone else. Even fellow KTM star Jeffrey Herlings has only won here once.
He also sits in second place on the 'laps led' in 2016 chart, with 100 laps led. Gajser leads the 'laps led' with 157. The fact, Cairoli is still second is a good sign he's still got the goods and since he has been recovering from last year's injury, it could be just lack of race fitness that has impeded his results.
After a heart-breaking start to the year where he snapped his arm two weeks before the season opener in Qatar, Monster Energy Kawasaki Factory Racing's Clement Desalle has been struggling on the rocky road to recovery.
He seems to be getting stronger with every race which means it should come as no real shock to see him on the podium sooner rather than later, and could possibly happen this weekend especially since he has already won the MXGP of Great Britain at this venue back in 2013.
MX2 CLASS   
Last year, Matterley Basin was incredibly interesting for Red Bull KTM Factory Racing's Jeffrey Herlings who didn't win the MX2 grand prix of Great Britain. Instead he was beat fair and square by Valentin Guillod after a memorable race where the duo fought tooth and nail from start to finish.
Herlings seems to have matured as a rider this year, and in he has also become incredibly crafty. He doesn't rush things any more, he just bides his time and lets the results come, and since he is so naturally gifted, it almost always works in his favour. As always, it's hard not to bet against him for the win.
Kemea Yamaha Official MX Team's Benoit Paturel is on the pace at the moment and has barged his way into the reckoning. Paturel has landed on the second step of the podium two times in a row now and will be looking to better that, or make it three this weekend. Meanwhile, fellow Frenchman Monster Energy Kawasaki Racing Team's Dylan Ferrandis will be out for redemption after a wayward home GP two weeks ago.
And then there are the other guys capable of footing it. Team Suzuki World MX2's Jeremy Seewer is running second in the championship with a 31-point advantage over the current vice world champion Red Bull KTM Factory Racing's Pauls Jonass. What is cool about these guys is, although they know Jeffrey is a cut above, they are eager as heck to catch him.
© Photos by Andy McGechan, www.BikesportNZ.com
Find BikesportNZ.com on FACEBOOK here
CHAMPIONSHIP STANDINGS:
MXGP Championship Top Ten:
1. Tim Gajser (SLO, HON), 432 points; 2. Romain Febvre (FRA, YAM), 408 p.; 3. Antonio Cairoli (ITA, KTM), 372 p.; 4. Maximilian Nagl (GER, HUS), 342 p.; 5. Evgeny Bobryshev (RUS, HON), 333 p.; 6. Jeremy Van Horebeek (BEL, YAM), 293 p.; 7. Shaun Simpson (GBR, KTM), 210 p.; 8. Valentin Guillod (SUI, YAM), 208 p.; 9. Kevin Strijbos (BEL, SUZ), 204 p.; 10. Glenn Coldenhoff (NED, KTM), 184 p
MX2 Championship Top Ten:
1. Jeffrey Herlings (NED, KTM), 497 points; 2. Jeremy Seewer (SUI, SUZ), 363 p.; 3. Pauls Jonass (LAT, KTM), 332 p.; 4. Benoit Paturel (FRA, YAM), 293 p.; 5. Aleksandr Tonkov (RUS, YAM), 269 p.; 6. Petar Petrov (BUL, KAW), 230 p.; 7. Dylan Ferrandis (FRA, KAW), 229 p.; 8. Samuele Bernardini (ITA, TM), 228 p.; 9. Max Anstie (GBR, HUS), 227 p.; 10. Vsevolod Brylyakov (RUS, KAW), 209 p.