MAVERICK GETS THE BENEFIT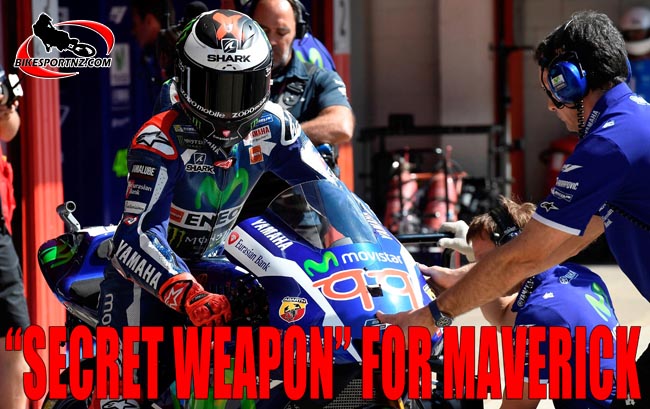 New Yamaha signing Maverick Vinales will get the benefit of one of Jorge Lorenzo's secret weapons when MotoGP kicks off next season.
Lorenzo's crew chief Ramon Forcada will not move to Ducati next season and instead remain at Movistar Yamaha with new arrival Vinales.
Forcada worked with riders such as John Kocinski, Alex Barros and Casey Stoner before joining forces with Lorenzo in 2008, when the young Spaniard stepped up to MotoGP with Yamaha.
Together they have won 43 MotoGP races and three world championships.
But their partnership will end at Valencia in November, when Lorenzo begins a new chapter in his career at Ducati and Forcada starts work with rising star Vinales, arriving from Suzuki.
"Ramon decided to stay at Yamaha with Maverick," Lorenzo confirmed at the end of Monday's Catalunya test. "Probably – you have to ask him – he told me that maybe for his age, he is already so many years in this competition and he was more comfortable to stay in the same team.
"We discussed [Ducati]. I also didn't want to push a lot because every person has to take the decision they prefer. I'm okay with it, and for sure they [Forcada and Vinales] will form a good team; a young rider and experienced technician."
Indeed, despite turning down the chance to move with Lorenzo to Ducati, the #99 was full of praise for Forcada's abilities.
"Ramon for me is, if not the best, one of the best suspension technicians. He has a lot of experience. He has been three times a world champion. For sure Maverick can learn a lot from his experience and the work we did during these years."
As well as a crew chief, Lorenzo could have an entirely new team of mechanics at Ducati. The reigning champion understands it is a hard decision for both his current team members and future employer to make.
"Yamaha are very professional and train their people very well. It's not easy for people to take this new challenge, like I take. Also for Ducati it's difficult because they want to keep as small a [group] of people as possible, and it's a complicated and special bike.
"So let's see how my [Ducati] team will be made in the future. Little-by-little I'm trying to fix every piece. I have time, 10-11 races to decide my team. But I think it will be a very competitive team, as I've had until this year."
Lorenzo's Ducati arrival will thus be in stark contrast to team-mate Valentino Rossi, who took almost everyone with him from Yamaha at the end of 2010, including his favourite Kiwi mechanic Brent Stephens.
So what does Rossi think about Forcada and the mechanics staying?
"For me every rider has a different story and when you bring with you your team, you have some disadvantages and some advantages," the Italian replied. "But it is something very personal. You have to feel that you want the same, or maybe it's okay to change.
"For me Ramon is very great, has a lot of experience and he works very well always. But on the other side the Ducati is a very different bike, so also having a team who [already] know the bike is important I think."
It has also been reported that Cristian Gabarrini, Casey Stoner's former Honda and Ducati crew chief, is favourite to take on the role for Lorenzo at Ducati. Gabarrini currently works with Jack Miller at Marc VDS.
Meanwhile, Lorenzo and Rossi both tried a new chassis during Monday's post-race test and, unlike their rivals, will return for private testing at Catalunya later this week.