SOLID SHOW FROM WILTSHIER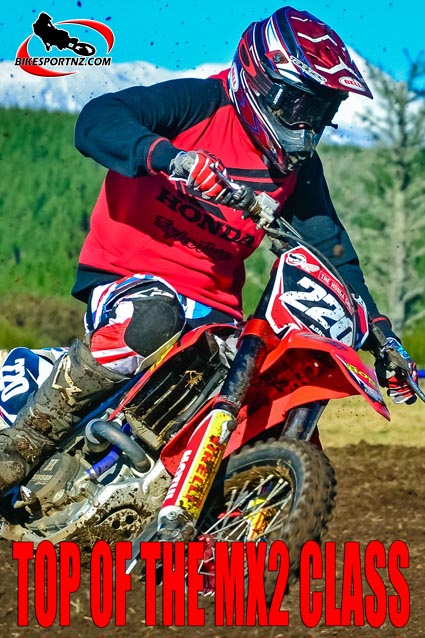 Bay of Plenty's Aaron Wiltshire was in dynamic form at the New Zealand Motorcycle TT Championships near Kuratau at the weekend.
Representing The Honda Shop Racing Team, the 18-year-old showed a never-say-die attitude and a reliably fast bike would eventually take him to the top during a brutal two days of action on the icy farm paddock on the Central Plateau.
Tauranga's Wiltshier (CRF250) started the weekend the way he meant to end it when he won his first of five races and he finished the first day with a narrow six-point advantage over his nearest rival, Taupo's Cohen Chase (Yamaha), with Rotorua's Scotty Canham (Kawasaki) another eight points further back.
Wiltshier was 10 points ahead of Chase with just one race to go when the riders lined up for their final MX2 outing of the weekend and he knew that fifth or better would be enough for him to sew up the title.
After a handlebar-bashing battle with Taupo's Brad Groombridge (Suzuki) through the opening laps, Wiltshire eventually found a way past and crossed the line in fourth position, the result more than he needed to wrap up the trophy.
"I was probably not the fastest rider today, but consistency got me there in the end," said Wiltshier afterwards.
Wiltshire posted a 1-3-2-3-4 score-card to win the title by six points from former national junior motocross champion Chase.
"I would have won the last race on Saturday too, had I not slid out on the last corner. It was like riding on an ice-skating rink," said the apprentice engineer.
"It was so cold. I could barely feel my hands on the handlebars. I wore rubber latex gloves under my normal racing gloves but my fingers still felt like solid blocks of ice."
Fellow Honda star Ian Ffitch, from Christchurch, was also in scintillating form, racing his Honda TRX450R to a convincing win in the ATV open class.
Ffitch finished the weekend with a 1-2-1-1-1 score-line.
Meanwhile, Groombridge won both the MX1 and the enduro bike classes, ahead of Mangakino's Kayne Lamont and Howick's Liam Draper respectively, while Otorohanga's Aaron King won the 125cc title ahead of Pukekohe's Kurtis Lilly.
Other class winners at the weekend were Sarah Elwin (Taihape, women's class); Kotemaori's Reece Lister (junior 12-16 years' 125cc and 14-16 years' 250cc); Oparau's James Scott (junior 13-16 years' 85cc); Matamata's Brodie Connolly (junior 8-12 years' 85cc); Taupiri's Mark Fuller (veterans over-50 years); Whakatane's Darren Capill (veterans over-45 years); Motueka's Josh Coppins (veterans over-35 years); Taupo's Vinnie Bol (intermediates over-300cc); Morrinsville's Shane Tunnicliffe (intermediates under-300cc); New Plymouth's Greg Ngeru (classic bikes); Stratford's Cameron Keegan (clubmans); Taupiri's Zak Fuller (junior support); Kaiwaka's Cullen Curtis (ATV 450cc production); Auckland's Levi Nairn (ATV 12-16 years); Auckland's Bill Burborough (ATV veterans over-40 years); Rotorua's Emma Goldstone (ATV support and women).
Thanks are extended to the Tuatahi Farming Partnership and Puketapu 3A Incorporated for making the land available this year.
© Words and photo by Andy McGechan, www.BikesportNZ.com
Find BikesportNZ.com on FACEBOOK here