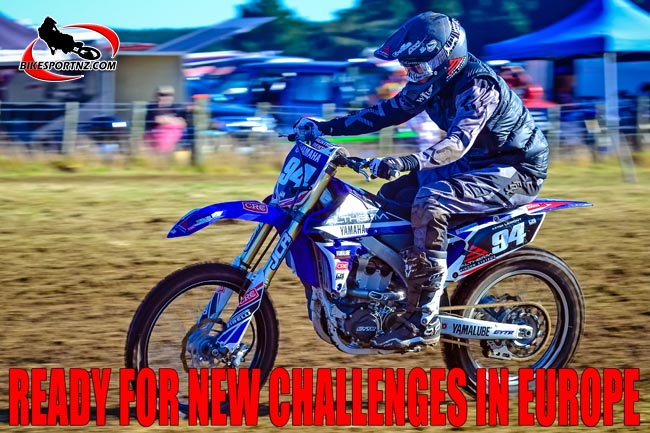 Mangakino's Kayne Lamont is in high demand internationally and he is ready to embark on his latest overseas adventure this week.
With support from Phil and Cheryl London, of WIL Sport, the 22-year-old Altherm JCR Yamaha Racing Team rider leaves tomorrow to join the MX Zone Turvey Construction Yamaha Team in England and he will be based in Melksham, near Bath, in the south-west of the country.
After a short break to shake off his jet-lag and to get himself organised, former New Zealand MX2 champion Lamont, who is still recovering from a wrist injury, will then tackle racing in the UK and beyond.
"I've missed the start of their season in the UK, but I'll compete at six races, in three different series, including the British Motocross Championships, on a Yamaha YZ250F."
In September he heads to France to join the New Zealand three-rider squad for the annual Motocross of Nations, being raced at Ernee, just inland from World War Two's D-Day landing beaches at Normandy.
His team-mates at this "Olympic Games of motocross" will be Mount Maunganui's Cody Cooper and Tauranga's Ben Townley.
" I will be able to relax for my first two weeks over there. I will go to be a spectator only at the British Motocross Championships round at Foxhills on August 1-2 but, after that, I'll be racing flat-out in England right up until the Motocross of Nations, so I will be quite busy."
Despite still nursing a sore wrist, Lamont had his last big domestic hit-out at the annual Bike Torque Yamaha-sponsored New Zealand Motorcycle TT Championships near Kuratau at the weekend, riding a YZ450F in the MX1 class and a YZ250F in the MX2 class as well.
He ended the two-day event runner-up to Taupo's fellow Kiwi international Brad Groombridge in the MX1 class and third overall in the MX2 class, behind Tauranga's Aaron Wiltshier and Taupo's Cohen Chase.
But, perhaps saving his best for last, Lamont took his Yamaha YZ250F to win the all-capacities feature final that wrapped up the weekend at Kuratau.
"My left wrist was good all weekend. The racing at the TT nationals was a good test for it.
"I'm proud and thrilled to be selected again for the Motocross Nations team. I thought perhaps my recent wrist injury would have put the selectors off, but I suppose I've shown now that I'm almost back to 100 percent again now."
Lamont is supported by WIL Sport, Philip Parry Contracting Ltd, Karl Mason Builders, Ethika, BikesportNZ.com and his Altherm JCR Yamaha Racing team is supported by Altherm Window Systems, Yamaha, JCR, CRC, Ados, GYTR, Yamalube, Fox Racing, Hollands Collision Centre, Star Moving, Ward Demolition, Fulton Hogan, Pirelli, FMF, DID, NGK, Matrix, Renthal, Motomuck, Workshop Graphics, Motoseat, Hammerhead, SKF, Vertex Pistons, Rtech Plastics, Etnies, Biketranz and Fulton Hogan.
© Words and photo by Andy McGechan, www.BikesportNZ.com
Find BikesportNZ.com on FACEBOOK here