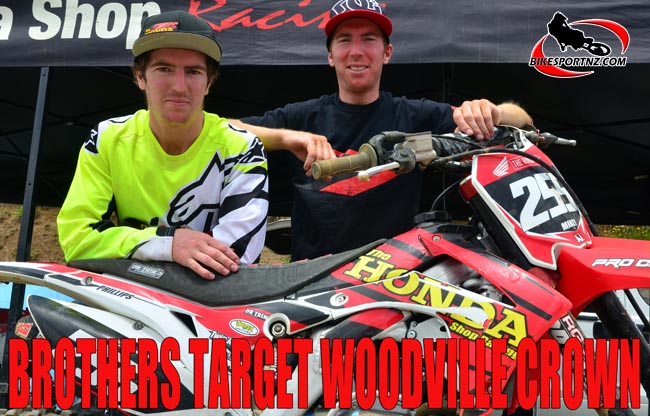 Winning a New Zealand Motocross Grand Prix title is top of the wish list for every respectable racer and perhaps no career is complete until this one has been ticked off.
Although this weekend's 54th annual New Zealand Motocross Grand Prix at Woodville has attracted a record number of international stars, it will still be the cream of the Kiwis who rate as the top contenders, Rotorua brothers and Honda team-mates Mike and John Phillips among those who must fancy their chances.
A contingent of 11 overseas riders are entered this time around – coming from Australia, Japan, the United States and the United Kingdom – but the Phillips brothers and 2014 national MX1 champion Cody Cooper are once more expected to be among the standout performers this weekend.
"I won at Woodville once before in the 250cc class (in 2009) and I nearly won it on a 450cc bike too (in 2011), until I dropped the bike two corners from the end and Motueka's (two-time former world No.2) Josh Coppins won it instead that year," said the 28-year-old Mike Phillips.
"This is always a good event and a unique track in that nobody gets to ride on it during the year. It is used just one weekend of the year and so it's nobody's home track and no one rider has an advantage over his rivals. I like that."
His brother John is also excited about the coming weekend.
"It's going to be awesome. I look forward to this event more than any other," said the 22-year-old John Phillips.
"It's a real chance to gauge yourself against the best in the business."
The event is again sponsored by Honda and so it would be a perfect outcome if the Phillips brothers and Cooper – the trio are team-mates in The Honda Shop Racing Team – were to hog the podium.
But nothing is guaranteed in sport, least of all in motocross where luck can play a huge part and close-contact fighting can have rapid and painful consequences, and the world-class talent thronging to the track near the eastern end of the Manawatu Gorge should also ensure than no individual can expect to dominate.
Mount Maunganui's Cooper won the main title at Woodville last season and the went on to successfully defend his MX1 crown at the four-round New Zealand Motocross Championships that followed soon afterwards, but he is still on the mend following injury and the 31-year-old has struggled to impress so far this season.
Others who could threaten for the premier title at Woodville this weekend include riders such as Mount Maunganui's Rhys Carter, Taupo's Brad Groombridge, Waitakere's Ethan Martens and Queenstown's Scott Columb, to name just a few.
The international stars entered include Japanese Yamaha rider Yu Hirata, American Kawasaki rider Eric Senk, British KTM rider Rob Holyoake and Australians Kirk Gibbs (KTM), Luke Styke (KTM), Jacob Wright (Yamaha), Jay Wilson (Yamaha), Hunter Lawrence (Yamaha) Caleb Ward (KTM), Tomas Ravenhost (Yamaha) and Jayden Conforto (Suzuki).
Some of these riders are first-timers at Woodville, but Hirata, Gibbs and Wilson are familiar with the farmland circuit and may be able turn their past knowledge into winning results.
Racing over the two days at Woodville caters for minis, juniors, women and veterans, with the novelty river race on Sunday always a crowd-pleaser.
© Words and photo by Andy McGechan, www.BikesportNZ.com
Find BikesportNZ.com on FACEBOOK here