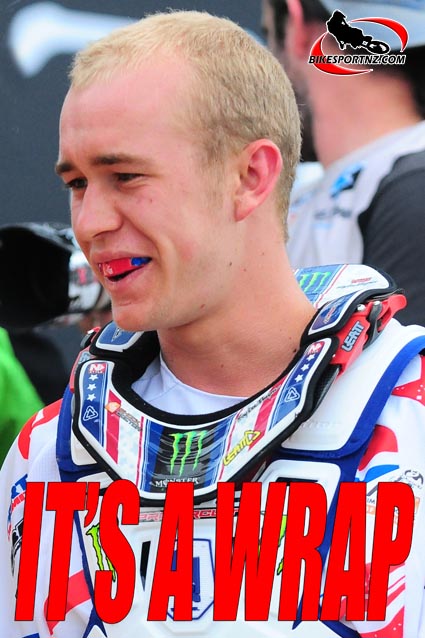 KTM's Ryan Dungey finished off the 2012 United States Motocross Championships in style, claiming his 10th overall win of the year at the final round at Lake Elsinore Motorsports Park in Lake Elsinore, California, at the weekend.
Already crowned 450cc class champion, Dungey ran down fast starter Mike Alessi in both motos to take the chequered flag both times.
"It feels great," said Dungey. "I've said it a lot, but [the team] had a lot to figure out. I felt like we made improvements at the middle of the season and to keep winning since round three is awesome to finish off on a strong note like this. I've had a lot of fun his season. All the success we've had is because of the effort of everyone at KTM."
The first four positions in both motos were fairly spread out and identical, with Dungey taking the win on his Red Bull KTM 450 SX-F in front of Alessi (Suzuki), Broc Tickle (Kawasaki) and South African former MX2 world champion Tyla Rattray (Kawasaki). They also finished in the same order in the overall.
With both Dungey and Alessi already clinching first and second, respectively, in the 450 championship before this round, the race for third in the championship was still up in the air between Honda's Andrew Short and kawasaki's Jake Weimer. Weimer went 5-9 on the day for third overall, and Short went 8-13 for eighth overall. After all that, Weimer ended up nipping Short for the third in the championship by just one point.
Short came into the day feeling ill and was far from 100%.
Honda's Justin Brayton finished sixth overall with a 12-5 and Christian Craig (Honda) finished seventh overall with 7-10 results.
Short, Yamaha's Ben LaMay (10-12) and Weston Peick (13-11) rounded out the top 10 overall.
In the end, Dungey finished out the 2012 season with 580 points, followed by Alessi with 453, Weimer with 355, Short with 354 and Tickle with 349.
Josh Grant, Brayton, Kyle Chisholm, Davi Millsaps and Rattray filled out the top 10 overall in the championship.
In the 250cc class, it came down to the final moto but Kawasaki's Blake Baggett (pictured above) held on to win the title.
On what was an extremely hot and sunny day in Southern California, Baggett came into round 12 holding on to a modest 14-point lead over Honda's Eli Tomac and 18 points over Tomac's team-mate Justin Barcia.
But a first-moto win over Tomac and Barcia pretty much sealed the deal for Baggett who basically needed to finish just in the top 10 in the second moto to win the championship. However, it ended up being much easier than that for Baggett when Tomac went down early in the final moto of the year and had to start all over again in last place. Despite getting off to a horrible start, Baggett worked his way up to second, which also gave him the overall win for the day.
"I came out swinging today," said Baggett. "I knew I would either go to the front, or it would all go down the drain. The first moto was crazy battling with Justin [Barcia] and Eli [Tomac].
"In the second moto, I got a horrible start and I don't even know, I couldn't even see. I just needed to get to the front and finish as good as I could, so I did. I really wanted to make a push at the end just to show that I was still giving it all I had."
Tomac finished out the moto in 14th place for seventh overall. The crash also cost Tomac second in the championship, which ended up going to Barcia.
Baggett finished out the 2012 season with 519 points and five overall wins to Barcia's 499 points and two overall wins. Tomac ended up third in the series with 487 points and four wins.
Red Bull KTM riders Ken Roczen and Marvin Musquin rounded out the top five in the season.
Musquin completed the day third overall with a 4-3, while Honda's Wil Hahn (5-4) and KTM's Malcolm Stewart (7-6) rounded out the top five overall.
RESULTS
450 Class Round Results
Ryan Dungey, Belle Plaine, Minn., KTM (1-1)
Mike Alessi, Victorville, Calif., Suzuki (2-2)
Broc Tickle, Holly, Mich., Kawasaki (3-3)
Tyla Rattray, Durban, South Africa, Kawasaki (4-4)
Jake Weimer, Rupert, Idaho, Kawasaki (5-9)
Justin Brayton, Fort Dodge, Iowa, Honda (12-5)
Christian Craig, El Cajon, Calif., Honda (7-10)
Andrew Short, Smithville, Texas, Honda (8-13)
Ben LaMay, Wasilla, Alaska, Yamaha (10-12)
Weston Peick, Wildomar, Calif., Suzuki (13-11)
450 Class Final Championship Standings
Ryan Dungey, Belle Plaine, Minn., KTM, 580
Mike Alessi, Victorville, Calif., Suzuki, 453
Jake Weimer, Rupert, Idaho, Kawasaki, 355
Andrew Short, Smithville, Texas, Honda, 354
Broc Tickle, Holly, Mich., Kawasaki, 349
Josh Grant, Riverside, Calif., Kawasaki, 277
Justin Brayton, Ft. Dodge, Iowa, Honda, 247
Kyle Chisholm, Valrico, Fla., Kawasaki, 211
Davi Millsaps, Cairo, Ga., Yamaha, 176
Tyla Rattray, Durban, South Africa, Kawasaki, 172
250 Class Round Results
Blake Baggett, Grand Terrace, Calif., Kawasaki (1-2)
Justin Barcia, Monroe, N.Y., Honda (3-1)
Marvin Musquin, La Reole, France, KTM (4-3)
Wil Hahn, Decatur, Texas, Honda (5-4)
Malcolm Stewart, Haines City, Fla., KTM (7-6)
Ken Roczen, Apolda, Germany, KTM (6-7)
Eli Tomac, Cortez, Colo., Honda (2-14)
Blake Wharton, Pilot Point, Texas, Suzuki (8-8)
Jeremy Martin, Millville, Minn., Yamaha (10-10)
Jessy Nelson, Paso Robles, Calif., Honda (9-13)
250 Class Final Championship Standings
Blake Baggett, Grand Terrace, Calif., Kawasaki, 519
Justin Barcia, Monroe, N.Y., Honda, 499
Eli Tomac, Cortez, Colo., Honda, 487
Ken Roczen, Apolda, Germany, KTM, 456
Marvin Musquin, La Reole, France, KTM, 406
Wil Hahn, Decatur, Texas, Honda, 316
Blake Wharton, Pilot Point, Texas, Suzuki, 265
Jason Anderson, Edgewood, N.M, Suzuki, 238
Jessy Nelson, Paso Robles, Calif., Honda, 225
Travis Baker, Temecula, Calif., Honda, 193
WMX Class Round Results
Chiara Fontanesi, Parma, Italy, Yamaha (1-1)
Mariana Balbi, Belo Horizonte, Brazil, Honda (3-2)
Ashley Fiolek, St. Augustine, Fla., Honda (2-3)
Tarah Gieger, Aguadilla, Puerto Rico., Honda (5-5)
Taylor Higgins, Mesquite, Texas, Honda (8-4)
Jacqueline Strong, Sedona, Ariz., KTM (6-6)
Alexah Pearson, Sacramento, Calif., KTM (9-7)
Lindsey Palmer, Conifer, Colo., Kawasaki (12-8)
Sade Allender, Sanford, Maine, Honda (11-9)
Hailey Larson, Mill Valley, Calif., Honda (10-10)
WMX Class Final Standings
Ashley Fiolek, St. Augustine, Fla., Honda, 317
Tarah Gieger, Aguadilla, Puerto Rico., Honda, 302
Jessica Patterson, Tallahassee, Fla., Suzuki, 298
Mariana Balbi, Belo Horizonte, Brazil, Honda, 269
Jacqueline Strong, Sedona, Ariz., KTM, 236
Sara Pettersson, Sweden, KTM, 223
Alexah Pearson, Sacramento, Calif., KTM, 175
Kasie Creson, Vallejo, Calif., Honda, 174
Sade Allender, Sanford, Maine, Honda, 170
Amanda Brown, Baltimore, Md., Honda, 142
© Photo by Andy McGechan, www.BikesportNZ.com