INTERNATIONAL BIKE OF THE YEAR 2011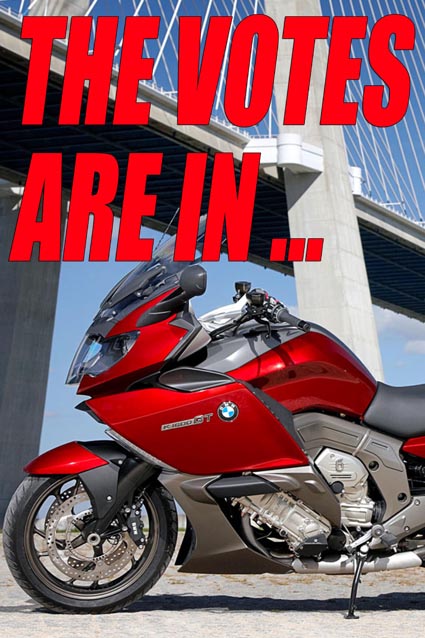 The International Bike Of The Year awards for 2011 have been a huge success.
The votes are in and European journalist Tom Jacobs, a close friend of BikesportNZ.com, brings us up to speed with how it all panned out, including how everybody voted, including New Zealand's Kiwi Rider magazine.
MOTORAJ (CZE) Ivan  Bezdek
1.   BMW K 1600 GT – "The perfect combination of travel and sport bikes, amazing engine, great chassis and plenty of technical issues and ride sophistication of security, such as adaptive headlights."
2.   Kawasaki W 800 – "Very successful Japanese brand contribution to the current retro fashion wave. W 800 looks as if it pulled out of the factory fifty years ago … but it works quite modern. Who loves the classics, should not miss this machine.
3.   BMW S 1000 RR – "First superbike from BMW worthy of the name. Perfectly manageable, sufficiently strong and German precision. And – which is not at this brand of course – and very handsome"
Moto Magazine (ISRAEL)  Kynan Cohen
1. BMW K1600GTL– "It is a bike that has something beyond the core excellence of the bavarian products.He contain components list that turn him to a geat bike, In both meanings.Furthermore, It is the first time that BMW succeed to forgo his all time rival Honda Goldwing."
2. Aprilia Tuono V4 R APRC – "With a Super Sport bike engine that planted in a muscular naked bike you cant go wrong…
Beyond the great engine and design, The Tuono has a hand full of electronic systems that successfully manage to work, And work well, Still, remainin the background and to allow the rider  to focus on having fun."
3. MV Augusta F3 – "Allthough MV is a small manufacturer that turning for a very wealthy clients. We can't ignore the Renaissance she experiencing. The F3 is A superb bike, In the way he looks, Performance and Handling. He deserve of the title just for the fact that MV 3 cylinder engines have a significant part in this firm history on the race track."
Superbike Mag (RSA) Clinton Pienaar
1. Kawasaki ZX-10R – It's been a long time coming, but finally someone has taken the fight to BMW within the 1000cc class and the 2011 ZX10 was a huge leap forward for Kawasaki, it ticked all he boxes for a hyper bike and was immediately over a second faster on same tyres with different riders over its predecessor. It was also dominant here in SA in our Superbike class with Sheridan Morias at the controls. When the Top Gear guys were here, we were invited to drag David Coultard in his Red Bull F1 car, it was not in the script to beat him into turn one, which we did2 out of 5 tries, so there you have it, ZX10 for our NR 1 spot.
2. Triumph Daytona 675R – what a brilliant little bike, we absolute loved it here at the office, found it to be a pure sport bike with no added traction control and ABS to complicate matters and make it expensive, value for money bar non with all the Ohlins and Brembo standard kit, an absolute track day weapon out of the box.
3rd – BMW 1600 GT – modern day electronics at its best, with the smoothest motor ever to be fitted to a bike, the power delivery almost feels like an electric turbine in its smooth power delivery and the handling will surprise a few unsuspecting sports riders up their favorite twisty mountain road. An absolute milage gobbler.
MotorWereld (BEL, Dutch Speaking) Thierry Sarasyn
1.Aprilia Tuono V4 –  "Launching a sporty V4 was a stroke of genius. To see this powerplant being used in a motorcycle that's less extreme than the RSV4 is applaudable indeed. However, one should be careful when describing the Tuono as less extreme. Because even when it's a naked it's still a true hypersports bike. And his potential exceeds what a bike without fairing can handle. But that's exactly why he delivers an even more impressive riding experience."
2. Honda CBR 600 F –  "Let's not kid ourselves. In terms of pure performance you can chose a lot more powerful bikes than the CBR 600 F. Still in times when speed camera's, high prices and excessive hp figures restrict the usabilityof sports bikes, the concept of the CBR 600F makes even more sense. In all fairness he doesn't excel in anything, accept versatility. The CBR 600F offers a little bit of everything and carries a very affordable price tag. Everyone who wants to build bikes in 2012 and wants make an impact will have to look into a similar approach."
3. Ducati Diavel – "The Ducati Diavel is not unlike Lady Gaga; so much over the top that it becomes acceptable again. And if it's extremes you're going after you might as well do it the right way. The Diavel oozes power like a bodybuilder who just snorted a fat line of coke up his nostrils. And similar to the bodybuilder there's not always a useful usage for the power surplus, but it's mighty impressive to look at anyway. Either you love it or you hate it. I'm not too sure with wich side I will camp. The middle way doesn't seem an option. Exactly the way how it was build you could say because Ducati didn't compromise either…"
Inmoto  (ITA) Ugo Passerini
1 BMW K 1600 GT – "A very new approach to a GT bike. The K1600GT offers an exceptional mix of comfort, speed and riding pleasure."
2. KTM 350 EXC-F – "The perfect meeting between performance and easy accessible, off road capabilities to tackle the most demanding terrain."
3. Ducati Diavel – "Even when you don't ride it everyday or there's no need to take the bike the Diavel guarantees you a good time!"
Der Reitwagen (Austria) editorial staff
1. BMW S1000RR – "We have worked on this bike intensly, prepared race-bikes based on the stock beemer and had to quit our 2010 WSB racing project due to a fake sponsoring-contract way too early. But technically the result was nothing less than breathtaking: after only 3 weeks of building our S1000RR "racebikes" from stock for the first WSB-race in phillip island '10 we showed up in australia with nothing else than bonestock engines, stock electronics (only some reprogramming) and stock frame & swingarm. one weekend of running in and testing (in pro-racing terms called "a joke"). Major changes to the bikes where basically close to the level of a good homespun trackday-bike: Akrapovic-exhausts, öhlins suspension, tripleclamps, Brembos, larger fueltanks, race-fairings. and a slightly repositioned swingarm-pivot by a few mm. Andrew Pitt  and Roland Resch qualified 1,2 seconds behind Checa's pole position, beating BMW works rider Ruben Xaus and losing less than 3 tenths on Corser. (Pitt finished 15th twice, bringing home 2 very surprising championship-points and losing 1,5 seconds per lap on racewinner Checa. Top speeds of our BMWs were up to 312 km/h on the straight, only ten fully blown WSB-bikes where slightly faster than our ridiculously stock S1000RRs!
You can question the overall performance of BMWs own WSB-worksbikes if you like, but the potential and performance level of their mass produced stock motorcycle, that everybody is allowed to buy and take home, is from another planet. Nothing comes close. And nothing in it's first production year will."
2. BMW K1600GT – "For 99% of our history we enjoyed loughing at everyone riding a BMW or wearing a BMW helmet. Not any more (well, we still can not resist a good grin as soon as one of those convertible helmets is forced to open up and reveal its well hidden secret!). Don't ask. We just love this monster."
3. Kawasaki ZX10-R – "Who cares about finishing third?"
MOTOR CULTURE ASIA (Singapore & Malaysia editions)
1.   2011 BMW S1000RR
At the price, nothing comes close in terms of outright usable power and sublime track handling.
What we like:
•       150Hp – 193Hp, potent yet usable for just about anyone who has handled a track machine.
•       Sophisticated technology that at the moment remains unrivalled.
•       4 intelligent map settings (race, sport, rain and slick) really makes it stick.
•       Very assured handling for both race and street use.
•       Traction control, ABS and all the typical BMW build quality.
•       The price tag.
2 Triumph Speed Triple
We felt that the latest Speed Triple raised the bar for all super-naked bikes in 2011. The refined handling of the Triple has proven its worth in the congested urban landscape of Singapore and the unpredictability of heavy-laden Malaysian highway roads. The improved suspension and engine tweaks haven't changed the Triple drastically; rather they made an already awesome bike even better.
What we like:
•       New aesthetics and streamlined bodywork.
•       Better geometry and more aggressive riding position.
•       Improved suspension and performance.
•       Best in its class.
3.Kawasaki Z1000SX (Ninja 1000 Tourer)
This bike really hits the nail on the head in the sports touring class. It's currently one of the most sought after sports tourers in the South-East Asia region. Looks-wise it is fresh and this bike has the knack of convincing long-time sportbikers to trade-in their trackers for something that offers the same excitement with longer range.
What we like:
•       A really high-performance touring bike.
•       Power, brakes, torque and handling…its all there.
•       19L fuel tank gives good range.
•       Its versatile capabilities on highways.
•       Storage options are aplenty.
•       Great rider-ergonomics make long-distance touring so much more comfortable and enjoyable.
Magazine Maximoto (France) Patrick Boisvert
1.   Ducati Diavel – "This wild looking creature already catches your breath when standing still. In action the Diavel's sheer power and its personality macht the visual fireworks while the Ducati remains very rideable. Bravo!"
2.   BMW K1600GTL – Offering you the typical BMW experience in terms of comfort, equipment and handling. Last but not least there's the magic of the six-cilinder engine!"
3 – Aprilia Tuono V4 – "All of the spectacular inner works of the potent RSV4 in a cool naked, or roadster as well call it in French, package. Now that's an explosive marriage!"
Cycleworld (USA) Mark Hoyer
1.   BMW K1600GTL –  "It's one thing to win the game; it's something else altogether to change the rules. But that's what BMW's new K1600GTL has done to the world of two-wheel touring. It's no small feat to trump the revered Gold Wing in the luxury-touring; but with its 11.2-second quarter-mile zip, near-sportbike-quality handling, electronically adjustable suspension and windshield, adaptive headlight that illuminates around corners, Bluetooth wireless capability, detachable luggage and utter ease of operation, the six-cylinder Beemer puts the Wing on the trailer. And from this point forward, anyone who believes that over-the-road luxury and thrilling high performance are mutually exclusive is…well, wrong."
2.   Erik Buell Racing 1190RS – "In normal times, our choice for Best Superbike would be the amazing BMW S1000RR again—the bike Wagner envisioned the Valkyries riding in his opera after he'd had a few absinthes. But these are not normal times, and we're suckers for American-built V-Twins that make an EPA-ready 160 horses, weigh 384 pounds, are covered in dark carbon-fiber and built by a guy who makes Rocky Balboa look like Paris Hilton with menstrual cramps. True, so far Erik Buell's only built a few EBRs, and the 1190RS does cost $40,000. But when have we ever let practicality get in the way of our Best Superbike? Besides, if all goes according to plan, EBR will soon be cranking out mainstream versions for around $20K. If anybody knows nothing ever goes according to plan, it's Erik Buell. And he never lets the bastards wear him down."
3.   Kawasaki Z1000 – "This year, the Z1000 came under heavy fire from a new Triumph Speed Triple and a new-to-the-USA Honda CB1000R, but neither the Triple's howl nor the Honda's savoir-faire were enough to dislodge the 127-horse Kawasaki from its position of power. Something about the Z's blend of massive, smooth, broadband thrust, near-faultless handling when flogged like a borrowed Kawasaki over our toughest test roads, and a high degree of comfort and usability in everyday riding won our hearts and butts for the second year in a row. Then there's the $1200-cheaper-than-the-Triumph part. No bread? Let them eat Kawasaki."
MotoCykli (Pol) Lech Potynski
1.   KTM 990 SM-T – "The SM-T motorcycle is very well done,  precise in its controls as well. And the KTM has plenty of power on tap. It is the most versatile bike out there, although that is not always considered an advantage!"
2.   BMW K 1600 GT – "We chose the K1600 GT for the consistent introduction of innovative solutions. Not only with the great engine, but also the control panel and so many other things. Definitely the best ride comfort, braking and suspension."
Ex-aequo: Kawasaki W 800 -. "The W800 gets his third place for the way in which Kawasaki executed their concept; the most beautiful classical shape combined with the perfect engine for the purpose."
Triumph speed triple – "The motorcycle which spawned a series of production streetfighters, and consistently keeps  this tradition alive. Pairs sophisticated style with amazing performance."
Bike (Scandinavia) Klavs Lyngfeldt
1. Aprilia Tuono V4R – "Naked sportsbikes are the future, and the V4 Tuono gives you the sensation of riding a Superbike in an upright position. Excellent handling, strong engine with a characterful power delivery and competent brakes even though ABS is missing."
2. Ducati Diavel "At Borgo Panigale they managed to bring excitement into a powercruiser like no manufacturer has done before! The Diavel is much more versatile than it looks – acceleration and braking performance are excellent, it's great for cruising and it is big fun on twisty roads."
3. BMW K 1600 GT "The new GT from Germany was certainly worth waiting for. What an engine! The six cylinder is so crisp, so powerful and nice sounding that you will accept its rather weak midrange torque. Handling is sensational for a bike this big and heavy and it will bring a lot of joy not only when travelling."
Moto (Greece) Lazaros Mavrakis
1. Triumph Tiger 800XC – "Triumph's first attempt in the middle class of dual sports bikes was more than effective. Inspired by the German way of thinking, the British company threatens the BMW's F800GS leadership on many fronts. The Tiger's on-road capabilities perfectly match the dynamic off-road performance, producing a very well balanced motorcycle. Easy to use and ready to provide excitement whenever is asked, the Triumph Tiger 800XC is a step closer to the perfect dual purpose bike."
2. Ducati Diavel – "Just one vote separates Diavel from being our top selection. Ducati walked in unknown paths and managed to bring the path to its measures. Diavel is the superbike of the cruiser category and as a Ducati product it could be nothing less than that. The high level of design and technology is a point of reference and the biggest surprise is that the riding qualities of Diavel are closer to the streetfighter's standards than the cruiser's."
3. KTM 990 SM-T – "The good became better. It's a kind of a cliché, but also reflects the true value of the new 990 SM-T. The phrase that concluded our test describes perfectly what the SMT stands for: "If the SM-T's tank carried the Honda badge, probably it would be the bestseller of all times."
Revista Moto (Mexico) Hector D. González Aragón
BMW K1600GT – "The highest technology available and applied to a production motorcycle found its way into this new bike. Talking about performance, we had the opportunity to test this bike on different altitude levels (respectively in Georgia, United States and Guadalajara, Mexico) the K1600 perperformed convincingly everywhere. Compared to the competition the GT works outstanding. Moreover the quality of design and comfort provide a riding unique experience.The driving position is more sporty / aggressive and allows to exploit the full potential of this 6-cylinder engine."
Harley-Davidson Softail FXS Blackline – "It's a bike with a novel and nostalgic design at the same time. Unmistakingly the Blackline style focuses on a territory yet unexplored by the Milwaukee brand. This bike clearly aims at young people, a segment that Harley-Davidson is starting to take into account. At the same time a new line of befitting apparel was launched. Performance is more than adequate for a bike of this nature. It allows you to ride in an upright position but maintain an aggressive look."
KTM 350 SX-F  – "Lightweight and powerful, with a totally new engine developed by motocross GP legend, Stefan Everts. The KTM SX-F 350 also claimed  the motocross MX world title on his first attempt thanks to the talented Antonio Cairoli. It really is a bike in its own right, also when in comes to performance because it gives the benefit of a larger displacement bike with the agility of a 250cc."
Autocar India (IND) Rishad Cooper
1) The BMW K1600GT is the modern day super tourer to own. This top quality BMW bike enjoys several trick features, including an adaptive xenon headlight, and an effective fairing that keeps its occupants safely cocooned from the elements. You couldn't ask for more from the K1600GT's uniquely sonorous, refined and punchy, in-line 6-cylinder, 1649cc powerhouse. Comfort and a nice riding position are part of the GT, and it handles with astonishing confidence for this large a motorcycle. BMW's innovative suspension allows terrific ride quality over a variety of surfaces. And a vast array of electronic riding aids work unobtrusively, with ABS, traction control and suspension adjustment all effectively controlled by a rider's touch."
2) The BMW K1600GTL packs in all the K1600GT offerings, with a tad more luxury, an even more upright riding position and some extra storage capacity.
3) The Ducati Diavel is a macho motorcycle with eye catching styling. This well built Ducati redefines the power cruiser segment.  Its Desmodromic, 1198.4cc, four-stroke, L-twin, Ducati Testastretta powerplant providing 162bhp of potent performance, and a vast array of electronic rider assistance including Ducati's Riding Modes. You get adequate comfort with minimal handling sacrifice, and there's the extra helping of typical Italian flair".
Australian Motorcyclnews (AUS) Sam MacLachlan
1.          Triumph Daytona 675R – "Narrow focussed, but bargain of the century! Anything with that kind of hardware for that price is going to score well in the value category. In the current climate that's even more reason to make it the International Bike of the Year. Ohlins suspension, powershifter, versatile engine and great brakes on such a little bike. Unleash the track rider within…"
2.      Aprilia Tuono V4R APRC –  "A mental naked bike, just what we asked for. No dumbed down imitation of the donor bike, the Tuono is proof the naked era is coming and Aprilia knew what we wanted – a full performance naked bike, with a relatively good ride position and full electronics package."
3.      BMW K 1600 GT –  "Superb technology meets big-time fun. We could cross Australia for coffee on this one, then ride straight back. Once you've worked how to switch everything on and off, it's a hell of a lot of fun! Though may we suggest BMW adds a powershifter as well. Not for performance, for fun! One superb bike".
KicXstart (Netherlands) Ben Kennepohl
Choosing our nominations for this IBOTY proved difficult as ever, but we decided to solve the problem by just asking ourselves the simple, but all-important question: 'Riding which bike did we enjoy the most?'
The answer surprised us (as well…): Turns out in a time with ever-increasing role for electronic rider-aids and still an emphasis on power, the bike we had the most fun with was a less-then-50-hp air-cooled pushrod V twin, without any of the modern electronic gadgets on board.
1: Moto Guzzi V 7 Racer – "At first sight, our number 1, the Guzzi V 7 Racer looks lovely, and manages to be a cool retro-designs without being tacky. More important is the bike allows you to enjoy motorcycling 'as it was meant to be'. A sweet-sounding not-intimidating, smooth  V twin in a chassis that works just fine at the speeds the Guzzi can manage. Very enjoyable on the road, with a nice impression of speed without breaking the sound-barrier and also pure fun on the track. We rode the V7 racer at a Guzzi Trackday on the circuit of Mettet (Belgium) and loved the way this simple bike allows the rider to experience the pure one-on-one relationship of man and machine that motorcycling is (or 'should be'…) all about. On the track (and as much as possible also on the streets…) the V7 Racer demonstrates the fun behind classis adagium of being fast by not slowing down. At the same time it learns us that all the current hi-tech is no necessity to enjoy riding a motorcycle. It's almost impossible not to fall in love with this little Guzzi."
2: Triumph Tiger 800XC – "Our number 2 nomination is the Triumph Tiger 800XC. Again; a bike convincing with the pure pleasure of riding it. Nice (slightly BMW-like) design, excellent riding position and comfortable, well handling chassis. But the star of the show is the engine. The 800 has to be one of the smoothest motorbike engines ever! No vibration and it just runs like a turbine. A great sounding turbine, equipped with one of the best working gearboxes around. Whether you ride the Triumph fast or take it for just a relaxing tour, it's always enjoyable and never dull. Fantastic Allroad bike showing the versatility of the Triple engine and in every respect a Triumph indeed for the British engineers in Hinckley.
3: BMW K 1600GT – "In total contrast with our number 1 nomination is the bike that 'has it all' and (in spite of that…) is still a wonderful and truly exiting motorcycle to ride. The BMW K 1600GT has just about every electronic gadget you can imagine. Ride modes, electric windscreen, Electronic Suspension Adjustment, ABS, Traction Control, audio, navigation, you name it… Still, most important is of course the appeal of the six-in-line engine. Very strong and ultra-smooth with its massive torque spread out over the entire rev-range. Great comfort and wind protection, but thanks to the combination of the lovely engine and a surprisingly light-handling and responsive chassis, a true GT motorcycle and definitely not a car on two wheels. The BMW allows you to experience and enjoy all the modern hi-tech, without losing the feel and the sensation of actually riding a proper motorcycle. And finally: The coin that stayed upright on the tank of the Benelli Sei with the engine running doesn't topple over either on the tank of a running K 1600GT. Very impressive!"
motoSI magazin (Slovenia) Mitja Gustincic
Well, dear IBOTY friends,  we are not coming with good news this year. The Slovenian motorcycle market collapsed so deeply, that everybody in the motorcycle business is waiting with his head between their knees expecting to live on charity only. Or maybe people here are not stupid enough to throw hard earned money on motorcycles that are not attractive enough? As we see here I can say that the motorcycle industry forgot to produce hot looking bikes for reasonable money. Oh, yes. BMW is our market leader. Who knows why?
And people are quite happy with their few years old bikes. They do not need  urgently to sell motorcycle for half of the price to invest into a few  more HP for an unreasable price. This speaks for itself.
And here we are with best 3 bikes. This is our mirror, bike crisis selection.
1.      Honda 750 Africa Twin, 1995* NOTE: Not counted in the IBOTY vote, but a great editorial remark nonetheless
"Ahh, what a wonderful bike: silk running engine with just enough power to propel you around public roads, easy to control, just enough brakes and, yes – as most important, astonishing looks. This bike was the clear winner of our tough comparison test with the Aprilia Dorsoduro 1200, BMW GS 1200 Adventure, Moto Guzzi  Stelvio and Triumph Tiger XC 800. We spent a week on this bikes, we did one full day of cruising on remote dusty white roads, camping on the bank of river Kolpa (we invite you to visit this place, it is in the South-East  of Slovenia, bordering beautiful Croatia). And all the time we did our best to find out on which bike to put our personal money.
If anybody finds this first place disappointing, please rent this Africa Twin and see the reality from behind the handlebars!"
2. Kawasaki W 800 – "After its first sighting at 2010 Köln show this old maid definitely wasn't  anybody's dream bike here in the office. But then… yes, after one more hazardous week with 180 HP on public roads and almost joining some famous GP riders in the hospital we asked ourselves what motorcycling with 48 HP feels like. The answer is straight forward. It's great your health: this bike is far better that refreshing your skin with Q10! Everything on the bike is looking (including the vintage looking Dunlop K 81 tires) and running fine. When apporaching  the forbidden speed zone, you receive a clear warning from the chassis, something like samba dancing. And you close the throttle. Coincidentally this is what authorities are asking you to do as well."
3. Triumph 800 XC –  "This was quite a heavy task for us. To vote or not to vote for this British bike? Where is the catch?
I hope we all agree that British won the WWII, do we? So please, why the hell they do need to copy German bikes so convincingly, that I made mistake and try to insert BMW GS 800 key into British clone? Of the very same brown orange colour!
The rest of the bike is correct answer what should be the user friendly bike. 3 cylinder engine is the key to differentiate close friends of on/off road bikes.
BIKE MAGAZINE (UNITED KINGDOM) Tony Hoare
1 BMW K1600GT – "Nobody on the Bike team who has ridden BMW's latest flagship tourer has come away with anything short of awe. The whooshing, surging but utter refined and glorious six-cylinder engine; the all-week comfort and storm-beating abilities of the adjustable riding position and fantastic fairing; the features, goodies and options that include electronically-adjusted suspension, traction control, ABS, power modes, a headlight that looks round corners, sat nav, endless trip info, tyre pressure sensors, heated everything, music, cubby-holes and luggage… It has all of that, but it's the chassis that truly astounds. Yes, the 1600 is big, and it's not what you'd call light, but the balance, control and agility are breathtaking. The steering makes changing direction on an R1200GS feel like hard work. It's unprecedented. It took prolonged debate and heated discussions to decide our shortlist, but there was only ever one bike in the running for the title itself."
2. Triumph Tiger 800XC – "Triumph's relaunch in the adventure bike market provided the right bike, right dynamic and right brand, taking the wheel of the big trailie bandwagon and steering it down a route of droning torque and surprisingly sporty manners. The standard Tiger 800 is a great do-it-all road tool, but the 800XC is the real gem, a 21in front wheel and beaky looks giving the round-the-world image without sacrificing road skills. It's not quite as easy in the dirt as an F800GS, but the Tiger turns its hand to anything, encourages its rider and makes the heart beat faster, all with rich three-cylinder refinement. Triumph couldn't make the things fast enough, and with good reason."
3. Ducati Diavel – "Ducati's muscle-tourer-cruiser fills a gap we didn't know existed. Wheels in different postcodes, raked-out forks and a rear tyre wide enough to make it look like a paddle-steamer could lead you to believe the Diavel is all about looks and straight lines. But the ease and capability of the chassis are genuinely astounding, as is the punch of the bulging Multistrada-based motor, the build quality and the really rather cool detailing like the retractable grabrail. The Ducati is 2011's biggest surprise."
Motoron (Turkey) Ahmet Köseoğlu
1 Aprilia RSV4 APRC SE – Because the RSV 4 APRC SE offers the best traction control, the best stability and handling in corners.
2. Kawasaki ZX-10 R. – The new green hypersports weapon is definetely the best Japanese bike for the moment. What's more, the ZX10 R has the best price/performance ratio in Turkey and packs all the igh tech riding aids you come to expect with traction control and everything else.
3. Yamaha FZ8-N: "The best allrounder for speedy tourers!"
Kiwi Rider (New Zealand) editorial staff
1. Kawasaki Z1000 – "For years, what was the superbike class was the preserve of bikes like Suzuki's GSX-R1000 and Yamaha's YZF-R1. Fair enough too. If the IBOTY was still called ISOTY, as for Superbike, Kawasaki's new ZX-10R would win hands-down. But the market his changing and narrowly-focussed race replicas are no longer practical enough for an aging biking population. That's why Kawasaki's Z1000 is such an important model for the company. More than enough performance (particularly for the street), yet still a wickedly quick and fun tool on the track!"
2. Ducati Diavel – "If you're after a leather jacket n jeans model for touriing around on and the odd trip, this bike will do the trick. All you have to do is choose the image you want to portray! Ducati's devislishly good Diavel is the winner. Sure it's all a bit "LA" with its remote key fob and trick LCD dashboard, but once you're rolling it is literally the perfect mix of custom/cruiser attitude and superbike-spec performance … and it's got a great seat too."
3. BMW K1600 GTL – "It is the new BMW K 1600 GT/GTL which took our ultimate fancy. It's new across-the-frame six gets the stamp of approval this year."
Moto Journal (Canada) Gabriel Gelinas
1 – Honda CBR250R
2 – Ducati Diavel
3- BMW K1600 GTL
PS Magazin (Germany) Uwe Seitz
1.      BMW S 1000RR – "For a sports motorcycle magazine like ours 2011 wasn't much of a thrill. Although Kawasaki presented their new superbike ZX-10R with superb electronics the Ninja just closed the gap to the Beemer a little more, but couldn't beat it. Therefore the BMW S 1000RR is still to be considered No.1. also because it sold very well. Otherwise maybe the Aprilia RSV4 APRC SE could have been right there with the German bike."
2.      Kawasaki ZX-10R – "Finally the green brand has launched the first Japanese superbike with highly functional electronics and Kawasaki sure is the leader of the pack from the Far East. It also convinced us with its handling and break system. Also the PS-Team scored a podium on the ZX-10R at the prestigious 24 hour race of Le Mans in the Open Class. We like it!"
3.      Suzuki GSX-R 750 – "Suzuki deserves a thumb up for maintaining a presence in  the 750-capacity in 2011. They even launched a new model although 750 it's no longer a  common racing class. An increase in capacity as a hommage to the MotoGP-Suzuki GSV-R with 800 cc could have made for a very thrilling bike. Missed opportunity perhaps…"
Auto-By (Japan) Keiichiro Miyazaki
Ducati Diavel – "Sensational styling, and sensational performance too! Very fast, but very strange, very characteristic sport bike."
2.   Kawasaki ZX-10R – "This is a sports bike that empowers teh rider: it is easy to ride and exciting. I guess this is a public sport bike in Japan!"
3.Triumph Speed Triple – "Heaps of fun and much more exciting than the former model. I found the Japanese version a bit too soft in terms of suspension, for my liking. Did I already mention how much fun it is?"

Moto & Loisirs (Belgium, French Speaking) Christophe Jardon
1)     Aprilia Tuono V4R APRC.  – Unfortunately it is not the sharp looker the RSV4 is. Still the la Tuono reaps the benefits of its sophisticated riding aids to become the most advanced, powerful naked on the market. Luckily it's not just cold technology higher, no Sir. The Tuono brings passion and joy to the table thanks to the splendid V4 and an outstanding frame. Both the build quality and handling are exceptional. No need to be intimated by his looks either, the Tuono V4R is easier to live with than his exterior and his DNA want you to believe. Maybe he is not the most powerful, nor the lightest in his class (still 162 HP for 179 kg is nothing to be sniffed at of course!) but it's surely the most efficient and most emotive bike of the year!"
2)     Ducati Diavel  – Just like the Aprilia the Diavel is not a classic beauty in my opinion. And it's not the type of bike that inspires to pick it up and ride it when you first see it.  That's a shame really, because it never ceases to amaze with its capabilities and handling when riding it. The Diavel is often compared to other power cruisers like the Yamaha V-Max or the Harley V-Rod. However the Diavelplays in a league of his own. Actually it's just a naked/ roadster, obviously it's heavier, longer and bigger (240 mm rear tire, hello !) than the Monster or Streetfighter, but it offers the same amount of sheer riding pleasure. Maybe even more!"
3)     BMW K 1600 GT –  "The Ducati Diavel and BMW K 1600 GT have one thing in common: don't be misguided by their looks. At first glance you'd never guess what these machines are capable of on the road. The BMW and his cylinders surprise even more than the Diavel and his gigantic rear tire. Okay, the weight and dimensions of the K1600 make it hard to compare to anything else. Still, the performance of the engine and frame of this GT motorcycle almost math those of a real sports motorcycle. The powerplant itself is simply amazing, a real piece of art and it's nogt only your ears that are spoilt!"
La Moto (Spain) Luis López/Pepe Burgaleta
1.      BMW K 1600 GT:  "A great bike no matter how you look at it. The engine is incredible, full of power, full of torque, full of sensations. That's not where the fun ends: lights, fairing, riding position… The K1600 GT brings cruising level at its best"
2.      Ducati Diavel – This is not only an incredible bike for its style. It works even better than you think before riding the beast. It's not the quickest in changing direction or keeping its line on large faster angles, but it lets you enjoy yourself even on twisty roads. Anyway, one think is sure: she is the king of the city! No doubt about that.
3.      Kawasaki ZX-10R: "Great news for people who still think that a great sports bike can be a useful vehicle for everyday use. Only one problem… you must buy it first! That's the problem today with the ongoing f…ing crisis. This Kawasaki is the best Ninja ever built. Smooth when you need, completely crazy when you enjoy riding on track. Styling could be better but, as they say, "nobody's perfect".