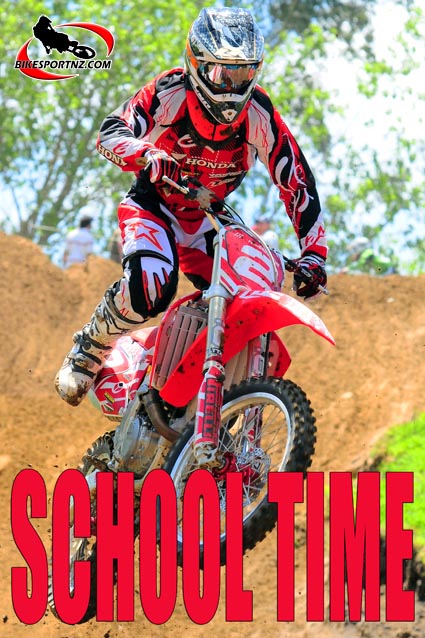 It's one thing to be a brilliant motorcycle racer; it's quite another to be able to pass those skills on to others.
But Tauranga's Peter Broxholme can do both and that's what makes him such a rare and valued individual, one of Blue Wing Honda's star riders and a great ambassador for the famous red brand and the sport in general.
One of New Zealand's leading motocross racers for almost 20 years, Broxholme – or 'Broxy' as he's perhaps better known by his many friends – has done something we'd all perhaps like to do and that is to turn his passion and pastime into a fulltime career.
The 29-year-old father-of-two makes it look easy, whether he's racing his potent Honda CRF450 or CRF250 bikes, or whether he's calmly explaining the intricacies of controlling these motorcycles to lesser mortals than himself.
"I started racing when I was 13 and a year later I had my first Honda CR125. I've been a factory racer for Honda since I was 16, so that's a big part of my life," he explained.
"I get so much enjoyment out of riding the bikes myself but also out of seeing when a 'light bulb' comes on when a coaching client realises he or she has made some good progress. I love helping people develop their riding skills."
Honda runs its Honda Kids' Camps on a regular basis, in four or five different locations around the country, and Broxholme is a central component of those.
"These are such a good way to give kids a big taste of motorcycling. They ride every day for three days and I coach basic skills during that time. It's great to see the growth and development over the weekend.
"It's good that I've managed to make a job out of the sport I love and there are not a lot of coaches to cover the whole country for motocross but every sport needs them.
"It is hard sometimes, though, because I'm away from my wife and two little girls for long periods. The job involves a lot of driving and working in rain, hail or snow but I wouldn't change it for the world. But I make up for that by being home in the middle of the week more than the average nine-to-five worker."
A regular top-five finisher on the national motocross scene, Broxholme has also excelled in supercross and cross-country racing – "finishing a close runner-up too I don't know how many times" – although he actually feels his best results have been achieved overseas.
"I won my first four races in the Australian Lites Motocross Championships in 2002, I've raced in Japan and won a big international race over there and I've raced in Europe too."
It's that vast and varied experience that Broxholme calls on for reference in his coaching clinics. To learn more, visit www.broxy.co.nz and see when and where he'll next be in your neighbourhood.
© Words and photos by Andy McGechan, www.BikesportNZ.com