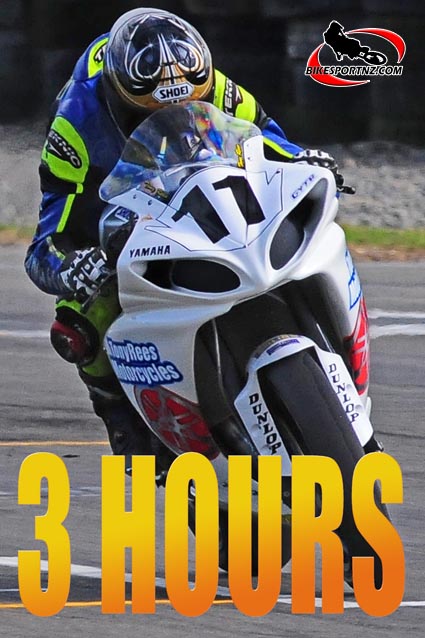 Talent, tenacity and just a touch of good fortune were the winning ingredients for Whakatane pair Tony Rees and BJ Cawthorn at the weekend.
The two men teamed up to share the ride on Rees' 1000cc Yamaha R1 superbike and race it to victory at the annual Pacific Summer Three-hour Endurance Race at Taupo on Saturday.
The pair completed 96 laps in the three hours, the only team to do so, with Taupo father-and-son pairing of Fred and Travis Merkel eventually settling for the runner-up spot, more than a lap behind.
Third overall was the pairing of Wellington pair of Mark Bennett and John Oliver, who crossed the line four laps behind Rees and Cawthorn.
But it wasn't as cut-and-dried as the printed results sheet might indicate, with disaster striking for the Rees/Cawthorn team even before the race had started.
Rees crashed Cawthorn's bike during practice and, with not enough time available to repair the bike, the obvious decision was made to ride Rees' bike instead, with a toss-of-a-coin to decide that Cawthorn would be the first to head out onto the track, albeit on a bike he was unfamiliar with.
"After a good start, BJ settled into third and then, just before his 30-minute stint was up, he dropped back to fourth place," said Rees.
The event then took another unexpected twist with race leader Jaden Hassan, of Auckland, crashing his Yamaha, bringing the pace car onto the track as Rees was beginning his session.
This cost the Whakatane team a whole lap as the new leader used the go-down period to leave the track and make a pit stop.
Once the race was officially underway again, Rees put his head down to pull back some of the lost time, setting the fastest lap of the race and moving the team up to third place.
BJ's next session was where the race changed dramatically with rain beginning to fall and the team making the decision before any of their rivals to switch to wet tyres.
"BJ's lap-times were now considerably faster than everyone else and he dragged the team up to second place."
The race leader at that stage was the team of Fred Merkel – a two-time former World Superbike Champion.
Merkel's son Travis came into the pits and, unfortunately, the Merkel team's change-over was very slow, gifting a one-lap lead to the men from Whakatane.
Rees took over the Yamaha for the final 30-minute stint, further stretching his team's advantage and eventually giving them the win by one lap and 96 seconds.
"We were quite a long way back at the start but the rain worked in our favour," said Rees. "It was a very eventful day but nice for us to come away with the win. The bike didn't miss a beat."
© Words and main photo by Andy McGechan, www.BikesportNZ.com