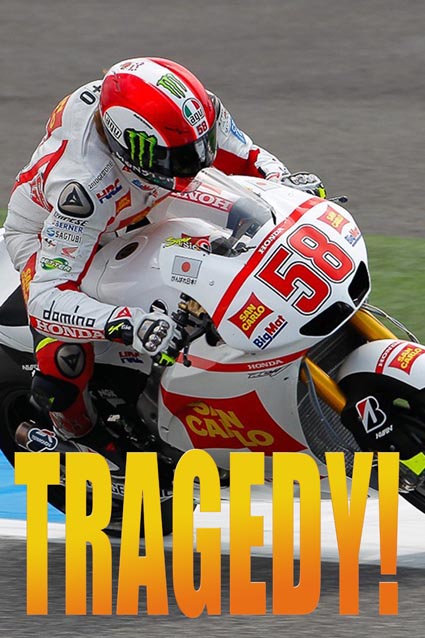 Italian sport was in shock Sunday after Marco Simoncelli died following a crash at the Malaysian MotoGP motorcycle race. He was 24.
Simoncelli – nicknamed Sic or SuperSic – died of chest, head and neck injuries after he lost control of his Honda at turn 11 four minutes into the race, and swerved across the track, straight into the path of American rider Colin Edwards and Valentino Rossi, of Italy.
Rossi, a good friend of Simoncelli's, was clearly distraught and was unable to say anything in the immediate aftermath of the accident. He left a short message on Twitter later Sunday.
"Sic for me was like a younger brother, as strong on the track as he was sweet in life," Rossi wrote. "I still can't believe it. I will miss him a lot."
In Italy, there was a minute's silence before all football matches and players wore black armbands as a tribute to the young rider.
"Today is one of the saddest days of my presidency," said Gianni Petrucci, president of Italian sport's governing body CONI.
"The tragic death of Marco Simoncelli has deeply upset and shaken me.
"Life is sacred and you can't die at the age of 24 for a race. I hoped right until the end that Marco could do it. I saw the pain and anguish of his father who was there by his side … We are all with his family in mourning the death of a champion. An inconceivable death which has stunned Italian sport. For this reason we decided that all sport today should honor him with a minute's silence."
Simoncelli's helmet was ripped off in the incident and he lay motionless on the track after the collision. He had been fourth at the end of the first lap.
Honda team-mate Casey Stoner said after the crash that he feared for Simoncelli.
"As soon as I saw the footage it just makes you sick inside," the newly crowned MotoGP champion said. "Whenever the helmet comes off that's not a good sign."
Stoner said later: "I am in shock and saddened by the loss of Marco. When these things happen they make you remember how precious life is and I'm very upset. I'm close to Marco's family, I can't imagine what they're going through."
Honda rider Andrea Dovizioso paid tribute to his fellow Italian.
"Marco was a strong rider and he always pushed hard. We raced together since we were kids, I saw him always pushing to the maximum, he crashed many times, but without major injuries, he seemed invincible," he said. "What happened today seems impossible."
Simoncelli's manager, Carlo Pernat, believes the youngster would have gone on to great things.
"Marco was a cheery boy, everyone's friend," Pernat said. "He had expectations, dreams. He was a boy from days gone by, with a wonderful family who taught him good values. It's terrible, there are no words, everyone's very upset, he could have become world champion one day.
"He had this desire to get to the top, it was really inside him, there was this desire for success because he knew he could have it."
Spanish rider Dani Pedrosa said the accident would remind everyone of the dangers of the sport.
"When things like this happen. there's little to say, nothing else matters," Pedrosa said. "These are things that shouldn't happen. But this is the sport and sometimes we forget how dangerous our sport is. Simoncelli was a very strong racer."
Many Italian sports clubs and competitors released statements on their websites.
Ducati released a statement which read: "The Ducati team and its riders feel the pain which has hit all in MotoGP today. We will always remember Marco for his smile, his availability, his huge heart and for the emotions which he has made us experience in the past few years. He was one of us."
Ducati rider Nick Hayden added: "It is a very awful day for all of us. I saw Marco fall and get hit by the other bikes. I feel a really strong pain.
"On the track, we're all brothers and part of the same family. We'll miss Marco so much, he was a really good lad and now I don't know what to say, only that I hope he rests in peace."