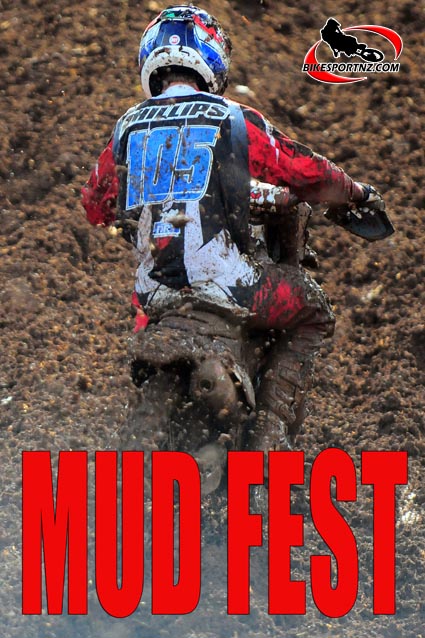 Wet and sloppy conditions made a lottery out of the opening round of the Australasian Super X Championships in Melbourne on Saturday.
Rain, hail and a deteriorating track had riders and teams scrambling all night as the circuit started wet and sloppy before coming rutty, slippery and very difficult to race by the end of the night for the premier Pro Open class.
The man who came away with the best result was KTM ace Tye Simmonds, surviving the mud fest to claim first place, ahead of Scotland's Billy Mackenzie (Kawasaki) and his own JDR Motorex KTM team-mate Ryan Marmont.
New Zealand's Michael Phillips (Carlton Dry Thor Honda Racing) finished the night in a very creditable sixth place.
"After a solid two-month build-up, I was all set for the first round," said Phillips.
"The weather had been fine all week, with a few days getting into the high 20s, but closer to the weekend it started to pack in.
"They had built the Supercross track in the dry earlier in the week but on Friday the weather turned and down came the rain.
"Practice wasn't too bad as the track was dry underneath. We were able to do most of the sections on the track but it was a little sketchy in some spots.
"Heat one, I got an alright start and rode my own race. The top nine went through to the main event so I was happy to sit in fifth the whole heat. The track was getting worse by this stage as the rain was off and on through the afternoon.
"The main event was supposed to be two 10-lap races, but, because of the weather and conditions they ran one 12- lap race instead.
"I got off the start line good. Most of the gates had rutted down to the plywood and it was hard to even get off the line.
"I came into the first turn in the top five but wasn't able to do a section and a few riders got by. I made up a few spots back on lap three when there was a small pile up of riders in front of me. I moved into fifth behind Ryan Marmont. I caught up to Marmont but every time I got close I made a little mistake or got caught behind a lapper. I decided not to push too hard and settle into fifth. On the last lap I was taking it a little too easy through the whoop section and stalled my bike. I got it going but lost a place to end the night in sixth.
"It wasn't the first round everyone was hoping for but I made it through with out to many problems."
Round two takes place at Wollongong's WIN Stadium this weekend.
Round One Results – Melbourne
OPEN top ten results – Round 1
Tye SIMMONDS – JDR Motorex KTM: 25
Billy MACKENZIE – Monster  Energy Kawasaki: 22
Ryan MARMONT – JDR Motorex KTM: 20
Cheyne BOYD – Carlton Dry Thor Honda Racing: 18
Dan MCCOY – Team Motul Pirelli Suzuki: 16
Michael PHILLIPS – Carlton Dry Thor Honda Racing: 15
Todd WATERS – Carlton Dry Thor Honda Racing: 14
Jay MARMONT – CDR Rockstar Yamaha: 13
Daniel REARDON – JDR Motorex KTM: 11
Jake MOSS – CDR Rockstar Yamaha: 12
LITES top 10 results – Round 1
Matt MOSS – JDR Motorex KTM: 2,1 TOTAL 47
Luke STYKE – Serco Yamaha: 5,2 TOTAL 38
Brendan HARRISON – JDR Motorex KTM: 4,3 TOTAL 38
Josh CACHIA – JDR Motorex KTM: 3,5 TOTAL 36
Dean FERRIS – Monster Energy Kawasaki: 1,10 TOTAL 36
Steven CLARKE – Team Motul Pirelli Suzuki: 10,4 TOTAL 29
Adam MONEA – Team 07 Axis Motorsport: 7,7 TOTAL 27
Kirk GIBBS – Serco Yamaha: 15,6 TOTAL 21
Robbie MARSHALL – Yamaha: 13,9 TOTAL 20
Casey TURNER – Suzuki: 9,13 TOTAL 20
LITES – Top 10 Championship standings
Matt MOSS – JDR Motorex KTM: 25
Luke STYKE – Serco Yamaha: 22
Brendan HARRISON – JDR Motorex KTM: 20
Josh CACHIA – JDR Motorex KTM: 18
Dean FERRIS – Monster Energy Kawasaki: 16
Steven CLARKE – Team Motul Pirelli Suzuki: 15
Adam MONEA – Team 07 Axis Motorsport: 14
Kirk GIBBS – Serco Yamaha: 13
Robbie MARSHALL – Yamaha: 12
Casey TURNER – Suzuki: 11
UNDER 19stop ten results – Round 1 / Championship standings
Errol WILLIS – Raceline Pirelli Suzuki: 25
Joey SAVAGTY – Raceline Pirelli Suzuki: 22
Matthew PHILLIPS – Ballards Offroad Yamaha: 20
Corey LUCAS – Hart & Huntington, ONE Industries, Ringmaster, Novik, Torc 1: 18
Geran STAPLETON – Thor Honda Smart, Breese High Performance, Dragon, 2112, BLS: 16
Jake WILLIAMS – WPS, ECM,J-Design, Hart & Huntington:15
Jay WILSON – Coastal KTM, Avanti, Motorex: 14
Tristen CACHIA – Coastal KTM, Advanti Motorex KTM, Hart & Huntington:13
Jarrad DAVIS – Fox, Dunlop, Motul, Davis Bikeworx, Alpinestar: 12
Kale MAKEHAM – The Collective, JDR Moss Institute Suzuki, EBT, Thor, One World: 11
Michelin Development Series top ten results – Round 1 / Championship standings
Blake BLACKWELL – Blackwell Bros Excavation,City Coast MC: 25
Billy JACKSON – Yamaha Junior Racing:22
Joel WIGHTMAN – Pro-Moto Suspension, Mudgee Honda Centre:20
Timothy O'BRIEN – Graham Rye Kawasaki: 18
Jordan NOLES – Honda: 16
Joel DINSDALE – Yamaha Junior Racing: 15
Lenny MAGYAR: 14
Damon HILL – Yamaha Junior Racing: 13
Scott MANN – GMR Motorex KTM: 12
Nathan DENNY – Wodonga KTM: 11
Monster Energy Super X series schedule:
| | | |
| --- | --- | --- |
| Date | Venue | Location |
| October 22 | Melbourne Knights Stadium | Melbourne |
| October 29 | WIN Stadium | Wollongong |
| November 5 | Campbelltown Stadium | Sydney |
| November 12 | Maitland Oval | Hunter Valley |
| November 19 | North Ipswich Reserve | Ipswich |