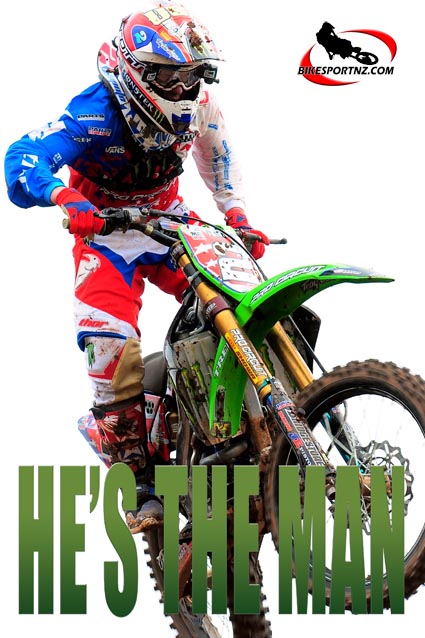 Kawasaki's Ryan Villopoto did all that he needed to do at the final round of the United States Supercross Championships in Las Vegas.
Villopoto finished third overall in the main event on Saturday night (US time), behind Honda's Chad Reed and defending champion Ryan Dungey (Suzuki) and that was enough for him to clinch the open class supercross crown for 2011, his first open class supercross title.
Yamaha's James Stewart had the lead after snatching it from holeshot man Kevin Windham, and while Villopoto stayed out of trouble in fourth spot, ahead of Reed and Dungey, Stewart crashed in the stutters and went down hard.
Windham couldn't avoid Stewart and they were both then out of the race.
Villopoto then had the lead with Reed climbing all over him. Reed made a pass, Villopoto fought back, and as they battled, Dungey closed up.
Finally Villopoto worked it out that he only needed a top five finish to take the title, he backed off.
Reed held on for the win, Dungey finished second and Villopoto finished third to seal the championship by just four points from Reed.
© Words and photo by Andy McGechan, www.BikesportNZ.com
Supercross Class Season Standings (Unofficial Results)
1. Ryan Villopoto, Poulsbo, Wash., Kawasaki – 338
2. Chad Reed, Tampa, Fla., Honda – 334
3. Ryan Dungey, Belle Plaine, Minn., Suzuki – 328
4. James Stewart, Haines City, Fla., Yamaha – 301
5. Trey Canard, Shawnee, Okla., Honda – 255
6. Andrew Short, Smithville, Texas, KTM – 230
7. Kevin Windham, Centreville, Miss., Honda – 207
8. Davi Millsaps, Carlsbad, Calif., Yamaha – 180
9. Justin Brayton, Cornelius, N.C, Yamaha – 155
10. Nick Wey, Dewitt, Mich., Yamaha – 152
Western Regional Supercross Lites Class Results: Las Vegas
1. Ken Roczen, Germany, KTM
2. Broc Tickle, Holly, Mich., Kawasaki
3. Kyle Cunningham, Aledo, Texas, Yamaha
4. Eli Tomac, Cortez, Colo., Honda
5. Cole Seely, Corona, Calif., Honda
6. Tyla Rattray, Wildomar, Calif., Kawasaki
7. Ryan Morais, Murrieta, Calif., Suzuki
8. Travis Baker, Temecula, Calif., Honda
9. Martin Davalos, Cairo, Ga., Suzuki
10. Josh Hansen, Elbert, Colo., Kawasaki
Western Regional Supercross Lites Class Season Standings (Unofficial Results)
1. Broc Tickle, Holly, Mich., Kawasaki – 187
2. Eli Tomac, Cortez, Colo., Honda – 181
3. Josh Hansen, Elbert, Colo., Kawasaki – 162
4. Cole Seely, Corona, Calif., Honda – 147
5. Ryan Morais, Murrieta, Calif., Suzuki – 138
6. Ken Roczen, Germany, KTM – 130
7. Tyla Rattray, Wildomar, Calif., Kawasaki – 126
8. Kyle Cunningham, Aledo, Texas, Yamaha – 125
9. Martin Davalos, Cairo, Ga., Suzuki – 107
10. Ben Evans, Garden City, Idaho, Kawasaki – 75
Eastern Regional Supercross Lites Class Results: Las Vegas
Blake Baggett, Grand Terrace, Calif., Kawasaki
Ryan Sipes, Vine Grove, Ky., Yamaha
Justin Barcia, Ochlocknee, Ga., Honda
Dean Wilson, Menifee, Calif., Kawasaki
Malcolm Stewart, Haines City, Fla., Suzuki
Matthew Lemoine, Collinsville, Texas., Kawasaki
Lance Vincent, Edgewood, N.M., Suzuki
Hunter Hewitt, Pilot Point, Texas, Suzuki
Les Smith, York, S.C., Honda
Justin Sipes, Vine Grove, Ken., Kawasaki
Eastern Regional Supercross Lites Class Season Standings (Unofficial Results)
Justin Barcia, Ochlocknee, Ga., Honda – 205
Dean Wilson, Menifee, Calif., Kawasaki – 183
Ryan Sipes, Vine Grove, Ky., Yamaha – 163
Blake Baggett, Grand Terrace, Calif., Kawasaki – 159
Blake Wharton, Pilot Point, Texas, Honda – 125
Matt Lemoine, Collinsville, Texas, Kawasaki – 120
Malcolm Stewart, Haines City, Fla., Suzuki – 89
Lance Vincent, Youngsville, La., Honda – 83
P.J. Larsen, Murrieta, Calif., KTM – 80
Hunter Hewitt, Pilot Point, Texas, Suzuki – 80
Dave Coombs Sr. East/West Shootout Results: Las Vegas
Ryan Sipes, Vine Grove, Ky., Yamaha
Cole Seely, Corona, Calif., Honda
Ken Roczen, Germany, KTM
Dean Wilson, Menifee, Calif., Kawasaki
Martin Davalos, Cairo, Ga., Suzuki
Eli Tomac, Cortez, Colo., Honda
Kyle Cunningham, Aledo, Texas, Yamaha
Lance Vincent, Youngsville, La., Honda
Travis Baker, Temecula, Calif., Honda
Broc Tickle, Holly, Mich., Kawasaki