It was time for the Kiwi contingent to come on strong at round four of the Australian Motocross Championships at Murray Bridge, in South Australia, at the weekend.
Christchurch's Justin McDonald (Honda), Motueka's Josh Coppins (Yamaha), Rotorua's Michael Phillips (Honda) and Mount Maunganui's Cody Cooper (Suzuki) all featured high among the overall placings on the loamy red soil of Murray Bridge today.
The sole Kiwi in the Lites (MX2) class, McDonald (pictured above) finished 3-3-5-9 at Murray Bridge to end the day third overall, boosting himself from 11th overall to eighth in the championship series standings.
The big Lites class winner on the day was local rider Kirk Gibbs, who won all four motos, although he remains second in the series standings, improving from 85 points behind to 54 points adrift of championship leader Jake Moss.
In the open (MX1) class it was another strong showing from the Kiwi contingent, only for it to fall a little flat at the end of the day.
Coppins finished 2-4-2-dnf to end the day fifth overall and for him also to lose his lead in the championship chase, with Australian international Dean Ferris taking over the points advantage.
Phillips finished 3-3-4-7 to end the day third overall, actually doing his title chase no harm at all. Phillips is now up from eighth to sixth overall in the championship.
Phillips looked to be on course for second overall but a nasty crash in the final race of the day cost the New Zealander valuable track position.
"I was very happy to put it all together today," Phillips said. "The testing definitely paid off as I was really comfortable on the CRF450 all day.
"In the third race I made a good clean pass on Billy (MacKenzie) but made a mistake which allowed him to get me back. It was a great confidence builder as this track was very hard to pass on and while we prepared for a sandy track it was actually quite hard packed.
"The track got really gnarly and I washed out in the fourth race and had a big one. I got back on as quick as I could and caught back up to seventh.
"Now we have been on the podium we definitely want more. I am going to stay in Melbourne and we will do some more testing next week before Toowoomba in a fortnight's time," Phillips said.
Cooper, on the comeback from injury after he broke ribs and suffered a collapsed lung at round two of the series, finished 7-10-21-dnf at Murray Bridge to end the day 10th overall. He remains 13th in the championship standings.
© Words and photo by Andy McGechan, www.BikesportNZ.com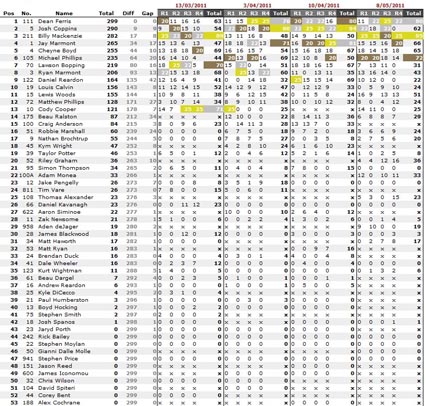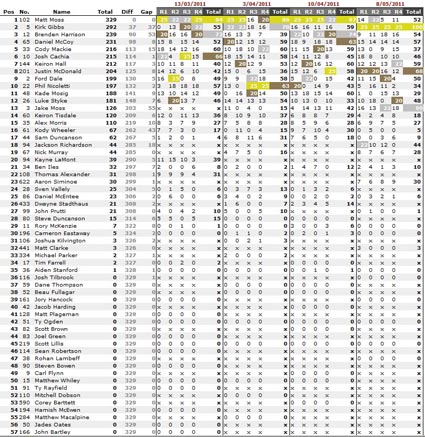 Australian MX nationals, round 4 results:
Rockstar Energy Drink Pro Open
1. Billy Mackenzie (Monster Energy Kawasaki) 95
2. Dean Ferris (Monster Energy Kawasaki) 80
3. Michael Phillips (Carlton Dry Honda Thor Racing) 72
4. Jay Marmont (CDR Rockstar Energy Yamaha) 66
5. Cheyne Boyd (Carlton Dry Honda Thor Racing) 65
6. Josh Coppins (CDR Rockstar Energy Yamaha) 62
7. Lewis Woods (Top Gear KTM) 51
8. Ryan Marmont (JDR Motorex KTM) 43
9. Riley Graham (Kawasaki) 36
10. Adam Monea (Berry Sweet Strawberries/Lucas Oil Honda) 33
Motul Pro Lites
1. Kirk Gibbs (Serco Yoshimura Yamaha) 100
2. Jake Moss (Serco Yoshimura Yamaha) 69
3. Justin McDonald (Team 07 Axis Motorsports Honda) 68
4. Keiron Hall (Team 07 Axis Motorsports Honda) 59
5. Daniel McCoy (Rockstar Motul Suzuki) 57
6. Brenden Harrison (JDR Motorex KTM) 54
7. Matt Moss (JDR Motorex KTM) 52
8. Ford Dale (Serco Yoshimura Yamaha) 50
9. Luke Styke (Yamaha) 48
10. Josh Cachia (JDR Motorex KTM) 46
Pirelli Under 19s
1. Errol Willis (Raceline Pirelli Suzuki) 86
2. Luke Arbon (GYTR Rockstar Yamaha) 83
3. Jake Emanuelli (Yamaha Australia/Hart and Huntington) 79
4. Dylan Peterson (Team 07 Axis Motorsport Honda) 69
5. Shaun Redhead (GYTR Rockstar Yamaha) 68
6. Dan Banks (Eco-Pest Control KTM) 59
7. Dylan Long (Top Gear KTM) 47
8. Kyle McKeddie (Mornington Kawasaki) 39
9. Mitch Norris (JDR Moss Institute Suzuki) 38
10. Sam Martin (Byrners Suzuki) 35
Championship Standings (after 4 of 9 rounds):
Rockstar Energy Drink Pro Open
1. Dean Ferris 299
2. Josh Coppins 290
3. Billy Mackenzie 282
4. Jay Marmont 265
5. Cheyne Boyd 255
6. Michael Phillips 235
7. Lawson Bopping 219
8. Ryan Marmont 206
9. Daniel Reardon 164
10. Louis Calvin 156
Motul Pro Lites
1. Matt Moss 329
2. Kirk Gibbs 292
3. Brenden Harrison 239
4. Daniel McCoy 231
5. Cody Mackie 216
6. Josh Cachia 215
7. Keiron Hall 212
8. Justin McDonald 204
9. Ford Dale 199
10. Phil Nicoletti 197
Pirelli Under 19s
1. Errol Willis 345
2. Luke Arbon 316
3. Dylan Peterson 272
4. Shaun Redhead 253
5. Jake Emanuelli 227
6. Kyle McKeddie 185
7. Dylan Long 159
8. Jay Wilson 143
9. Jacob Mcleod 123
10. Kale Makeham 114