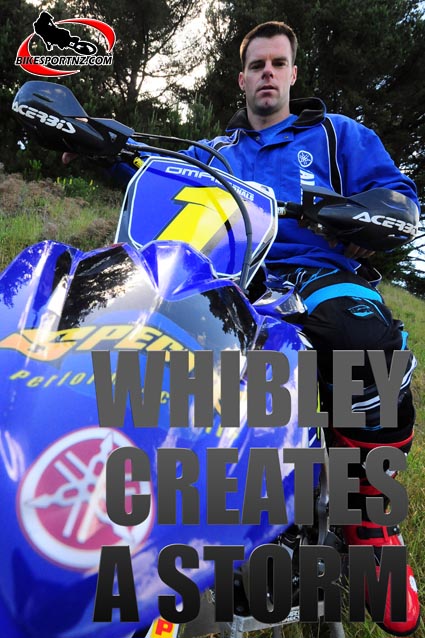 From one kind of tornado to another, the East Coast of the United States was also hit by a Kiwi storm this week.
Pahiatua's Paul Whibley managed to dodge the worst of the debris and mud holes in storm-lashed Arkansas at the weekend, blowing the competition away as he took his Yamaha YZ450F to the top step of the podium at round two of the Off-Road Motorcycle and ATV Series.
The win gave Whibley the series lead and he is now 12 points clear of second-ranked rider Jimmy Jarrett (Honda).
The round two event was held at a new location in Fort Smith, Arkansas, a unique venue within the city limits and on an old military ground and, after storms had passed through the area in recent days, wreaking death and destruction across several of the East Coast states, the riders were not surprised to find that many parts of the track had been drowned.
Then, after the Saturday quad bike race, much of the track had been churned into massive bogs.
"I got a good start but not good enough to beat Shane Klemick to the holeshot line. Shane took the money and drowned me in the second turn mud hole.
"I quickly took the lead and Jimmy Jarrett latched onto my rear wheel and followed my lead as a game of chess began that would last almost to the finish.
"Both of us were a little wary of how bad the track was going to cut up and neither of us wanted to be the first to find that bottomless rut, one that could end your day.
"We both took turns at the front, testing different lines and running a conservative pace until Jordan Ashburn began to eat into our lead. Jimmy and I then both picked up the pace and the real race to the flag had begun.
"The track really cut up in a lot of sections with many of those bottomless ruts snaring a bike and holding it to well after the race had concluded.
"After the gas stop, I took the lead and started to edge away from Jimmy with a couple laps to go. I kept an eye on the mud holes and tried to plan my lines a lap in advance and in doing so managed to stay out of trouble and keep the bike rolling.
"I held it together and took the win, Jimmy remained in second and Jordan filled out the final podium spot."
LEADING RESULTS:
1. Paul Whibley (Yamaha)
2. Jimmy Jarrett (Honda)
3. Jordan Ashburn (Yamaha)
4. Shane Klimek (Suzuki)
5. Michael Williams (Kawasaki).
SERIES STANDINGS (after two rounds):
1. Whibley 55 points;
2. Jarrett 43;
3. Ashburn 42;
4. Klimek 31;
5. Russell Bobbitt (KTM) 30.
© Photo by Andy McGechan, www.BikesportNZ.com