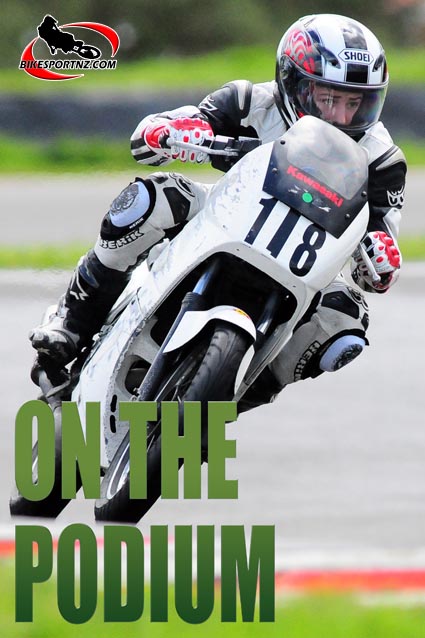 Young New Zealand rider Daniel Mettam finished runner-up at the first round of the 2011 European Junior Cup in Assen, in the Netherlands, at the weekend.
The weekend's World Superbike Championship race schedule at Assen included the European Junior Cup race as a support event, focussed on attracting talented youngsters to the sport and the 15-year-old from Glen Eden responded to the challenge in the most exciting way possible as he finished his weekend at the opening round by standing on the podium.
The European Junior Cup is for young riders aged between 14 and 17, all on identical Kawasaki Ninja 250R machines, taking part in six rounds of the World Superbike Championships calendar.
The riders each drew lots for their Kawasaki Ninja 250R race motorcycles, so no rider had any mechanical advantage over any other competitor.
"I was having a good race with the top four riders," said Mettam.
"The times between us were so close I almost came off when Matt Davies (of Australia) crashed right in front of me, but I swerved and smashed his screen into a thousand pieces with my foot.
"I can't believe it I got to stand on WSBK podium and spray the bubbly. It was awesome. I'm going to have a smile on my face for a few days yet."
For a $40,000 entry fee, up to 20 young riders from all around the world were supplied identical fuel-injected Kawasaki Ninja 250cc bikes, which they will own at the end of the series.
The European Junior Cup package, which is similar to the Red Bull Rookies Cup in MotoGP, includes pit equipment and transport of the motorcycle to all rounds; entry fees, tyres and fuel; riding equipment and team wear; hospitality at the Junior Cup paddock village; technical support; race coaching from star riders and a pre-season training camp in Spain.
"Kawasaki has really upped the ante in superbikes and Kawasaki is also the bike of choice for this competition," said Mettam's father, Glenn.
"This is the chance of a lifetime for a young racer and to be in this major showcase series, racing in front of crowds numbering around 100,000 is pretty huge.
"Daniel is still young enough that he will still be eligible for this series next year too."
There is also another Kiwi link to the series, with former 500cc GP star Simon Crafar, originally from Waiouru, named as the series' junior coach.
Crafar raced for Kawasaki in motocross and road-racing for many years before he made a name for himself internationally, the highlight being when he won British 500cc GP at Donington Park in 1998.
Crafar started 123 WSBK races over a period of 10 seasons, although he only competed in four full seasons between 1994 and 1997.
He enjoyed his best season in 1997 whilst riding for Kawasaki, scoring seven podiums and a pole position on the way to finishing fifth overall.
Leading results from Assen at the weekend:
1. Tom Busch (Germany)
2. Dan Mettam (New Zealand)
3. Brandon Kyee (United States)
2011 European Junior Cup Calendar
Round 1, Assen, April 15-17
Round 2, Monza, May 6-8
Round 3, Aragon, June 17-19
Round 4, Silverstone, July 29-31
Round 5, Nurburgring, September 2-4
Round 6, Magny Cours, September 30-Oct. 2
© Words and photo by Andy McGechan, www.BikesportNZ.com