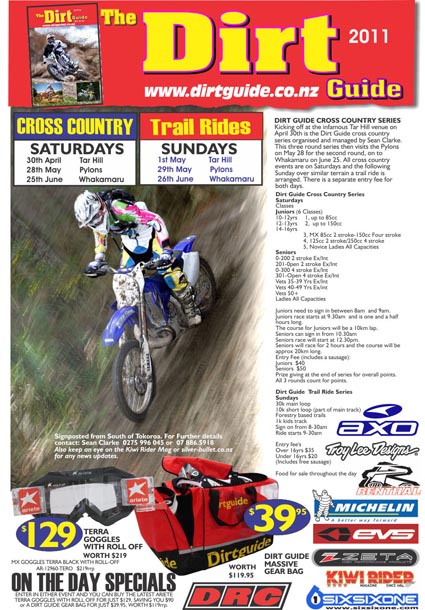 Motorcycle riders are being spoiled for choice these days it's not getting any easier.
This weekend will feature two separate outings in the South Waikato region to cater for all tastes and abilities and the choice is actually quite easy, go and ride both days.
In almost any corner of the country you'll see floods of vans, utes and cars with trailers, carting dirt bikes away for another weekend of off-road fun, typically an enjoyable challenge.
And the words "enjoyable" and "challenge" can certainly be used in the same breath when discussing the three-round Dirt Guide Cross-country Series and parallel Dirt Guide Trail Ride Series, now in their fourth season.
Sponsored by Kiwi Rider magazine, the series kicks off this Saturday at a venue called "Tar Hill", about 15 kilometres south of Tokoroa. The following day, a trail ride will be run at the same venue.
"This series is set in the pine forests south of Tokoroa and it has now built a reputation as being a really fun competition," said organiser Sean Clarke, of Tokoroa.
"There is a class or category that caters for everyone. The tracks for all the events this year have been prepared with a bulldozer, so they should hold up really well, even with this bit of rain we have had lately," he said.
Previous overall winner Damon Nield, of Hokianga, has entered and national enduro championship contender Karl Power, from Auckland, is also expected to make the journey.
The 90-minute junior race starts at 9.30am, with the two-hour senior race to follow, starting at 12.30pm.
Racing will be on similar terrain to that used for part of the big International Six Days Enduro in November 2006.
Sunday's trail ride features a 30-kilometre loop and 10-kilometre short loop option for riders too. There is also a one-kilometre course for children. The ride starts at 9.30am.
CALENDAR (trail ride on day two in each case):
Round one, Tar Hill, Tokoroa, April 30, May 1.
Round two, Pylons, Atiamuri, May 28-29.
Round three, Whakamaru, June 25-26.
For any other information, call Sean Clarke on 0275 996 045
© Words by Andy McGechan, www.BikesportNZ.com