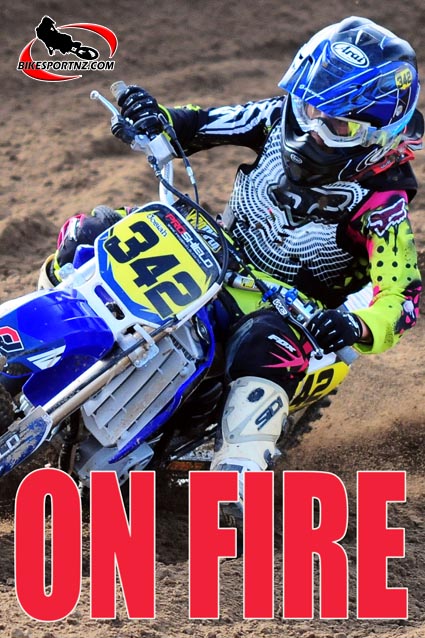 His title defence was as thrilling as it was successful, but Waikato's Josiah Natzke is still hungry for more.
That's why the Hamilton 12-year-old entered two classes at this season's New Zealand Junior Motocross in Tokoroa over the weekend.
Natzke (Waikato Yamaha YZ85) simply blew away his rivals in the 11-12 years' 85cc class over the weekend, winning four of his five races. He probably would have made it a clean sweep if he hadn't made an uncharacteristic error and crashed while leading in that only race he didn't win.
He still picked himself up and raced back to second spot, giving him a final tally that was a comfortable nine points better than his nearest rival, Australian visitor Hunter Lawrence (Kawasaki).
That he should win this class for a second consecutive season was probably no real surprise. What was amazing was that he also took a slightly-modified Yamaha YZ85 – bored out to 105cc – to tackle the 12-14 years' 125cc class as well.
Even as one of the smallest and youngest riders in that class, and with a big horsepower handicap, Natzke still impressed.
He finished 8-4-7-6-6 in his five 125cc class outings, ending the weekend sixth overall in the 26-rider field.
"I just wanted to race two classes because I love the sport so much," he grinned.
"I was getting good starts all weekend and there really wasn't a lot less power in my bike when up against the 125cc riders.
"The only problem I had was that the wheels were a bit smaller than the true 125cc bikes and so the deep ruts were a problem. I had to find different lines to the 125cc riders."
© Words and photo by Andy McGechan, www.BikesportNZ.com