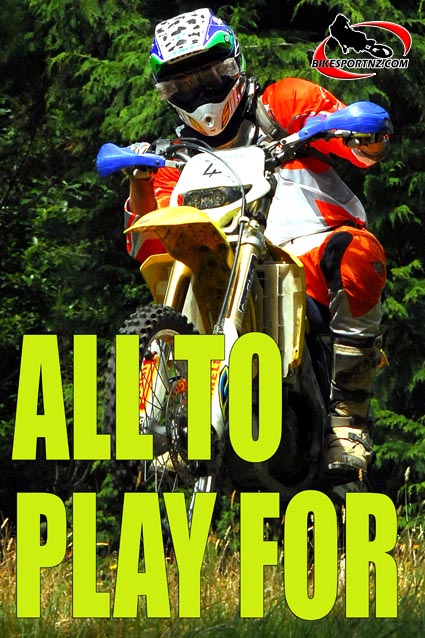 With round one winner Rory Mead indicating he won't be able to finish the fight he's started, the New Zealand Cross-country Championships title chase takes on special significance at round two near Waipukurau this Saturday afternoon.
Taupo's Mead (Yamaha) led a star-studded field of off-road motorcycling talent to the chequered flag at the first of four rounds of the Suzuki-sponsored series near Blenheim last weekend, but he has since confirmed that he will only be able to attend two of the four rounds this year, ruling him out as a possible title contender.
That gives extra motivation for some of the other frontrunners — men such as Mokau's Adrian Smith (Yamaha), Palmerston North's Adam Reeves (Yamaha), Huntly's Michael Vining (KTM), Raglan's Brandon Given (KTM) and Te Awamutu's Mark Penny (Suzuki) — to really make the Waipukurau event count.
With only three of the four rounds to be counted for points – riders able to discard their one worst result – it means even riders who finished a long way back at round one still have a chance to win the national crown.
Look for noted riders such as Huntly's Mathew Vining (Suzuki), Napier's Jono Kight (Suzuki) and Palmerston North's Jordan Wilson (KTM) to make up for their lacklustre starts to the series when they show up to race at Waipukurau on Saturday.
Local riders Sam Swanson (Waipukurau, Suzuki), Brendon Kendall (Dannevirke, Yamaha) and Chris Smyth (Dannevirke, Kawasaki) should also be a feature as they anticipate turning a home turf advantage into valuable points.
Saturday's venue is about 20 minutes' drive towards the east coast and will be signposted from the centre of Waipukurau.
The 90-minute race for juniors' race begins at about 9.30am, with the three-hour senior race to follow at midday.
Top juniors to watch for include round one winner Jason Dickey (Kawasaki), from Raglan, fellow Raglan rider Matthew Quirke (KTM) and Cambridge's Chris Foster (Yamaha). Dannevirke's Stacey Smyth (Kawasaki) should also be flying on his home territory.
Round three of the series is set for farmland near Christchurch on April 30.
In addition to Suzuki New Zealand, the series is also sponsored by DRD magazine and Hydraulink Fluid Connectors.
© Words and photo by Andy McGechan, www.BikesportNZ.com