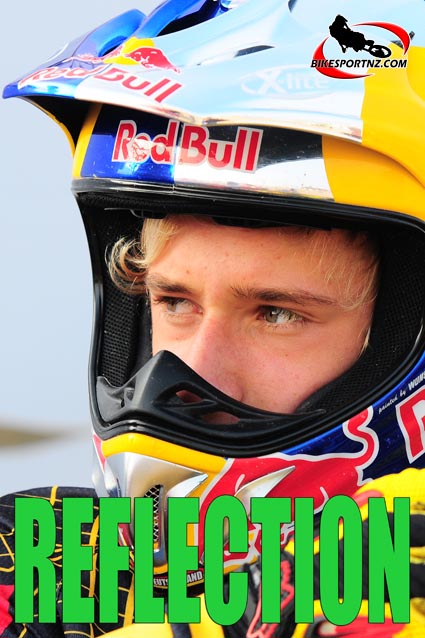 Red Bull KTM Factory rider Ken Roczen showed last weekend that he is going to be tough to beat in the 2011 FIM World MX2 Championship after running away with the opening round of the series last weekend in Sevlievo, Bulgaria.
The 16-year-old was in stunning form, winning the Saturday qualification race and his two Sunday motos. As soon as the MX2 riders hit the first corner it was clear that Roczen meant business, moving several bike lengths away from his rivals after just one lap.
European journalist Geoff Meyer from the fabulous MXlarge.com web site sat down with Kenny and ask him about his weekend's work, then contacted his friends at BikesportNZ.com to offer us the story.
Q: Ken, did you have any idea how you might perform before coming into the opening round?
Roczen: I actually had no idea. I didn't see the other guys riding and Supercross is a different World, plus it's (SX) not endurance, it's just really short bursts, so I didn't know how it would be. I was hoping for the best, but didn't expect to win like this. I can't rest on that, because they will get stronger and stronger, but so will I. I just want to do my best every weekend and try not to crash, less mistakes.
Q: On Saturday you looked like you were cruising, was that the case?
Roczen: I don't know, everybody is riding 100%, I mean everyone is saying that I am riding slowly and not pushing, but I was riding alone without pressure and coming into a battle I want to shift into another year and go faster. So we will see when that happens.
Q: Your style seems smoother; did you change some things in your riding style? Did you learn at all from?
Roczen: I don't know about that. Scrubbing is still my style, and those Supercross tracks get pretty rough and when there are big ruts in the take off's it is hard to scrub. I still feel I am riding the style I did last year, I might be wrong, but I am trying to.
Q: Did anything surprise you this weekend, or anyone?
Roczen: Nobody surprised me, I won these motos by a bit (good distance), but actually nothing surprised me.
Q: You won by big distances and if it remains like this you are going to need to really work hard on your concentration aren't you?
Roczen: This is the worst thing you can do; you need to know your body well. I read in Stefan (Everts') book, I read you need to choose between getting lazy and getting tired, sometimes when you have a big gap you can get lazy and when the back markers come you can make big mistakes.
Q: And after the next round of the FIM World Championship you head back to America to race some more Supercross races, how difficult is that to keep your goal in order for the World Championship? That seems like it would be difficult to do both.
Roczen: Exactly, but I think it's a good mix, keeping the Supercross thing in my schedule. Everyone said it will help me in outdoors also.
Q: How was the track, it looked really fast and not that rough? How did it compare to last year?
Roczen: It got rough in the second race, compared to last year I don't really remember the difference.  I know the Saturday it was really fast.
Q: You are very popular with the press, seems like everyone wants to speak to you. How difficult is that to keep all the media happy?
Roczen: I mean, press is normal and I knew when coming here the guys would go crazy, but that is normal and I expected that, and if I was in your position if there is an interview you have to do, you have to do it, and I know it's something I have to do also.
© Words by Geoff Meyer, www.mxlarge.com
© Main photo by Andy McGechan, www.BikesportNZ.com
© Photo below by Massimo Zanzani