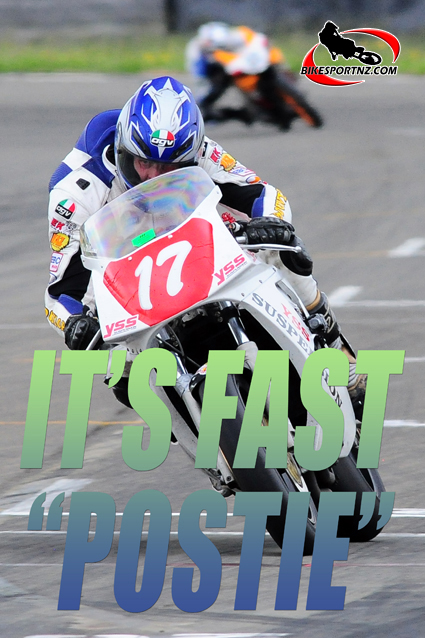 Already an exciting class of racing, Palmerston North's Glen Williams decided nonetheless that he would inject just a little bit more spice into the "posties" class at Manfeild on Saturday.
The 46-year-old Williams (Yamaha) did not race at the opening round of the Suzuki International Tri Series at Hampton Downs just over a week ago, but he more than made up for that by clean-sweeping his races at round two at Manfeild on Saturday.
"I'm just loving this racing," said Williams. "The bike, a 1989-model FZR1000, may be an old timer but it's still a great machine."
He qualified fastest and then easily won the first race in the Post Classics pre-89 class on Saturday, racing away to a nearly 12-second win over his nearest challenger, Waikanae's Paul Wootton (Suzuki).
But then, "just to make things more interesting", Williams handicapped himself for the next race, starting off the back of the grid.
From last position, Williams was already up to fifth spot by the end of the first lap and had taken the lead less than a lap later.
He went on to win that race by just a shade over 12 seconds, this time beating Rotorua's Peter Smith (Suzuki) to the chequered flag.
"Starting from the front or the back didn't really change the result and I won both races by about the same margin," he shrugged.
He set a new lap record for the class at the same time.
"This 'era' class of racing is really good. If the bikes still go great, why not continue to race them?
"I'll ride it around the streets of Wanganui on Boxing Day (at the third and final round of the Tri Series) and, fingers crossed, I'll do okay there as well."
Meanwhile, Paraparaumu's Sean Donnelly (Kawasaki GPZ1100) leads the series after finishing 2-3-3-5 in the four races thus far.
Williams, with just the Manfeild round to his credit, is sixth in the series standings.
© Words and photo by Andy McGechan, www.BikesportNZ.com