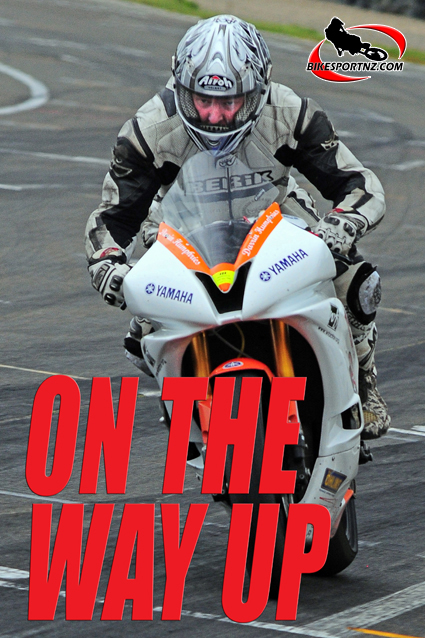 What a difference a year can make.
Feilding's Darrin Humphries finished a long way down the pecking order in the Victoria Motorcycle Club's popular Actrix Winter Series last season, 12th overall to be precise, but now he's among the elite after the sixth and final round of the 2010 series at Manfeild on Saturday.
From outside the top 10 in 2009 to third step on the podium in 2010, it's enough to make a man's head spin.
"This was my last event on the 2006-model Yamaha R6," said the 41-year-old Humphries. "My next race meeting will be round one of the Tri Series (set for Hampton Downs, near Meremere, in December) and then I'll race my 2010-model bike. I'll spend the next two months testing to get it ready," he said.
"I've improved a lot as a rider in the past year or so but, to be honest, there were a few fast guys missing from the Winter Series this year," said the modest Humphries.
"I suppose, though, you've got to be out there on the track if you want to win.
"The bike I have used for the series might be two or three years old but it never let me down. I can't wait to get out there on the 2010 model now. I expect it will be the same but faster and if it's as reliable as this 2006 bike, I'll have no problems."
Taupo's Jamie Rajek won the F2 class in the winter series, ahead of fellow Taupo rider Travis Merkel, and while Humphries has the utmost respect for his rival, he also has no doubts that Rajek and Merkel can be beaten.
"I have beaten Jamie (Rajek) … in the wet. The racing in this series has given me confidence that I can achieve at national level but I don't know yet whether I can afford to race the whole national series. I desperately need a sponsor.
"Maybe there's a Feilding business out there that wants me to help raise their profile," he smiled.
Meanwhile, despite his winning ability, Rajek may also be absent from the national programme.
"I'm thinking of not racing the nationals at all this year," said the 35-year-old Rajek.
"I'm going to concentrate on being team manager. This year the Wolfpack Racing Team will have Masterton's Jamie Galway, Taupo's Scott Moir and Auckland's Daniel Mettam as its racers.
"I'd love to race but I'm committed to making the team work too and that's my priority at the moment," he said.
© Words and photo by Andy McGechan, www.BikesportNZ.com
Full story and more photos from the weekend's action at Manfeild in your next issue of KIWI RIDER magazine.
Leading class results:
Formula one: 1. Sloan Frost (Hamilton, BMW) 247 pts; 2. Derek McAdam (Palmerston North, KTM) 214; 3. Dion Sellers (Wellington, BMW) 199.
Formula two: 1. Jamie Rajek (Taupo, Honda) 229 pts; 2. Travis Merkel (Taupo, Honda) 211; 3. Darrin Humphries (Feilding, Yamaha) 202.
Formula three: 1. Nick Longstaff (Dannevirke, Aprilia) 235 pts; 2. Leigh Tidman (Taumarunui, Honda) 224; 3. Paul Duncan (Rotorua, Suzuki) 194.
Pro Twins: 1. Geoff Booth (Dannevirke, Suzuki) 293 pts; 2. Rob Berrington-Smith (Urenui, Suzuki) 290; 3. Dean Bentley (Lower Hutt, Suzuki) 252.
125GP: 1. Glen Orwin (Auckland, Honda) 208 pts; 2. Kyle Hammond (Lower Hutt, Honda) 197; 3. James Jarman (Whangarei, Honda) 194.
Streetstock 150: 1. Sam Croft (Paraparaumu, Kawasaki) 256; 2. Daniel Mettam (Auckland, Kawasaki) 252; 3. David Croft (Paraparaumu, Kawasaki) 201.
MiniLite 250: 1. Sarah Elliot (Otaki, Honda) 219 pts; 2. Alan Denovan (Upper Hutt, Honda) 200; 3. Sarah Rosacker (Marton, Honda) 182.
ProLite 250: 1. Russell Forrest (Waikanae, Hyosung) 230 pts; 2. Kyran Lincoln (New Plymouth, Hyosung) 226; 3. Ben Oxnam (Wellington, Kawasaki) 200.
Post Classics, Junior pre 1972: 1. Peter Stephenson (Hastings, Kawasaki) 294 pts; 2. Simon Cottle (Palmerston North, Honda) 116.
Post Classics, Junior pre 1982: 1. John Carter (New Plymouth, Suzuki) 247 pts; 2. Andrew Kidd (Wanganui, Suzuki) 210; 3. Paul King (Feilding, Yamaha) 158.
Post Classic, Junior pre 1989: 1. Steven Gregg         270 pts; 2. Franz Schuler 198; 3. Ernie Cudby 194.
Post Classic, Senior pre 1982: 1. Sean Donnelly (Paraparaumu, Kawasaki) 150 pts; 2. Paul Brigham (Palmerston North, Suzuki) 44.
Post Classic, Senior pre 1989: 1. Glen Williams (Palmerston North, Yamaha) 250 pts; 2. Michael Webster (Wellington, Kawasaki) 214; 3. Murray Cross (Feilding, Yamaha) 170.
Sidecars: 1. John Stretton and Jim Bilby (Wanganui, Honda) 88 pts; 2. Bob Pay and John Pay (Tauranga, Suzuki) 87; 3. Dwight Scott and Leanne Thomas (Auckland, Suzuki) 87.